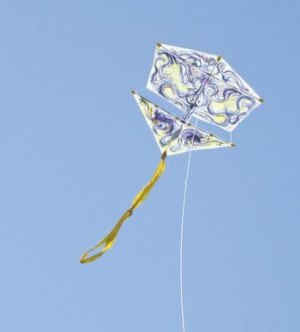 MBK 2-Skewer Roller
In my view, the visuals contribute a lot to the pleasures of kite flying. How these creations fly, homemade or otherwise, is only half the experience for most people.
The photo of the roller with a gold-colored tail was contributed by an artist.
I loved it when visitors sent in images of my designs that they dressed up like this!
If you trawl through the rest of this site, you will see that nearly all my homemade sails were shades of orange or blue. Plastic bags in those colors were the only ones available from the shops here!

So, the choice of colors is limited if you stick to plastic bags for sail material. But Tyvek and paper are also worth experimenting with, to provide a better canvas for art.
Or you could get really fancy and do applique with ripstop nylon, like professional kite designers do. Are you handy with a sewing machine?