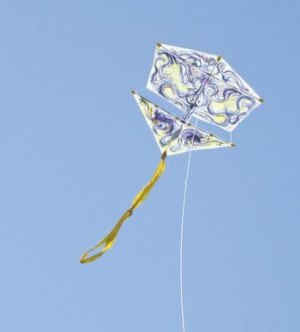 MBK 2-Skewer Roller
In my view, the visuals contribute a lot to the pleasures of kite flying. How these creations fly, home-made or otherwise, is only half the experience for most people.
The photo of the Roller with a gold-colored tail was contributed by an artist...
I love it when visitors send in images of my designs that they have 'dressed up' like this!
If you trawl through the rest of this site, you will see that nearly all my home-made sails are shades of orange or blue. Plastic bags in those colors being the only ones available from the shops here!

So the hoice of colors is limited if you stick to plastic bags for sail material. But Tyvek and paper are also worth experimenting with, to provide a better 'canvas'.
Or you could get really fancy and do applique with rip-stop nylon, like professional kite designers do. Are you handy with a sewing machine?

It's Easy To Upload A Few Photos Here...
Yes, you can upload up to 4 images. Handy if you can't decide which one is the best! I'll comment on every submission that I approve.

Ideas: If it's an in-flight shot, you could ramble on about the weather at the time, how the kite behaved in the air and even such things as the reactions of onlookers or the antics of curious birds flying around the kite!

P.S. Please try to write at least 300 words to give some background to the pictures. Don't worry, a few short paragraphs soon add up :-)

Kite Pictures Left By Others
Click below to see photos of some interesting kites from other visitors to this page...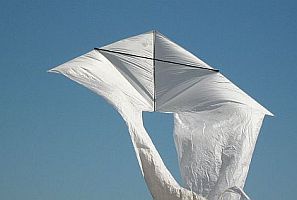 The kite pictures are 'the main thing' sure, but people will love it if you type in a short description of your building techniques, materials and so on. Or if not a home-build, where did you buy it and what is it called? Just in case people say 'I want one!'
Now, a couple of tips for best results...
Pictures of kites straight from your camera can be uploaded successfully. However, transferring these large raw digital images can take many minutes over a slow Internet connection. Re-sizing the image to around 100Kb or so will still result in a high-quality image on a computer screen.
For maximum impact on my site, a photo that's taller than it is wide works best. This way, when my site re-sizes the photo to fit the page, it will appear as large as possible.