YOUR Pictures Of Kites!
Your Biggest, Best Or Most Colorful...

The pictures of kites featured below are contributed by visitors to this page. Except for the huge white Delta further down this page, which I snapped at a recent kite festival.
In my view, the visuals contribute a lot to the pleasures of kite flying. How these creations fly, home-made or otherwise, is only half the experience for most people.
This
Rainbow Arrow Delta kite
is a riot of color. Which kids love, of course. Still a good flyer though, according to the reviews.
---
It's Easy To Upload A Few Photos Here...
Yes, you can upload up to 4 images. Handy if you can't decide which one is the best! I'll comment on every submission that I approve.

Ideas: If it's an in-flight shot, you could ramble on about the weather at the time, how the kite behaved in the air and even such things as the reactions of onlookers or the antics of curious birds flying around the kite!

P.S. Please try to write at least 300 words to give some background to the pictures. Don't worry, a few short paragraphs soon add up :-)

Kite Pictures Left By Others
Click below to see photos of some interesting kites from other visitors to this page...

---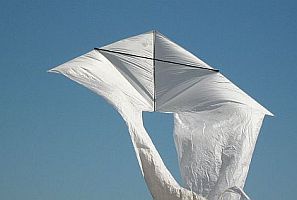 Feel free to contribute here if you have a...
Photo of a good-looking home-made kite. On-the-ground close-up or an in-flight shot, it doesn't matter. Just fill the frame with the kite, and try to ensure it is well-lit by sunlight or flash.
Nice photo of a shop-bought kite, or kites. Some of the pricier ones are very tastefully designed!
Great kite photo, where the art is in the photo itself. In this case, it doesn't matter if the kite isn't in the foreground.
---
Want To Contribute? Please Read...
Your fellow kite-fanciers who browse through here will really appreciate any extra info you can supply. The kite pictures are 'the main thing' sure, but people will love it if you type in a short description of your building techniques, materials and so on. Or if not a home-build, where did you buy it and what is it called? Just in case people say 'I want one!'
Now, a couple of tips for best results...
Pictures of kites straight from your camera can be uploaded successfully. However, transferring these large raw digital images can take many minutes over a slow Internet connection. Re-sizing the image to around 100Kb or so will still result in a high-quality image on a computer screen.
For maximum impact on my site, a photo that's taller than it is wide works best. This way, when my site re-sizes the photo to fit the page, it will appear as large as possible.
When photographing something like this
Rainbow Arrow Delta kite
, try to get the sail off towards one corner, rather than bang in the middle. It just makes for a more interesting photo!
---
Jun 16, 18 03:36 AM

The hardy little MBK Parachute kite floated to and fro over a rocky sea-side incline, as the tide briefly overtook the anchor bag and my running shoes...
---
---
Return to Flying Kites from Pictures Of Kites

All the way back to Home Page