Diamond Kites and Turkey Vultures
by Catherine
(Vermont, USA)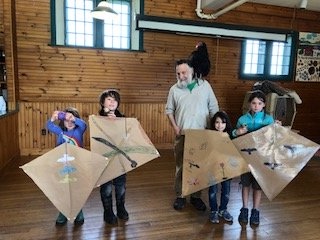 The simple diamond kite design worked perfectly for my Turkey Vulture family program! We learned about vultures, read a great children's book called Vulture View, by April Pulley Sayre, hiked to a lookout point with binoculars in search of wild vultures and met a live Turkey Vulture, who is a wild ambassador from a raptor rehab and wildlife ed organization in Shelburne, Vermont.

The kite making was a perfect addition to the program and an excellent parallel to vulture flight. Children (ages 5-9) were able to construct their kite easily with help from their grown-ups. They were so happy with their creations. We used butcher paper so that the children could personalize their kites and then laminated them to preserve their art and sturdy the kite sail. We were initially worried that the lamination would prove too heavy for their kites but it turns out they still flew just fine.

Unfortunately, we did not have enough time to fly our kites all together during the program. I decreased the dimensions to 30" x 30" and drew my line out to the wings of the sail at 7.5". The full 40"x40" would've been a lot of kite for young children.

To save time, I pre-cut the wooden dowels (1/4" poplar) and pre-drew the sail lines so that the kids could get right to cutting out their sails. We used fabric scraps for tail, and wound our kite line around recycled heavy duty cardboard tubes.

Thanks to Tim for such a quick response when I wrote him with questions about using paper instead of plastic bags.

This was my first time ever making a kite and I was a bit anxious about leading it during a program – I am so grateful to Tim and this site for making it not seem so daunting and a whole lot of fun!