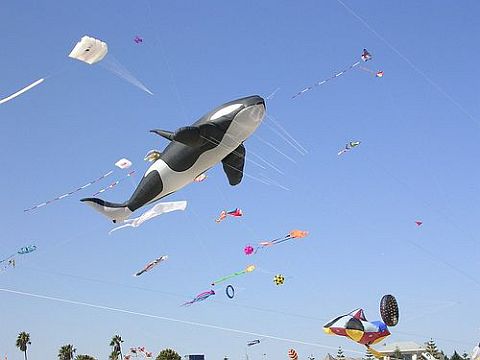 Photo courtesy of Michael Coghlan
We parked some distance from the festival, due to traffic. On getting out, there it was—a giant region of air filled with fluttering and floating wind-creations of all kinds. It looked cloud-like to me!
As we walked onto the jetty, we were up close to many of the kites and could spot every detail.
Other craft lazily meandered on the ends of a few hundred feet of line. They were too far up to see the seams in the fabric, the flexing of the spars, and other details.
This was just one international event of many kite festivals that occur around the world. In most cases, they are held once every year.
The organizers round up the cream of the local kiting community to show off their best creations and skills.
At the other end of the scale, the general public are usually invited to participate too. Of course the kites are rather more modest, on the whole! We had a few of our own MBK home-built kites with us, of course.
---
Some International Kite Festivals
Here are a few links to information we've compiled on various international events:
The Adelaide International is easily accessible for us, since we live in that Australian city. This event is one of the largest kiting festivals in the southern hemisphere, with some stiff competition over on the East Coast! The page behind the link also covers other smaller kiting events in Adelaide that we have attended.

The Long Beach International is a mega-event that spans a whole week each year in the USA and is probably the most extensive and impressive such festival in North America. Even some of the pro's don't bother attending every single day—it's just too much!
The Bristol International is more formally known as The International Festival of Kites and Air Creations. Trust the British to come up with a long and faintly pompous title. However, this festival would appear to be worthy of an impressive name like that! The Bristol event also has a long history.
The Niagara International is uniquely situated, straddling the USA and Canada in North America, right next to the famous waterfall. There's some interesting kite-flying history associated with this location too!
Here are some more kite images plus a video from the Adelaide event, from past years.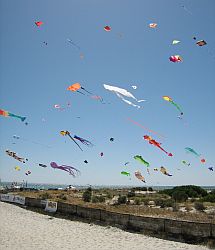 Adelaide festival 'kite cloud'
Although I didn't take the photo featuring the killer whale, I can actually remember that exact perspective from when we were at the Adelaide festival! We have a very similar shot lurking somewhere among our backup CDs. However, I suspect this guy's camera was a lot better than ours.
Not all the action is actually in the air. These days, at a large event, you might come across one or more giant Sky Dancers giving everyone a chuckle!
One of the UK kite festivals kicks off when there is still the possibility of snow and ice on the ground! 
Night kite flying was a huge feature of a Gujarat Day celebration in India. Check out the videos in there! Also in India, FLY360 used kite shows to promote voting.

A big kites-festival can also attract enthusiasts from many other countries. Various areas of expertise in kite design, construction, and flying are put on show. Overseas experts are usually there by invitation, with sponsorship paying their way.
A big festival of kites will attract the local media, which helps to keep the sport popular. A sky full of kites is a very visual experience, naturally! Hence, if you ever go to an event like this, expect to see plenty of fancy cameras and maybe even some local TV crews. A few seconds of footage on the local news showing the sky shimmering and shaking with color tends to stick in people's minds. 

Some big kites don't have spars. Parafoil kites, for example, are soft in construction and can be packed down to a remarkably small space.
Wind Speed Handy Reference
Light Air
1-5 kph
1-3 mph
1-3 knts
Beaufort 1


Light breeze
6–11 kph
4–7 mph
4–6 knts
Beaufort 2



Gentle ...
12–19 kph
8–12 mph
7–10 knts
Beaufort 3



Moderate ...
20–28 kph
13–18 mph
11–16 knts
Beaufort 4



Fresh ...
29–38 kph
19–24 mph
17–21 knts
Beaufort 5



Strong ...
39–49 kph
25–31 mph
22–27 knts
Beaufort 6



High Wind
50-61 kph
32-38 mph
28-33 knts
Beaufort 7



Gale
62-74 kph
39-46 mph
34-40 knts
Beaufort 8
Some US Festivals
Do you enjoy kite flying in the USA? In that case, there are numerous kite festivals to choose from.

If you live in the state of Michigan, kites are flown in a number of local festivals, you'll be glad to know! Follow that link for some contact details for these.
Festivals of kites in the USA can be very large as in India and China. Here are some other high-profile events from the USA:

Zilker Kite Festival
Berkeley Kite Festival
Great Lakes Kite Festival
Newport Kite Festival
Great Delaware Kite Festival
DC Kite Festival
Here's a photo taken at the DC Festival. Don't you like the way those wind-art flags totally blend with the airborne kites!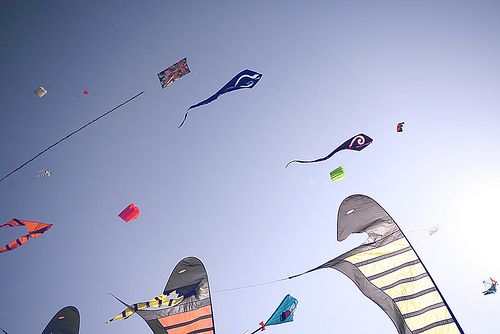 Photo courtesy of Edoardo Costa
---
Kite Festival Information From Around the World
Interested in reading up on kite festivals? Click below to read promotional information written by the event organizers themselves ...