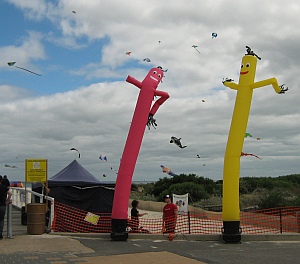 So random, so funny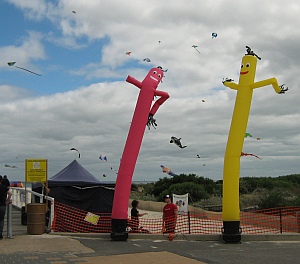 So random, so funny
These wind-art creations are actually sold as attention-getters for businesses and large events.

Yes, I'm going to call them 'wind art', since the best of these have obviously had some talented design input. Don't be surprised to see one or more of these things at a kite festival near you!
Some of the more expensive products have built-in lighting systems too, so at night the show gets even more spectacular.
How do these dancing puppets work? It's pretty simple. There is a cold air blower sitting on the ground, under each 'leg' of the inflatable. Air pressure keeps the shape inflated most of the time. In combination with a breeze, this also causes constant erratic motion. The fabric is rip-stop nylon, and is attached to the blower using Velcro flaps.
I don't think anything else has been invented that catches the eye of so many so quickly!
---

When the weather's good and you have the time, it's great to get out with a kite or 3. But what about on bad weather days? Then it's time to pull out...
"Kites Up!" - my downloadable kite-flying board game! Apart from towing indoor kites, doing a spot of imaginary flying is the next best thing :-)
---
Sky Dancers ... Or ... ?

The popularity of these randomly-moving tubular figures seems to be on the rise, with many manufacturers jumping on the band-wagon.

Other names in use for these or similar products include:
SkyDancer Puppets
Sky Tube Guys
Puppet Guy
Wavy Man

Air Dancers
Air Dancer Man
Flailing Tube Man
Fly Tube Guys
Dancing Sky Men
Stick Men
Some of these inflatables are huge, at 18 meters (60 feet) in height. At this size, they are visible to the entire crowd at a large public event. Others are just several meters high, and thus suitable for parking in front of a shop or other business premises. These are the kind we have driven past on many occasions. At this size, they tend to be a little simpler, sporting just a tubular body plus a couple of arms.
Check out this smile-inducing image of a dancing tube man!


Photo courtesy of Mykl Roventine
Also, here's a video of what we saw when we attended our local kite festival one year...
---
As mentioned earlier, there's another alternative to towing indoor kites if it's just not possible to fly outdoors...
"Kites Up!" is my downloadable board game. It's a PDF file which has all the documentation for the game plus images for all the components. Tokens, cards, the board itself and so on. Anyway, just click that link to see more info :-)