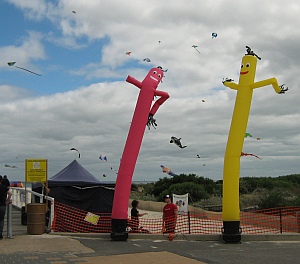 So random, so funny!
These wind-art creations are actually sold as attention-getters for businesses and large events.

Yes, I'm going to call them "wind art," since the best of these have obviously had some talented design input. Don't be surprised to see one or more of these things at a kite festival near you!
Some of the more expensive products have built-in lighting systems too, so at night the show gets even more spectacular.
How do these dancing puppets work? It's pretty simple. There is an air blower sitting on the ground, under each "leg" of the inflatable. Some have only one leg, as in the photo. Air pressure keeps the shape inflated most of the time. In combination with a breeze, this also causes constant erratic motion. The fabric is ripstop nylon and is attached to the blower using Velcro flaps.
I don't think anything else has been invented that catches the eye of so many so quickly!
The popularity of these randomly moving tubular figures seems to be on the rise, with many manufacturers jumping on the bandwagon.