Hi! I'm Tim Parish, the "kite nut" behind this website.
Perhaps you have seen one or more of my e-books already. People were starting to ask about getting all of the "how to..." info in one hit, so now you can!
That's no less than 57 kites that you can make, all up.
(For each of the 6 e-books in the Bundle, a download link is supplied during the order process.)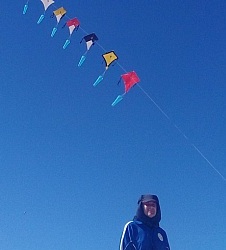 ---
Just in case you are not already aware of the convenience factor with these books:
Each one is a PDF file sitting on your computer or mobile device, so it doesn't take up space on a shelf.
Nicely-formatted printouts can easily be obtained—for just the kite you are working on, if that suits you best. Recycle the pages as scribble paper after the kite is finished!

Each of these big e-books is a compilation of designs for individual kites:
"Making Indoor Kites: Weather-Proof Kite-Flying!"
"Making Paper Kites: Really! Just Paper And Tape?"
"Making Soft Kites: Convenient, No-Fuss Flying"
"Making Box Kites: Old-Fashioned Fun"

"Making Dowel Kites: Low Cost, High Flying Fun"
"Making Skewer Kites: Fun For Every Generation"
That's a lot of kite info!
Save $$$ and time, rather than spending what all the e-books are worth individually. The total worth is close to $75!
Here are the buttons for secure purchases via credit card or Paypal. Just use the button under the most appropriate price for your location:




Note:

The MBK E-book Bundle is made available as separate links, one for each e-book. No installing, no extracting, just PDF files going straight to your hard drive.
Also, you can skip any e-book you already have, which means you spend less time downloading.
A testimonial:

"30+ years ago, I tried making a kite using the 'instructions' in a free kite-safety booklet. What a disappointment for a young boy.
Your instructions and methods are wonderful. You help the builder to focus on accuracy, without making it hard. Also, you use materials that are durable, yet cheap!"

- David D. (CA, USA)
In education? More testimonials:
"My wife is a retired science teacher and last year she and I were writing a large STEM science unit on Kites. It was intended as a multi-session series of STEM activities, culminating in a kite build. After being frustrated with the incomplete information available on other kite sites, I found My Best Kite and purchased your big kite bundle. What a fantastic resource. It was extremely helpful as we worked out our ideas. ... "
- Dave S. (OH, USA}
"I'm a teacher and am finishing out the school year as distance education. ...
I did a build video for the kids leading them through the process of building the 1 Skewer Sode (Yes, I probably should have done the Diamond or Sled, but the Sode is such a pretty kite.). ...
I also put links to your site and let the kids know that I thought your books were excellent. I have many kite making books, and I rate yours highly."
- Andrew L. (AK, USA)
"I regularly help run a technology camp for primary and high school students at Toogoolawah in QLD. I built around 30 skewer diamond kites with the 30 primary students there - every kite made, flew! The kids were ecstatic. I decided to run kite making as an elective again on this camp in the past week - so I bought all your e-books, a bunch of materials, and then took a group of 10 high school students through making the kites over 4 days. We built a diamond, a Barn Door, a Delta, and two skew delta kites. Again - every single kite flew. The Barn Door was most reliable - we sent it up on ~275m of line - we reckon it went up at least 100m.

I structured the time as a 'team building activity' (even though the kids didn't know!) - I provided them my computer with the e books, the materials, and some guidance and set them free to create! They loved it, and not only did they love building and then flying the kites - they also learned a ton about how to work together. Not only them, but around 40 other people on camp learnt how therapeutic it is to fly kites :)
So, in summary - thank you for your well kept online resources, as well as the excellent resources and experience you provide in your e-books - it's provided great joy to me, as well as around 60 kids."
- John B. (QLD, Australia)
---
Now, I will summarize the contents of each individual book, in case you are unfamiliar with any of them.
"Making Indoor Kites: Weather-Proof Kite-Flying!"
This printable e-book features 8 classic sparred kite designs that are constructed from light plastic bags, 80gsm copier paper and sticky tape. Printed sail templates and spar shapes make construction easy and accurate.
These craft fly steeply when towed around at walking pace, in enclosed spaces. Away from the weather! You can use any kind of light sewing thread as flying line.
Make a sled, diamond, rokkaku, delta, canard, A-frame, bird, and genki.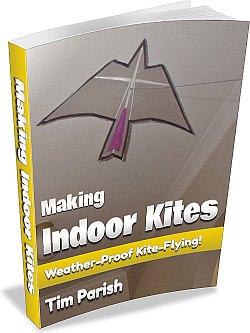 "Making Paper Kites: Really! Just Paper And Tape?"
This printable e-book features 5 sparred kites that are constructed entirely from 80gsm copier paper and sticky tape—even for the spars!
Despite their small size, these craft are still capable of flying hundreds of feet up.

Flying line is easy too. These designs fly beautifully on general-purpose polyester sewing thread.
Make a sled, diamond, rokkaku, sode, and delta.

"Making Soft Kites: Convenient, No-Fuss Flying"
A printable e-book. Sparless kites from just plastic and tape.
The soft sled is a simple para-sled.
The parasail emulates the full-scale craft.
The parafoil is a 4-cell flat design—a typical double-surface kite.
The parachute is inspired by full-size sport parachutes.
The octopus is a genuine fully-inflatable version.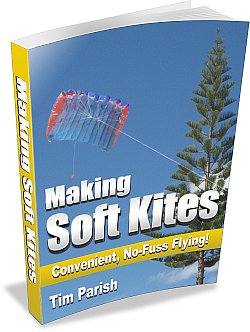 "Making Box Kites: Old Fashioned Fun"
This printable book features designs based on the traditional square box concept which flies on one edge. In addition there is a tetrahedral.
Materials are either bamboo skewers or oak dowels for the spars. Plastic is used for the sails, with tape holding everything together.
The designs are a 1-Skewer Box, a 2-Skewer Box, a 10-Cell tetrahedral, two Dowel Boxes for different wind ranges, and a giant Multi-Dowel Box kite.
There are 6 cellular kites in all.
"Making Dowel Kites: Low Cost, High Flying Fun"
This printable book features an 8-kite series of dowel designs which use 1.2 m (4 ft.) long spars. Everything from the big sled with its eye-catching diamond cutouts to the dopero, which soars like an eagle on the slightest whiff of rising air.
Also, there are some 2.4 m (8 ft.) spar designs—a giant sled, diamond, barn door, rokkaku, and delta. These are most impressive in the air!

There are 13 kites in all.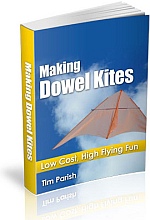 "Making Skewer Kites: Fun for Every Generation"
This printable book brings together an 8-kite series of 1-Skewer designs and a more advanced 8-kite series of 2-Skewer designs. In addition, there is the Tiny Tots Diamond and a Tetrahedral kite.
Finally, there are the much bigger 3-Skewer Sled and 3-Skewer A-Frame kites. Great performance for a dirt-cheap price.

There are 20 kites in all.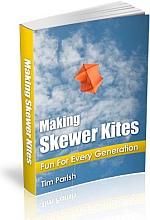 Download Now
Click to buy in USD
Are you ready to immerse yourself in building, decorating, flying, and reading about kites? The Big MBK E-book Bundle is just the thing.
From MBK (My-Best-Kite.com)
Here are buttons for secure purchases via credit card or Paypal:

Guarantee
Risk-free, 60 day trial
During this time you can ask for a full 100% refund if you are not completely satisfied.