Just want to contact me? No problem, just scroll down to the form at the bottom of this page. I will usually respond within 24 hours on weekdays but sometimes longer over weekends.
From there, I took an interest in all kinds of flying hobbies. Paper planes, small balsa wood gliders, home-made plastic diamond kites, shop-bought Indian kites and probably other stuff I've forgotten. Then I moved up to balsa and tissue models, control line models and eventually radio-controlled aircraft. A mixture of powered and un-powered model aircraft.
That was the modeling side. Full size flying also seemed very inviting, so I saved up some money as a teenager and went flying with the local gliding club. Soloed at age 15, while we were living in Alice Springs. The 'Red Centre' as tourism brochures like to call that area of Australia.
Eventually, that led to becoming a fully qualified gliding instructor with the Adelaide University gliding club in South Australia. Lots of hours in the back seat of various 2-seaters.

Since then, I have dabbled in paragliding, hang gliding and flight simulation as well.
I still live in Adelaide. Now with a wife and young son who features in some of the pics on this site. Small kids grow up so quick, don't they. Various pages documented his growth quite well, during the single-digit years!
For more than a decade now, I have labored over dozens of kite designs. Not to mention the field-testing...
A hard job but someone's gotta do it ;-)
---
Connections With Kiting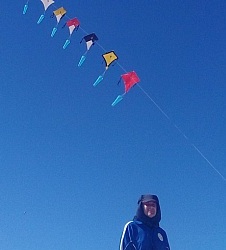 While writing this, an interesting thought came to me. Four other flying activities besides actual kite flying involve kiting a flying object up into the air. They are...
hand-towing a free-flying model glider into the air,
bungee-launching a radio-controlled model sailplane into the air,
operating a V8-powered winch with a full-size sailplane on the end of the cable,
flying a paraglider - these aircraft are the direct descendants of the parafoil kite!
So maybe I did more kiting than I realized!
---
Why A Kite Site?
Flying kites, in particular, was a fairly small part of my overall flying experiences. So why start a kite site? Well, besides embarking on an adventure of designing and flying ever-more kites for the sheer love of it, there's a business side to it too. Old computer programmers don't get work offers thrown at them ;-) so they have to make a living somehow...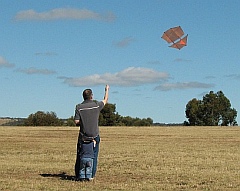 MBK 2-Skewer Dopero
I found a system called Solo Build It! (SBI) which offered to help anyone build out a high-traffic website, then make money from it. A far cry from the usual GRQ (Get Rich Quick) schemes that have trapped so many people.

If you have ever thought about how you could turn a personal passion or special body of knowledge into a business, I highly recommend SBI.

After 13 years, this site is continuing to pull in the traffic, with a 4-digit number of daily visitors. Although traffic leveled off recently, there is still potential for modest increases in the future. Social platforms (mainly Pinterest) and email marketing (powered by Aweber) are making a contribution each year - to both traffic and income. One day, we'll be self-sufficient! That's the dream.
It all started with a 5 dollar Baby Sled kite and a tiny Delta made from clear plastic and 4 thin bamboo BBQ skewers. It's come a long way from there, with the help of many other keen kite fliers from around the world who have contributed to this site.
We hope you find the information you are looking for, here. Maybe even get inspired to take up some form of kite flying. Or if you're already into it, perhaps trying some new type of kite! If you have a kite-related question or problem you can ask me if you like.
Keep 'em out of the trees...

---
Wind Speed Handy Reference
Light Air
1-5 kph
1-3 mph
1-3 knts
Beaufort 1


Light breeze
6–11 kph
4–7 mph
4–6 knts
Beaufort 2



Gentle ...
12–19 kph
8–12 mph
7–10 knts
Beaufort 3



Moderate ...
20–28 kph
13–18 mph
11–16 knts
Beaufort 4



Fresh ...
29–38 kph
19–24 mph
17–21 knts
Beaufort 5



Strong ...
39–49 kph
25–31 mph
22–27 knts
Beaufort 6



High Wind
50-61 kph
32-38 mph
28-33 knts
Beaufort 7



Gale
62-74 kph
39-46 mph
34-40 knts
Beaufort 8
Contact Me


Last updated: 5 Dec 2020