All the earliest kite flying stories recorded for the MBK website may be found here. Starting from March in 2007.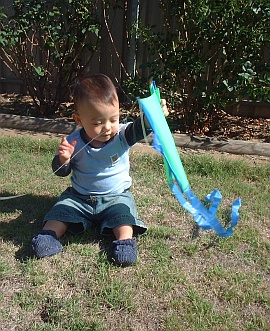 Aren (2 yrs) & Baby Sled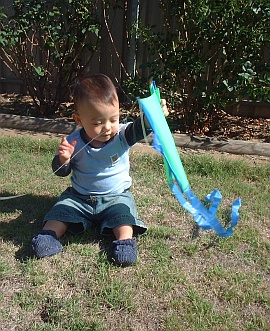 Aren (2 yrs) & Baby Sled
We used to get out at least once a week, and document everything that happened. Which kites we took, how high they flew, how long they flew, the weather conditions and so on.
Our catalog of kite designs has grown hugely since then. After you scroll down a bit, you'll see how you can try some for yourself - or your kid(s) - one day.
Warping back to 2007 now... At this time, our son Aren was a very cute toddler. He still got involved with the kite flying though, and we also took a few photos which you can find in the links below. It was often convenient just to hand Aren the winder while he was sitting right there in the pram :-)
There's little Aren in the photo. The little green Baby Sled features heavily in our initial reports! It's still out there in the shed but rarely gets a fly these days.
So many kites, so little time...
---
The Discontinued Blog

We used some blogging software for a while, with which we covered the period from October 2007 right through to March 2009. Since then, as you might already know, our occasional kite flying stories appear under the 'what's new?' link in the nav menu.
This material is presented in reverse chronological order. The latest reports first, in other words...
"Love the easy to understand step by step instructions, made from next to nothing materials and above all so much fun to fly... cheers Tim for sharing your well thought out pdf kite designs with the whole world. Very satisfying making your own and watching them get air-born for the first time."
"I decided to run kite making as an elective again on this camp in the past week - so I bought all your e-books, a bunch of materials, and then took a group of 10 high school students through making the kites over 4 days. We built a diamond, a Barn Door, a Delta, and two skew delta kites. Again - every single kite flew."

Our Earliest Kite Flying Stories

It all started in March 2007, when we came home from the local kite festival. We had bought our toddler son a Baby Sled, so he could see a flying kite on a more regular basis.
After that, we moved on to making and flying the 1-Skewer series of small flat kites from bamboo BBQ skewers and freezer bag plastic.
For just a few cents each, these simple bamboo-and-plastic kites provided an amazing amount of flying adventure. Some were failures, but on the whole they did really well in moderate breezes. The air was rarely smooth, but that just added to the fun!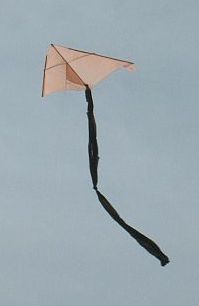 MBK 1-Skewer Delta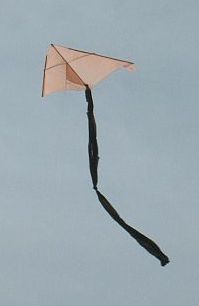 MBK 1-Skewer Delta
Here are all the kite flying stories, with the latest posts listed first...
Also from this era, here are a couple of reports on some duration and altitude record-keeping...