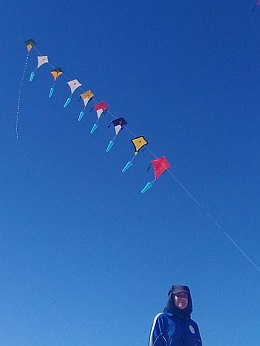 Diamonds - never out of fashion!
Flying a kite can be great fun for all the family, from age 2 to 102. Small ones for small kids, even toddlers. Larger or even huge flying creations for, well, the more mature among us who enjoy a building challenge.
Besides, bigger usually flies better! It's so much easier to be accurate when all the measurements are on a larger scale.

Nothing quite compares to seeing your own work floating way up there. The bigger the better. Bask in that 'I made it myself' feeling.
But don't get me wrong - the world of modern retail or designer kites is fascinating, and you will find plenty of images and commentary here.

It's almost never too calm - or too windy - to fly, as long as you make the right choice regarding the type of kite. The information here makes that easy!
And what do you do when it's just impossible to get outside to fly, for example in extreme weather? Apart from my Indoor Kites Series, there's something else - my downloadable kiting board game. If you browse around, you'll soon bump into links for more information on that.
---
See that social sharing bar over there, with icons for Facebook and Twitter?
If the bar ever gets in the way, just tap on the little triangular arrow at the bottom. The bar will then neatly hide itself while you finish reading the page.
Plus there is some info here that is just plain different, and intriguing...
Like the radio-controlled variety being deftly flown indoors in Singapore, or a flexible flying monster the size of a football field! But we'll get to that later.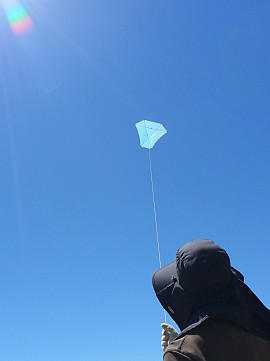 MBK Multi-Dowel Barn-Door
TESTMONIALS!

Here's the kind of thing people have said about this site and associated activities...

"...thanks for all of your fantastic work, (kites, books, website, and emails), very inspirational.  You were found by querying google with "box kites", or some such and I have been enjoying your kiting enthusiasm and expertise ever since then. Please keep them coming my friend!"
- Dana Y. (WY, USA)
"Thank You for amassing a Brilliant website. I absolutely adore it. Man's need to fly brought me here."
- Jonny D. (MA, USA)
So please - have a good look around :-)  You can use the menus and links of course, but I would particularly recommend the Search box. You'll find it at the top right of nearly every page on this site. That way, you can get straight to whatever kite-related thing interests you most.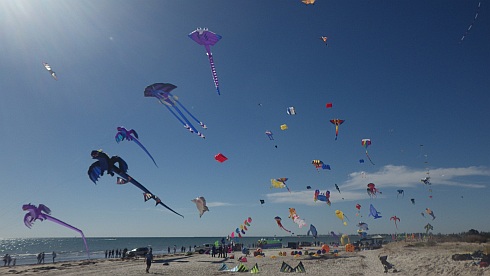 Rip-stop nylon carpets the sky at the AIKF
We live in the city of Adelaide, South Australia, home to one of the biggest annual kiting festivals in Australia, and possibly the whole Southern Hemisphere.

The picture over there was taken at one such event, from near the jetty at Semaphore Beach. A moderate-strength Southerly was blowing along the sand, and music boomed from loud-speakers arranged along one side of the wooden planks.
At other times, live commentary kept everyone informed about interesting aspects of the aerial display.
Although not strenuous most of the time, flying these tethered craft is quite a healthy activity!
Office workers can get some much-needed Vitamin D from sunlight, when out flying.
Sunlight alone can have a positive effect on your mood. If your kite's up there too, it can boost your mood even further!
It's good exercise for your eyes, focusing near and far all the time. Helps slow down the progression of 'old age sight'. I knew all about it, trying to unpick the tiny Lark's Head knot at the end of a 20-pound Dacron line...
Breathe that fresh air! We're very fortunate here in Adelaide, in that respect.
You can even fit in a bit of moderate exercise sometimes, when towing up to search for faster air! Or even just going for a walk around the field while a reliable kite does it's thing up high.
Getting the kids involved too is good quality family time. Depending on how well you can compete with all those electronic devices!
In my opinion, every new kite is an adventure. Whether scratch-built or fresh from the delivery tube. Come and join us!