KiteFest 2013
by Betty Crane
(Mount Vernon, TX, USA)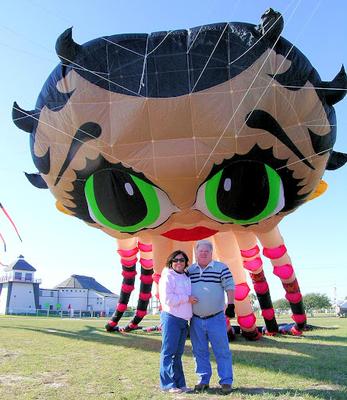 Come fly with us!
•What is the location? Mount Vernon, Texas at the Franklin County Airport located on County Road NW 1030.
•What are the dates of the festival? March 16, 2013 10 AM to 4 PM.
•Are there any entrance or parking fees? No - Free Event.
•'How To Get There' and 'Parking Arrangements' for people unfamiliar with the local area.
•Located 100 miles north east of Dallas, Texas just off of I-30.
•Located 80 miles west of Texarkana, Texas just off of I-30.
•Located 45 miles south of Paris, Texas just off of Highway 37.
•Located 65 miles north of Tyler, Texas .
•Are children catered for? How, when and what? Lots of children's activities!
•Can people bring their own kites on the day, and what are the arrangements for flying them? Yes - lots of room to fly your own kite.
•When does the official kite-flying action start each day? 10 AM.
•What is the most popular or anticipated highlight? Huge beautiful kites and live entertainment.
•Are any well known kite experts participating? What do they do? Dallas Area Kite Organization will showcase their talents.
•Who are the invited guests from overseas, and what are they bringing? Barry Ogletree is providing the huge beautiful kites. Mr. Ogletree takes pride in the fact his kites are not ordinary kites. He has one of the largest collections of large kites in the world.
•What year was the first event, and does it happen every year? 2011 and hopefully will be an annual event.