The Listing Rhomboid Box Kite
by Craig
(The Willamette Valley, Oregon, USA)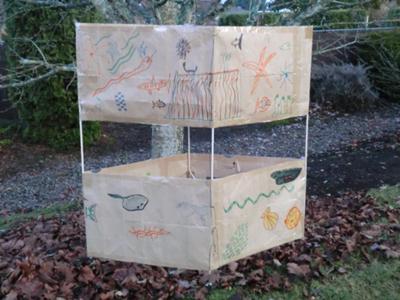 The Rhomboid Box Kite
At one point in time I thought newspaper would be a good sail material... Then I tried using it on a box kite. Let's just say my use of newspaper sails has dropped significantly since then.

This last summer I got the "kite bug" about a week before the Lincoln City Summer Kite Festival. As always, I went to the library and picked up a few books on kites hoping it would sort of purge my system of needing to build a kite. However, this time around, the Rhomboid Box Kite grabbed my attention so firmly that I had to build one. I think it stemmed from my obsession with airplanes. After all, the Wright Flier looked a lot like the Hargrave Box Kite.

After investigating several sets of box kite plans (including the MBK Dowel Box kite) I settled on the Rhomboid shaped box kite. So, as soon as time permitted, I was off to Home Depot to get a bunch of 1/4" dowel for my frame. And being too frugal to spend ten bucks on some ripstop nylon, I chose to use newspaper for my sails. I was quite impressed with how fast the frame built up, but it's really not that complex.

The next step was to cover it with newspaper so I grabbed my scissors and tape and went to work. After cutting AND attaching one set of very crooked sails, I got acquainted with a ruler and a T-square. That made things a bit easier although I still had a baker's dozen editions of the local Lebanon Express newspapers to spare. In keeping with tradition, I neglected to bring tape on our 60 mile trip to the beach. I'm not sure why, I guess I wanted to fly in the face of Murphy's law. No sooner had I opened the trunk when I somehow managed to rip the front lower left panel halfway through. I guess old Murphy's law won... again. Fortunately, my wonderful wife jumped in and found a few (small) scraps of tape elsewhere on the kite. It was just enough to repair the sail to a useable state.

The bridle was less than accurate, but with a few guesstimations, I was able to launch the kite in the 10 mph breeze. I spent a good thirty seconds struggling to get the 30 feet of unraveled line out without getting burned. I must have done something right 'cause this thing pulled HARD! Right about now the wind decided to change to something more like 15 mph. Everything looked OK at about 100 feet until I heard a ripping sound coming from the wounded cell. Just as I halfway expected, the lower left cell was flappin' in the breeze.

This all took place at Newport's Historic Nye Beach. Which draws a lot of people for a number of reasons, particularly on a fantastic Oregon Coast day such as this. I felt a bit humiliated, but all things considered, my Rhomboid Box Kite was still up there listing about 45 degrees to the port side. So, I said "This is still a work in progress" and "Just have fun with it while it's up there!"

I let out a bit more line to gain some altitude. I guess the extra wind must have overstressed it when the lower left cell separated completely causing it to loop a few times before coming down.

I don't know that it was a success, but I sure got a lot of comments about it from the locals. Sadly, since it was airborne for a grand total of 9 minutes, I was unable to get any in-flight photos of it. As you can see, I have recovered it with some brown paper. Now if I could've kept it from imploding during last weeks windstorm...