2 Deltas Over October Sunset
by Liz and Ken
(Norton Shores, MI, USA)
The kites
9 Foot delta with laundry plus small Wild Horses delta. Lake Michigan, Muskegon, in Michigan
Return to YOUR Pictures Of Kites!.
Eight Flying Kites, One Man
by Joe
(Beavercreek, Ohio, USA)
Kites on Siesta Key Beach
Siesta Key beach, south of Sarasota, Florida: I was trying to get as many flying kites up as possible. Got this pic when I had eight up, later got one more of the "daisy" cellulars up for a personal best of nine at one time!

From lower left, the flying kites are: box, butterfly, parasail, Coyne, 6' delta, star, parasail and "daisy" cellular.

Tied lines off to beach lounges, umbrella stakes, whatever I could find.

Got a lot of thanks for the "sky candy" from the beach denizens. Had everything up for at least 30 minutes; big job taking them all down again without bashing the tanning beauties.
Return to YOUR Pictures Of Kites!.
Three 10 Foot Bees Chased by 36 Foot Clownfish.
by Bill Vierra
(San Andreas, California)
One day while I was flying my three 10 foot Bee kites in Berkeley, California when all of a sudden out of no were came this giant 36 foot Clownfish kite and started to chase the Bees. I thought that the fish was going to eat them! But I was wrong; it only wanted to play with them. And play they did all day long. We all had fun especially in Berkeley, California.
Return to YOUR Pictures Of Kites!.
13 Kites by 1
by Gary Resnick
(Dade City, Florida, USA)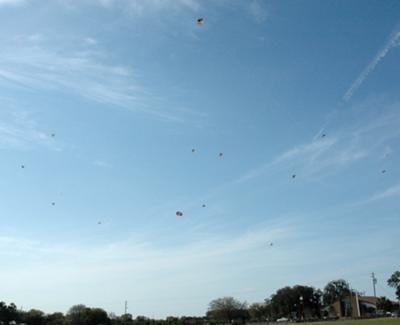 A Bunch of Little Rokkakus
Thought I would get your April challenge going.

This past Sunday the winds looked like they were blowing just right for flying a bunch of Rokkakus until I started to put them in the sky. At about kite number 4 the wind dropped. I figured it would come back so I just kept putting them out. Sure enough the wind came back up and I was able to get all the Rokakkus in the air for a photo.

While I was setting up the kites people driving by the field kept slowing down, trying to figure out what I was up to. When I finally started to send the kites skyward I got waves and horns honked in approval.

The whole thing took about three hours and twenty minutes. I had to hurry home, supper was waiting.

The kites are all paper and bamboo Rokkakus about 45cm x 60cm and painted with images I found in books and on the Internet. Since they are small kites cotton line around 10-15 lbs was plenty strong and for anchors I used wood dowels run through a pencil sharpener. Once the line was let out I attached it to the dowel with a lark's head and then used a rubberband to hold it in place. I thought that 12 Rokkakus would do for now but when I started to put them away I realized that 13 had actually made it into the air.

I know the Rokkakus are pretty small in the photo but they are little kites and the sky was rather large that day.

I have flown many more kites at one time but they were on a feather train line and I thought that trains would be cheating.

Looking forward to more photos.

Best winds,

Gary Resnick (aka Dade City Kiter)
Return to YOUR Pictures Of Kites!.
Scrappy Wave Kite Train
by Bill Rodriguez
(San Jose, CA, USA)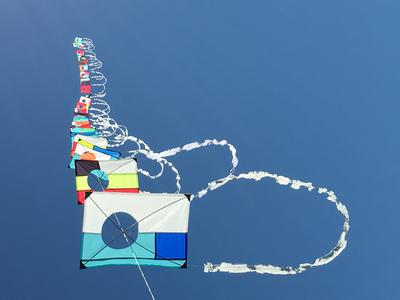 25 14" x 20" kites
Built in February, 2019 from scrap rip-stop.
Return to YOUR Pictures Of Kites!.
---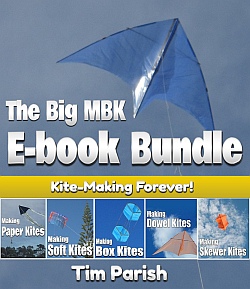 As mentioned earlier, there's more kite-making on this site than you can poke a stick at :-)
Want to know the most convenient way of using it all?
The Big MBK E-book Bundle is a collection of downloads—printable PDF files which provide step-by-step instructions for many kites large and small.

Every kite in every MBK series.