"A" Form Three Stick Kite made with Tyvek covering
by Doug Martindale
(Elkhorn, WI, USA)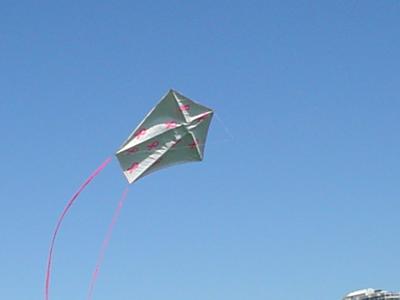 My wife had cancer and I wanted to contribute something for the cause of cancer survivors so I made a kite.

It is a basic A frame. See pictures.

At one kite festival in Milwaukee, the wind was light and we were the only kite that could stay up. And fly we did - 4 1/2 hours later we finally brought her down to the cheers of the crowd. Another light air kite!

We were putting on a small kite show for the Veterans Home in South-Eastern Wisconsin, USA... And in the first 115 minutes my wife managed to put the cancer kite at the top of the only tree around. To this day it is still there!

We wanted to make a new, better light air kite and that brought us to this great website of Tim's. Hence we found the MBK Dopero kite and are in the process of makng it now.