Kite Fly at Victor Harbour
Kite Fly at Victor Harbour
by Tony Sangster
(Adelaide, SA, Australia)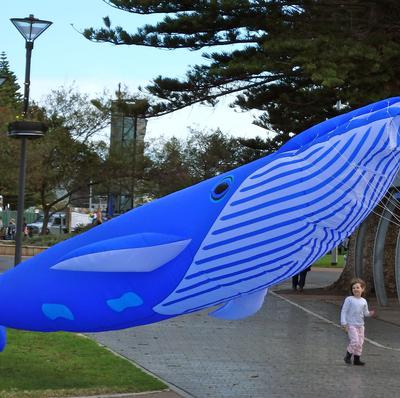 Where is the water?
Date: 29th May 2016... Adelaide Kite Flyers Association members were invited to fly at Victor Harbour's Whaletime Festival. This Festival celebrates the start of the whale watching season.

We were told that a plume of a whale had been spotted this morning and that we somehow were the cause!

Breeze was straight off the ocean, north easterly and cold! The sun poked its head out intermittently between cotton wool clouds.

We flew whale, astronaut and fish kites close to the Norfolk pines and a kite eating lamp post. Two ground level inflatable car kites kept young would-be drivers of 3 to 10 years of age occupied. A little inflatable turtle also bounced on the ground and getting children to pat rather than bash or hit it was a challenge.

The blue whale kite proved popular with children patting it whilst it was safely tethered and supervised.

Later children spent time being tickled by the long tails of a large Rev kite.

One of our members ventured across the roadway to Granite Island and did some hours of Kite Aerial Photography.

Fresh fish and chips and coffee kept us warm. Victor Harbour is 90 minutes from Adelaide by car, a nice trip and a place to return to in other seasons also.
---
As mentioned earlier, there's another alternative to towing indoor kites if it's just not possible to fly outdoors...
"Kites Up!" is my downloadable board game. It's a PDF file which has all the documentation for the game plus images for all the components. Tokens, cards, the board itself and so on. Anyway, just click that link to see more info :-)