How To Make A Kite
27 Kites! Step-By-Step Instructions
If you want to learn how to make a kite or two, you have definitely come to the right spot! Perhaps you have made plenty, but are always on the lookout for more designs and ideas. In any case, some of the most popular single-line designs being flown in the Western world are covered here.
For example, there's the quick and easy Sled. The universally recognized Diamond. The bird-like Delta, which is nearly as well known, plus a number of others for even more of a building challenge.
The Barn Door is uniquely American.
All the designs have been well-tested! If you browse round this site a bit more, you'll find dozens of flight reports in which interesting things often happen.


NOTE: Video views from this website don't appear to be counted.

Have a bit of fun trying to figure out which of my kites is zipping around the sky in a gusty moderate breeze, in the video up there!
The emphasis here is on very cheap materials. Make them all for just a few dollars!
Not only that, but hardly any tools are required. Who hasn't got a pair of scissors and a ruler lying around somewhere? Perhaps you might need to beg borrow or steal, I mean buy, a small hack-saw. But that's about it! No special fittings or expensive specialized tools.
Learning how to make a kite from bamboo skewers or dowel and plastic is fun and they do fly really well! You can see for yourself in the video for each design, showing the original in flight.
In addition, there are three Box kites.
These all fly well in moderate winds, and the 2-Skewer design can cope with much stronger winds as well...
Finally, with plenty of people successfully making and flying the original 2-Skewer Delta, a link to that page is retained here...
(Note: MBK Skewer Kites are made from thin 12" bamboo skewers, which come in packs of 100. The Metric size is 300mm long x 3mm thick.)

By the way, I recommend 50 pound flying line for the Dowel kites. Amazon's
Stake Line Winder
will do the job nicely, if you are in the USA or Canada. Dacron or Nylon are both good choices for flying single-line kites.
For the 2-Skewer kites, the
30 pound line
is better.
Eventually, you might want to find
much
lighter line for the 1-Skewer designs, since they struggle a bit if you have too much line out. Modern polyester sewing thread is quite adequate for these smallest kites.
The Roller is particularly photogenic - even in plain pale orange...


---
More MBK Kite Info
For each kite in the table up there, plus the box kites, there is...
A 20 second video of the kite in flight.
A template graphic showing you the sail shape and dimensions.
A detailed set of step-by-step instructions, with a photo for each step.
A launch photo or an in-flight close-up of the kite.
Although this is quite basic kite making, the designs do get a little more complex and time consuming as you move from Sled right through to Dopero.
The 2-skewer designs have about 4 times as much sail area as the 1-skewer designs. Hence, it's easier to make them accurately. Plus, for any given sail material, a 2 skewer kite will be better in light breezes than a 1-skewer kite. The 1.2 meter Dowel kites are another step up again, with a roughly 4-fold increase in sail area compared with the 2-Skewer kites! However, the strength-to-weight ratio of hard-wood dowel is not as good as bamboo.
If you haven't made many before, I hope you really enjoy learning how to make a kite!

---
Another Resource...
Looking for a quality resource to make free kites from widely available materials? Here's a couple of paperbacks by an author I trust...
Building Free and Recycled Kites (Color)
Building Free and Recycled Kites (Black and White)
---
E-book special of the month (
25% off

)...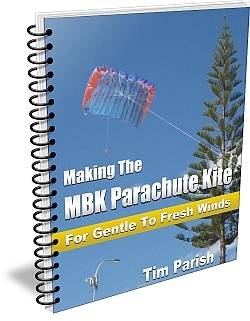 This printable e-book takes you step-by-step through making a 119 cm (4 ft) wide Parachute kite. It's not quite that wide in the air since the canopy takes on a distinct curved shape when inflated. This 14-cell kite performs best in moderate to fresh wind speeds. That's 20 to 38 kph or 13 to 24 mph. In gentle winds, this kite will hang in the air at fairly low line angles. In fresh winds, it pulls firmly for it's size, so small kids should only fly it while supervised!
Every kite design in the MBK Soft Series satisfies the following points...

Materials are plastic sheet, tape and line – and nothing more!
Tools are a ruler, scissors and a marker pen - and nothing more!
All cuts are along straight lines.
For the greatest chance of success, I make recommendations regarding the materials. For example, the type/weight of plastic, type/width of tape and line type/strength. Close enough should nearly always be good enough, since the design is well-tested and should be tolerant of small differences from my original.
Get the e-book for making the MBK Parachute kite. After making your first one in plastic and seeing how it performs, you can try soft Tyvek or rip-stop nylon for your next build.

The e-book is a PDF file - which means printable instructions to refer to while you make the kite. It also means convenient off-line access if that suits you better.

Aug 19, 17 12:29 AM

Winter-like weather has been the norm here for many weeks. But today was sunny with very light winds. A rare opportunity to take out the tail-less Della Porta variant with it's latest mini-bridle conf…
---
---