How To Fly A Kite
Having Trouble?
Need a hand with knowing how to fly a kite? We've seen plenty of struggling kite fliers from time to time! On the beach, at the park, near a kite festival in full swing. Can you relate to this? If so, the information here should be very helpful.
This page is all based on our own flying experiences with single-liners such as Diamonds, Deltas and Rokkakus. Each type has its quirks, but the basics apply to them all. The emphasis is on flat or bowed kites with solid spars, but you should find plenty of info here that applies to Parafoils and Sleds as well.
A note about flying shop-bought kites...
If the weather and location are good, and the kite is a simple, proven design like a Diamond or Delta, there shouldn't be much problem. The manufacturer should have pre-set the bridle to give immediate success in most weather conditions.
These kites are generally quite accurately made. Most have a good wind range, meaning they fly in fairly light right through to fairly fresh wind.
However, be aware that not all those fancy novelty kites are great fliers!
This
Stowaway Delta Kite
from Amazon is an example of a good shop-bought Delta.
---
NOTE: Video views from this website don't appear to be counted.

The principles of how to fly a kite aren't any different if it's home-made. Like that Delta up there in the video. However, a whole bunch of things can go wrong if the kite is not made carefully. Also, the smaller the kite, the more accurate you have to be!
Having said that, homemade kites can provide a lot of fun and reward. Heck, most of this website is all about making your own kite!
The beginning of any flight is the launch. This can be a little tricky when you are on your own, inland, in a gusty variable breeze. I've put together a few tips for this hand-launching situation. Since there are some large fields quite close to home, we don't often fly down at the beach where winds are smoother.

In good conditions, once you have your kite up high, there really isn't much to it. Just watch it do its thing. Anchor the line somewhere and keep an eye on things from time to time, while you do something else.

Often, it gets more interesting than just turning up somewhere and holding a string. So, I've written more on the various situations that can arise when kite flying with single liners.
But, supposing there are problems, for whatever reason. Time to check out a few tips. Maybe someone has fiddled with that bridle adjustment...


---
How To Fly A Kite...
And Not Get Bored
Some, maybe most, people just enjoy the relaxing aspects of flying a single-line kite. Just watching it fly, perhaps enjoying the subtle artistry of color and movement. Maybe even enjoying the feel of controlling an almost-living creature on the end of the line. However, if you would like to get a little more out of your kite, why not try the following ideas. No special equipment is needed! OK, maybe a stopwatch if you want to get more serious...
Launch straight off the ground, on a long line. Pull in line to get the kite in the air, then let it climb up to full height.
Bring your kite right down into your hand without letting it touch the ground. Pull in quicker from time to time if needed, to keep it airborne.
Keep records. See how long you can keep it in the air, to the nearest 5 minutes.
See how fast you can get 150 meters (500 feet) of line out, from a hand launch.
See how quickly you can get the flying line to a 45 degree angle from your hand at maximum length.
Once you know how to fly a kite, get serious about photographing it from time to time.
Of course, with money, extra gear and more experience you can eventually try a range of even cooler things! Like...
Teddy drops or lolly (candy) drops under a simple parachute, using a Kite Messenger to haul the payload up the kite string
KAP - Kite Aerial Photography
Flying really large and artistic kites of various kinds, to draw a crowd
Getting involved in kite fighting competitions with Indian or other fighter designs.
Getting serious about making and flying really small kites. Requires great craftsmanship and finesse!
That's about it for my somewhat long-winded speil on how to fly a kite.

Talking about being long-winded, here's some more ideas on why you might want to go fly a kite. It's quite a long page!
And just in case you want to know how a kite flies, I've done a piece on that too.
By the way, if you are in any way involved in teaching others to fly kites, take a look at How To Fly A Kite, by Glenn Davison. This book was prepared for the AKA (American Kite-fliers Association).
---
E-book special of the month (
25% off

)...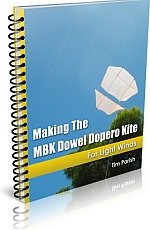 The Dopero is someone's clever idea to combine 2 Roller kites! Double Pearson Roller is where the name comes from. The resulting flat portion of sail in the middle makes this a very efficient design in light wind.
Even more so than the Roller before it, this kite has an attractive aircraft-like appearance in the air. This MBK version also excels in light winds.

If you have made Diamonds before, this kite takes somewhat more time to make. With the help of my instructions, it's still do-able by a beginner.

Get the e-book for making the MBK Dowel Dopero kite. After making your first one in plastic and seeing how it performs, you can try soft Tyvek or rip-stop nylon for your next build.

This Dopero can fly in quite a wide range of wind speeds thanks to the 4-pont bridle. The bridle lines keep the frame more rigid than a 2-point bridle could. Tail(s) are entirely optional, but may be added for looks.

The e-book is a PDF file - which means printable instructions to refer to while you make the kite. It also means convenient off-line access if that suits you better.
Mar 29, 17 09:00 AM

A previously published page which introduces the beginner to dual-line parafoils. Soft stunt kites in other words...
---
---