How To Make Soft Kites
Plastic And Tape - That's It!
If you want to know how to make soft kites, you have come to a good place. Right now, there are just two - the MBK Soft Sled and the MBK Parasail. The Sled instructions are right here on a page of this website, while an e-book has been published for the Parasail. A 4-cell parafoil is currently under development.

Other designs are coming too, which you will also be able to make from paid e-books. You will know exactly what to expect from the e-books, having made the Soft Sled from my on-line instructions! Same standard, same style.
If you have flying line suitable for using with mid-sized kites, then you are good to go as far as making bridle lines goes. Anything from 30 to 100 pound Dacron or Nylon would be fine. Perhaps even 20 pound line, for use in light winds.
It's convenient to buy a
30 pound flying line
from Amazon, if you live in the U.S. or Canada. It suits these kites perfectly. If Amazon won't deliver kite line to your country, there are usually other online sources for kite accessories.
These designs are not as quick and simple to make as the Simple Series kites elsewhere on this site. However, they have the considerable advantage of not requiring any rigid spar material...
No sticks or rods made from dowel, bamboo, fiberglass, carbon or anything else need to be found. In fact, it's quite possible that enough tape and plastic is already sitting in cupboards around your house to make a high-performance kite. Or three!
---
How This Page Will Grow

Each section below is dedicated to one soft kite design. First comes the Soft Sled, with links to the free step-by-step instructions for that kite. Also there is a link to a Flight Report. That page includes a video and several large photos of the original kite doing it's thing.

Following sections will be added one by one, as each design goes into development. After testing and tweaking is completed, I will put in a link to an e-book for making that design. Also, links to a Flight Report or two for that kite.

I have tried to be generous in my estimates of construction time, below. You might do them quicker.
Enjoy learning how to make soft kites...

---
The MBK Soft Sled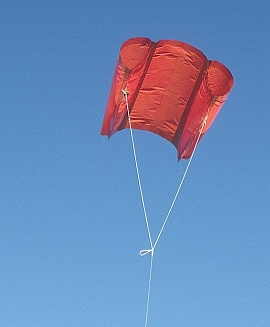 MBK Soft Sled
Construction time: around 3 hours.
This design was inspired by the classic Pocket Sled, but has several small differences. Not to mention some large ones - the different scale, materials and construction methods.
Here are the free step-by-step instructions.
The same day the 2nd prototype was made, I went out to fly it. The Sled flew very well, high up in gusty moderate winds on a 'blue' day. Hardly a cloud in sight...
Read about this kite's first flights.

---
The MBK Parasail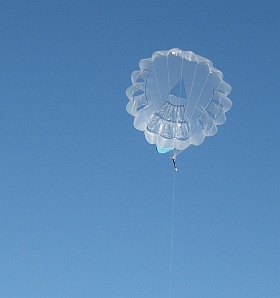 MBK Parasail
Construction time: around 6 hours.
You know, those huge parachute-like things which haul tourists off beaches and into the air behind a speed-boat... Now you will be able to make a much smaller version and fly it like a kite!

Here's the e-book of step-by-step instructions.

The second prototype was taken down to a nearby beach, just a few days after it was completed. Although sunlight eventually dwindled, the kite flew successfully in smooth wind and sunshine. A couple of bridle lines were shortened just a bit to trim the kite for it's best and longest flight...
Read about the Parasail flying over beach sand.

---
The MBK Parafoil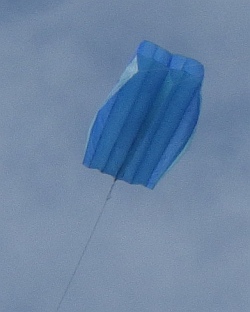 MBK Parafoil
Construction time: around 5 hours.
Everybody's seen a parafoil these days. No rigid spars, just squarish cells of cloth, open at the front and closed at the back. Recall your last visit to a kite festival, if you've been to one. I'll bet there were parafoils everywhere, big and small. My design is toward the small end of the size range, but it is still a genuine flat parafoil kite.
Testing has confirmed that this MBK version has a very useful wind range. That is, the range of wind speeds in which the kite will stay up. So there shouldn't be too many days on which you can't fly.
Here's the e-book of step-by-step instructions.
The first prototype barely flew. The second did better, but tended to collapse on launch and needed some mods. Number three proved it would stay up in light winds close to a beach. A couple of days later, it proved itself again at the other extreme - rough, fresh winds at an inland location. However, it was not what you would call a smooth flyer...
Read about the Parafoil flying in light winds.
Finally, after more fiddling about with the size and shape of it's keels, number 3 started flying 'like a bought one'!
Read about the Parafoil riding gusty moderate winds.

---
More About Soft Kites

I've noticed that experienced kite fliers often gravitate towards soft designs. Often very large and expensive ones, but that's not where we're at here. Anyway - soft kites, pound for pound or kilo for kilo, are just less work!
Using my publications on how to make soft kites should be fun for just about any age group. Having said that, I will eventually include hints and tips for scaling the designs either up or down. So, tiny kites for tiny tot kite enthusiasts and huge ones for Serious Kite Fliers.

Interestingly, scaling is not as straightforward for soft kites as it is for sparred ones. One thing you can be sure of though - I will suffer first, through a failed kite or two before finding the secret to making it work...
Only instructions for very successful kites will end up in my e-books!
Don't forget to try
30 pound flying line
from Amazon, if you live in the U.S. or Canada. Or any other country they will deliver braided line to!
---
E-book special of the month (
25% off

)...


The Delta is a very familiar kite shape to most people. This MBK version excels in very light to light winds.

If you have made Diamonds before, this kite takes a little more time to make. It's still a relatively straight-forward build though. 

Get the e-book for making the MBK Dowel Delta kite. After making your first one in plastic and seeing how it performs, you can try soft Tyvek or rip-stop nylon for your next build.

This Delta flies steep and steady over the Light wind range, and sniffs out any rising air that happens to come by. Tail(s) are entirely optional, but may be added for looks.

The e-book is a PDF file - which means printable instructions to refer to while you make the kite. It also means convenient off-line access if that suits you better.
Jan 18, 17 07:00 AM

A previously published page, taking a quick peek at this lesser-known corner of kiting. Want to get your line out a lot further? Join the kite-fishing crowd...
---
---