Kite Flying Stories

The First Few Years Of MBK

All the earliest kite flying stories recorded for the MBK website may be found here. Starting from March in 2007.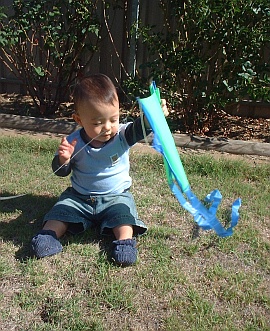 We used to get out at least once a week, and document everything that happened. Which kites we took, how high they flew, how long they flew, the weather conditions and so on.
At this time, our son Aren was a very cute toddler. He still got involved with the kite flying though, and we also took a few photos which you can find in the links below.
There's little Aren in the photo. The little green Baby Sled features heavily in our initial reports!

Similar tiny Sleds like this
Sled kite
from Amazon are popular with parents buying for the smallest fliers in the hobby.
---
The Discontinued Blog

We used some blogging software for a while, with which we covered the period from October 2007 right through to March 2009. Since then, as you might already know, our occasional kite flying stories appear under the 'what's new?' link near the top of the nav bar. See up there on the left.
This material is presented in reverse chronological order. The latest reports first, in other words...
---
Our Earliest Kite Flying Stories

It all started in March 2007, when we came home from the local kite festival. We had bought our toddler son a Baby Sled, so he could see a flying kite on a more regular basis.
After that, we moved on to making and flying the 1-Skewer series of small flat kites from bamboo BBQ skewers and freezer bag plastic.
For just a few cents each, these simple bamboo-and-plastic kites provided an amazing amount of flying adventure. Some were failures, but on the whole they did really well in moderate breezes. The air was rarely smooth, but that just added to the fun!
Here are all the kite flying stories, with the latest posts listed first...
Also from this era, here are a couple of reports on some duration and altitude record-keeping...
You might have noticed that this site has a monthly newsletter...
For single-line kite fliers and builders, it's always been a good read. But if you are interested in KAP and/or large home-made kites you won't want to miss it!

So sign up today, and download the free 95-page e-book "What Kite Is That?" straight away. Info-packed and fully photo-illustrated.
And there are even more free resources, such as a kite-making e-course, waiting for you in the next issue of this newsletter.

Jul 28, 14 05:06 AM

This was an experiment with mounting a camera directly onto the kite. With winds gusting to over 30kph up high, the Fresh Wind Barn Door kite was selected...

In a word, it was tricky. I mounted the camera as close as possible to the center of gravity of the kite, but it still ended up quite a few cm closer to the trailing edge than I would have liked. It was only practical to mount he camera - on its bendy tripod (!) - near the diagonal spars crossing point. Electrical tape secured 2 short tripod legs to the diagonal spars, holding the camera upright with the kite sitting on its trailing edge.

It was a struggle to get enough lift to gain much height, and the kite swung dangerously from side to side. Might try the drogues next time! I did my best to urge the kite higher in mid-swing.

Eventually, for a few seconds, the kite got to around 100 feet on almost 200 feet of 200 pound Dacron.

A video clip will of course be forthcoming on Facebook. And only seasoned kite fliers will bother watching it all the whole way through, possibly wrestling with sea-sickness all the while. Hence the title of this post. Still, it was an interesting, if slightly nerve-wracking, outing! At shoulder level, the breeze measured around 9kph gusting to 18.5kph. Some low cloud over the hills was absolutely tearing along, perhaps up around 40kph.

Huge Homemade Kites And Aerial Photography: This is often the topic for posts which appear here. New things are always being tried so sign up for my newsletter to stay right up to date with the latest developments!
---
---
Apologies for this site's current lack of video when viewed on mobile devices...
For now, please view this site on a Desktop or Laptop computer to see the videos. And there's plenty of them!