KAP Reports
Using Large Dowel Kites

These KAP reports document what happened when some aerial photography was done in our state of South Australia. The Multi-Dowel Barn Door kite used to see most of the action, with the Sled getting pulled out in winds that were too light for the Barn Door. Similarly, the Fresh Wind version of the huge Barn Door took over when the winds were too strong for my other kites. More recently, a Fresh Wind Sled has also been created, which has a zero rig-time.

There's the huge Barn Door in the photo. A test weight is suspended in a bamboo tetrahedron which later became the cradle for my camera. Note the Half-Picavet arrangement.
This design starts to struggle around the 28 kph mark, so another Barn Door design has been created. This 'Fresh Wind Barn Door' uses the same diameter dowel, but has much less sail area and a whopping big hole in the center. It flies right up into the 30-40kph range.
Although suited to stronger winds, the Multi-Dowel Box kite has so far proved awkward for KAP. This design has a much longer setup time and is prone to sinking out to the grass when you are trying to get the camera into its cradle! However, it did successfully loft the camera rig on one occasion when the average wind strength was high enough.
Recently, a new skewer rig design has seen some action. Lo-tech materials are something of a theme on this site, you might have noticed by now :-)
The advantages of this new rig include faster insertion / extraction of the camera and full 360 degree view direction adjustment. Plus access to the buttons on top of the camera while in the rig.
Fewer photos need be taken at a time, since you can just pop the rig into the air and down again several times if need be, shifting the point of view for each flight.
---
KAP Reports From Around Adelaide

And sometimes beyond. Adelaide is the capital city of South Australia, one of the windiest states of Australia. Still, you occasionally can't do KAP at all, due to 'no wind'! Perhaps a large R/C blimp would come in handy on those days.
OK, here are the reports. Most recent ones first...
Port Adelaide - 1 (Fresh Wind Sled)

Marion Shopping Centre - 2 (Fresh Wind Sled)

Flinders University - 1 (Fresh Wind Sled)

Happy Valley Reservoir - 2 (Barn Door)

Marion Shopping Centre - 1 (Barn Door)

Adelaide CBD - 1 (Fresh Wind Barn Door)

Noarlunga Centre - 1 (Fresh Wind Barn Door)
Happy Valley Reservoir - 1 (Sled)

Wilfred Taylor Reserve - 1 (Barn Door)
---
E-book special of the month (
25% off

)...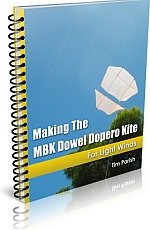 The Dopero is someone's clever idea to combine 2 Roller kites! Double Pearson Roller is where the name comes from. The resulting flat portion of sail in the middle makes this a very efficient design in light wind.
Even more so than the Roller before it, this kite has an attractive aircraft-like appearance in the air. This MBK version also excels in light winds.

If you have made Diamonds before, this kite takes somewhat more time to make. With the help of my instructions, it's still do-able by a beginner.

Get the e-book for making the MBK Dowel Dopero kite. After making your first one in plastic and seeing how it performs, you can try soft Tyvek or rip-stop nylon for your next build.

This Dopero can fly in quite a wide range of wind speeds thanks to the 4-pont bridle. The bridle lines keep the frame more rigid than a 2-point bridle could. Tail(s) are entirely optional, but may be added for looks.

The e-book is a PDF file - which means printable instructions to refer to while you make the kite. It also means convenient off-line access if that suits you better.
Mar 22, 17 09:00 AM

This knot doesn't have the greatest reputation - but it's simple and does have it's place in some less-critical kiting scenarios. Usually with the addition of a drop of glue ;-) ...
---
---