Kite Photography
Some Typical Images
Kite photography enthusiasts set out to capture interesting or historic scenes from the air. Maybe an unusual landscape with features that can only be seen from the air. Perhaps a famous castle or an interesting modern building complex.
With a light enough camera, you could even use a home-made kite like the Dowel Rokkaku or other kites in those eBooks over there on the right.
Web-surfing for aerial photos one day, one photograph really caught my eye...
It was an air-to-air shot of a big flow-form kite at a kite festival. The flying kite takes up most of the frame, with the beach and ant-like crowd far below. This is a reversal of the usual 'people on the sand, with kites far away in the sky'!
The book
Saltscapes: The Kite Aerial Photography of Cris Benton
on Amazon shows how great photography can be performed from the vantage point of a flying kite. The reviewers loved this book!
---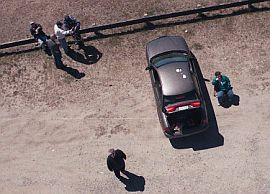 A KAP 'selfie'
Looking around at some KAP images on the web, I found that many hobbyists have a fascination with photographing themselves from the kite while it is still very low!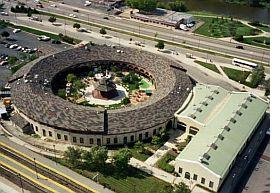 A favorite KAP subject - buildings
Another quite common class of shot is the architectural view. Nice buildings from unusual angles in other words! Or perhaps spectacular buildings, extremely old buildings, buildings in magnificent settings. And so on. Aerial photography using kites is open to a lot of creativity.

Others are even more creative and try hard to make artistic statements with their best pictures. For example, a collection of brightly colored sailing boat sails on the beach, with the boats themselves largely hidden. Sometimes, fish-eye lenses are used to good effect, and filters can completely alter the tone of the scene. The artistry can be more important than the subject matter, in some cases.
Talking about boats, here's an interesting aerial shot of hulls from an unusual angle...
---
Digital cameras are widely used in aerial photography using kites. In fact, their use in KAP has pretty much stayed in step with their popularity with the general public. Initially, the cheaper cameras just couldn't take a decent picture compared to a 35mm film camera. As we all know, that is not the case now! A large and growing number of people world-wide are enthusiastically snapping digital pictures.
---
E-book special of the month...

I've been making and flying traditional-style Box Kites on-and-off ever since this site was started...
Get the e-book for making a range of bamboo or dowel designs. Down to $7 from the usual $9.95, for this month.

With a large range of wind speeds covered, not to mention a large choice of kite size to attempt, the ideal box kite for you has to be in there somewhere!
My personal favorite would have to be the giant 2.4m (8ft) long Multi-Dowel Box which flies steep and steady. It's on the e-book cover over there...

The e-book is a PDF file - which means printable instructions to refer to while you make the kite. It also means convenient off-line access if that suits you better.
Sep 28, 16 07:00 AM

A previously published page covering the historical Eddy design - a large tail-less Diamond. Illustrated with our own Dowel Diamond, also tail-less, which is based on the Eddy concept...
---
---
Return to Aerial Kite Photography from Kite Photography

All the way back to Home Page