YOUR Kite Aerial Photography!
Interesting Photos From Kites

Kite Aerial Photography (KAP) as a hobby attracts a whole range of enthusiasts. There are so many ways to do this!
At one end, you have people who decide on a whim to hoist a cheap digital camera from a single line attached to a kite. Any old kite that has enough lift. The 10 second timer goes off sometime during the kite's climb, and hey! An aerial photo!
At the other end of the spectrum, the KAPer might be a serious photographer who patiently pans and clicks his expensive digital camera via a radio transmitter.
The kite might be an enormous Dopero or Rokkaku, 'nailed to the sky' in a light breeze. A 4-line Picavet suspends the camera cradle and radio gear from the flying line rather than the kite itself.
The book
Saltscapes: The Kite Aerial Photography of Cris Benton
on Amazon shows what can be accomplished by a serious photographer using KAP.
---
Do YOU Do KAP?
And I really mean any old KAP! No need for high-end gear and utterly professional images here...

So what images have you captured lately? Please share anything remotely interesting for visitors to this page to enjoy. Thanks!
Aerial Pictures Left By Others
Click below to see some intriguing aerial photos from other visitors to this page...

---
Thinking Of Contributing?
Please Read...
Visitors to this KAP page will really appreciate any extra info you can supply. The quirky aerial pictures are 'the main thing' sure, but people will love it if you type in a short description of how everything came together to get that shot. What kind of KAP rig did you use? (if you can even call it that!) Which of your kites did you use? What was the camera, and how did you operate the shutter? And so on.
Now, a couple of tips for best results...
Aerial pictures straight from your camera can be uploaded successfully. However, transferring these large raw digital images can take many minutes over a slow Internet connection. Re-sizing the image to around 100Kb or so will still result in a high-quality image on a computer screen.
For maximum impact on my site, a photo that's taller than it is wide works best. This way, when my site re-sizes the photo to fit the page, it will appear as large as possible since there is no limit on depth.
---
E-book special of the month (
25% off

)...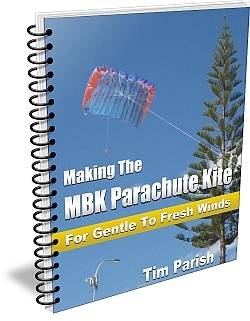 This printable e-book takes you step-by-step through making a 119 cm (4 ft) wide Parachute kite. It's not quite that wide in the air since the canopy takes on a distinct curved shape when inflated. This 14-cell kite performs best in moderate to fresh wind speeds. That's 20 to 38 kph or 13 to 24 mph. In gentle winds, this kite will hang in the air at fairly low line angles. In fresh winds, it pulls firmly for it's size, so small kids should only fly it while supervised!
Every kite design in the MBK Soft Series satisfies the following points...

Materials are plastic sheet, tape and line – and nothing more!
Tools are a ruler, scissors and a marker pen - and nothing more!
All cuts are along straight lines.
For the greatest chance of success, I make recommendations regarding the materials. For example, the type/weight of plastic, type/width of tape and line type/strength. Close enough should nearly always be good enough, since the design is well-tested and should be tolerant of small differences from my original.
Get the e-book for making the MBK Parachute kite. After making your first one in plastic and seeing how it performs, you can try soft Tyvek or rip-stop nylon for your next build.

The e-book is a PDF file - which means printable instructions to refer to while you make the kite. It also means convenient off-line access if that suits you better.

Aug 23, 17 06:00 AM

This previously published page gives a quick insight into the structure and materials of the original 'War Kites' by Samuel Cody. Plus some history and photos of course. Intriguing stuff...
---
---
Return to Flying Kites from Kite Aerial Photography

All the way back to Home Page