A Flying Kite
On The End Of A String...
Is a wonderful thing! Is watching a flying kite one of your hobbies? Seeing your own creation up there definitely adds a new dimension to the experience. Read on for all sorts of kite flying stories plus of course plenty of photos and some short videos.
This section of the site is devoted to a whole bunch of flight reports.
For a year or so, this site had a couple of dedicated MBK Flight Reporters. These reporters built my designs, flew them, took photos and then submitted great illustrated reports on their outings!
In addition, my own flight reports from years past may be found here. And I still do a new one occasionally, with a photo and video.
You just never know what random incident might happen while a kite is up. Nothing earth-shattering generally, but often enough to make the flier - or a number of the by-standers - crack a smile!


All the reports feature kite designs which are either available free from this site or are included in e-books.
Such as "Making Dowel Kites". This e-book shows you how to make each design stowable, so it can be rolled up into a 1.2m (4 ft) long package. And the huge bonus kites - with four times the sail area -  also pack down to the same length.

Everybody has a favorite kind of kite, so the reports are organized accordingly, below..
Doing Flight Reports is my preferred method of keeping a record of my flights. Perhaps not for you on a regular basis, since you might not have a website or e-products which need fresh content from time to time.
However, it could be worth your while to keep a Kite Log Book. Check it out!

---
The Kites By Size

From age 3 to 103, there's something for everyone with an MBK design. Here's a break-down of the various categories by size...

Multi-Dowel Kites (very large, tail-less, in e-books only)
Dowel Series (large and tail-less)
3-Skewer Kites (in e-books only)
2-Skewer Series (modest sized, but high-performance)
1-Skewer Series (tiny, but quick to make)
In addition, there are a few which don't neatly slot into any of the above categories.

Here's some photos of sample kites in the various sizes, along with some general information about them...

---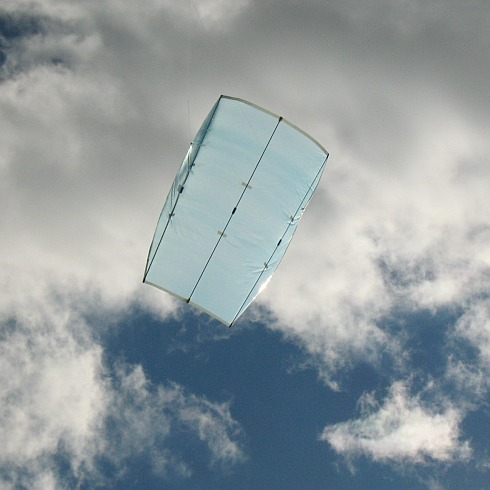 The Multi-Dowel Sled

'Big' has recently been re-defined here at MBK! So far in the Multi-Dowel Series are the Sled, Barn Door, Rokkaku and Box kites. The Sled and Box are 2.4 meters (nearly 8 feet) long, while the others have a span of that same amount.
These are a little more challenging to build, in comparison to all the other smaller and simpler designs. And due to the considerable pull they exert on the flying line, even in light winds - not for kids of any age!

---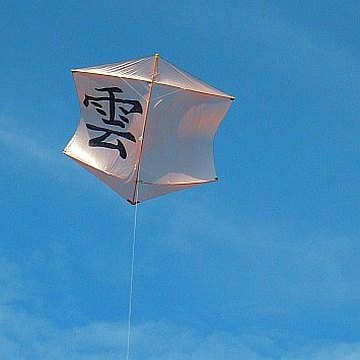 The Dowel Rokkaku

The designs in the Dowel Series were made with adults in mind, who want something of a decent size to fly. Older kids would also have the strength to handle these in most wind conditions.
The first thing you might notice about a flying kite of the Dowel variety is that it doesn't have a tail. Of course, there's nothing stopping you from adding a tail just for looks! These kites will fly a little higher and steeper without tails though.

---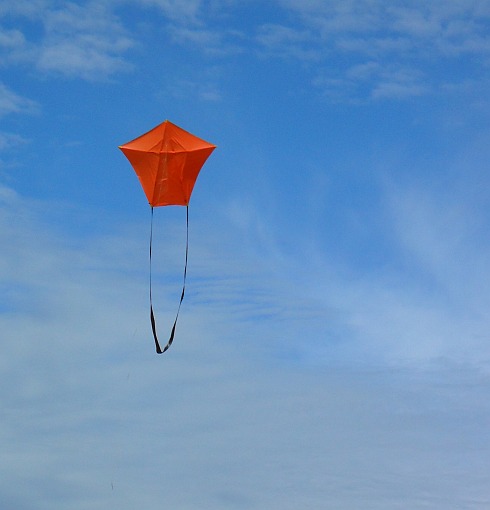 The 3-Skewer A-Frame

The 3-Skewer Kites have a span or height of ... you guessed it, the length of three 30cm (12") bamboo skewers. A bit less actually, since the points need to be snipped off! These designs are e-book-only hence not freely available on this website. However, you can certainly read about them here, and watch the videos.
There might eventually be a few more 3-Skewer designs to choose from.

---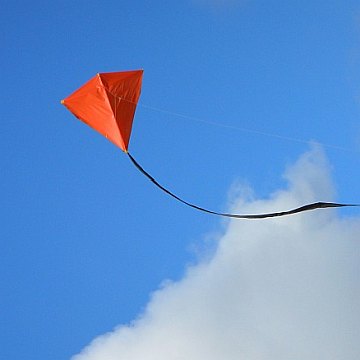 The 2-Skewer Diamond

I've had some fantastic flights with kites from the 2-Skewer Series on light-wind days. What I love about them personally is that despite being fairly small, they hit a performance sweet spot. Here's what I mean...
Two bamboo BBQ skewers end to end turns out to be a very ideal combination of strength, rigidity and light weight. Add extremely light single-ply plastic, and you have one super light-weight flying kite! Saving weight is what it's all about, as any kite-maker will tell you.
Read the stories to see what some of these kites get up to, on a long 20 pound Dacron line.

---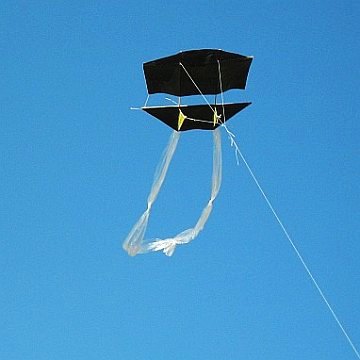 The 1-Skewer Dopero

The 1-Skewer Series kites have wing-spans the length of a single BBQ skewer. The Delta is actually a little wider than that, but both leading edge spars are a single BBQ skewer. Most of the designs in this series are rarely seen in such small sizes. But I thought it would be fun to re-create them anyway!
How about a ... 29cm (1 foot) wide Dopero? Just for moderate wind fun. It's simply too tiny to lift a camera of any kind, unlike its much larger cousins.

---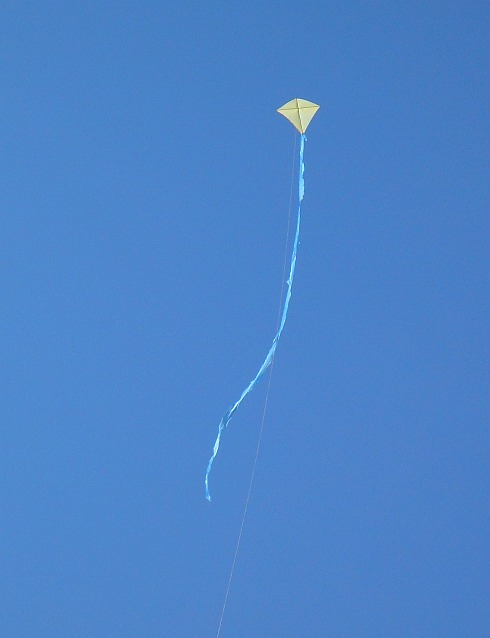 The Tiny Tots Diamond

Eventually there might be a small collection of stories documenting how some very simple and/or quick to make kites perform. There are just 2 right now: the spar-less Paper Sled and the Tiny Tots Diamond.


---
Have you browsed a few flight reports yet? OK, then have a guess which type of flying kite is featured in the video below...
You might have noticed that this site has a monthly newsletter...
For single-line kite fliers and builders, it's always been a good read. But if you are interested in KAP and/or large home-made kites you won't want to miss it!

So sign up today, and download the free 95-page e-book "What Kite Is That?" straight away. Info-packed and fully photo-illustrated.
And there are even more free resources, such as a kite-making e-course, waiting for you in the next issue of this newsletter.

Aug 25, 14 03:57 AM

Last week I came home from a KAP (Kite Aerial Photography) session down at Brighton beach, here in Adelaide, South Australia. The photos were a disaster, being totally washed out. Over-exposed, to be a little more technical. At the time I thought the problem was purely the position of the sun, relative to the direction of the camera...

Well guess what. Down at the same beach today, the photos had the same problem - and this time it definitely wasn't the sun. Camera damage seemed a small possibility since the rig had hit the sand at some speed last time, during a white-knuckle experience with the kite in rough air! Which turned out OK, but that's another story.

Anyway, once back home today, I did a little investigating with the camera, taking some test pictures from the back yard. It was a great relief to find the explanation for the bad images...

It seems that setting a fixed ISO is not a good idea for this camera in very bright lighting conditions. It can cause the camera to run out of adjustment room for other parameters, like shutter speed or aperture. When the camera was allowed to set ISO automatically, the exposure problem disappeared. Whew!

The Tyvek-sailed Carbon Diamond performed wonderfully today. It was, for the first time, hoisting the KAP rig into the air. Never has the rig been so steady for so long. Sway was almost non-existent. But whenever I handled the line the camera twisted back and forth due to the rather steep line angle from the rig to the kite. Without enough horizontal separation, the suspension lines do not provide the maximum resistance to twisting. It might be an idea to separate the attachment points even further, on the flying line.

The 2 meter (7 ft) Diamond was struggling to lift the camera in the fairly light winds coming off the ocean. At times, people on the beach had to duck under the line from me to the camera! The camera was behaving as a sort of aerial tether point, with the kite flying at a steep line angle from there.

Measured at shoulder height, the on-shore breeze was about 4.5kph gusting to just under 7kph. More of a day for the Multi-Dowel Sled really, which hardly feels a 280g weight on the line!

"Simplest Dowel Kites": A free but very useful kite-making e-book. Make a super-simple Sled, Diamond and Delta - step-by-step with photos. Sign up for the e-book and get an emailed series of messages called "MBK Tips'n'Ideas". If you don't need the e-book, consider signing up anyway... You won't believe what's on offer in that message series!
---
---
Apologies for this site's current lack of video when viewed on mobile devices...
For now, please view this site on a Desktop or Laptop computer to see the videos. And there's plenty of them!