A Flying Kite
On The End Of A String...
Is a wonderful thing! Is watching a flying kite one of your hobbies? Seeing your own creation up there definitely adds a new dimension to the experience. Read on for all sorts of kite flying stories plus of course plenty of photos and some short videos.
This section of the site is devoted to a whole bunch of flight reports.
For a year or so, this site had a couple of dedicated MBK Flight Reporters. These reporters built my designs, flew them, took photos and then submitted great illustrated reports on their outings!
In addition, my own flight reports from years past may be found here. And I still do a new one occasionally, with a photo and video.
You just never know what random incident might happen while a kite is up. Nothing earth-shattering generally, but often enough to make the flier - or a number of the by-standers - crack a smile!
Everybody has a favorite kind of kite, so the reports are organized accordingly, below..
Doing Flight Reports is my preferred method of keeping a record of my flights. Perhaps not for you on a regular basis, since you might not have a website or e-products which need fresh content from time to time.
However, it could be worth your while to keep a Kite Log Book. Check it out!

---
The Kites By Size

From age 3 to 103, there's something for everyone with an MBK design. Here's a break-down of the various categories by size...

Multi-Dowel Kites (very large, tail-less, in e-books only)
Dowel Series (large and tail-less)
3-Skewer Kites (in e-books only)
2-Skewer Series (modest sized, but high-performance)
1-Skewer Series (tiny, but quick to make)
In addition, there are a few which don't neatly slot into any of the above categories.

Here's some photos of sample kites in the various sizes, along with some general information about them...

---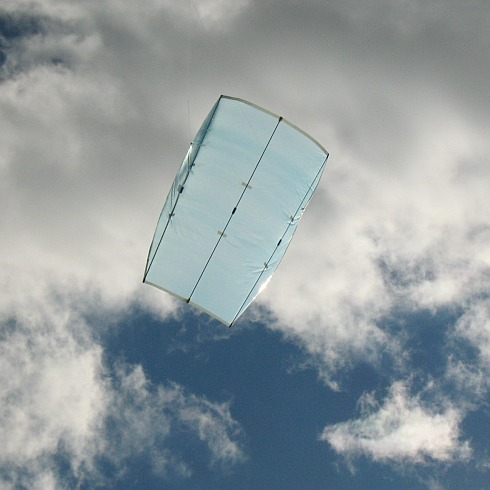 The Multi-Dowel Sled aka 'The Horse'


'Big' has recently been re-defined here at MBK! So far in the Multi-Dowel Series are the Sled, Barn Door, Rokkaku and Box kites. The Sled and Box are 2.4 meters (nearly 8 feet) long, while the others have a span of that same amount.
These are a little more challenging to build, in comparison to all the other smaller and simpler designs. And due to the considerable pull they exert on the flying line, even in light winds - not for kids of any age!

---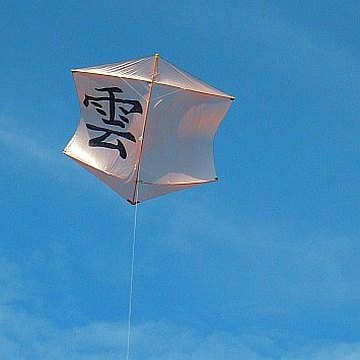 The Dowel Rokkaku with 'clouds' character



The designs in the Dowel Series were made with adults in mind, who want something of a decent size to fly. Older kids would also have the strength to handle these in most wind conditions.
The first thing you might notice about a flying kite of the Dowel variety is that it doesn't have a tail. Of course, there's nothing stopping you from adding a tail just for looks! These kites will fly a little higher and steeper without tails though.

---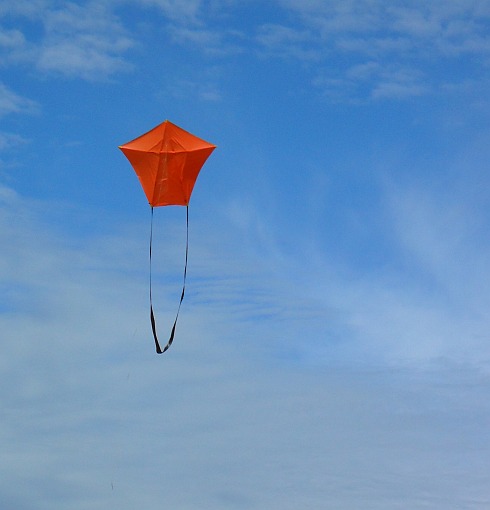 The 3-Skewer A-Frame just hanging still



The 3-Skewer Kites have a span or height of ... you guessed it, the length of three 30cm (12") bamboo skewers. A bit less actually, since the points need to be snipped off! These designs are e-book-only hence not freely available on this website. However, you can certainly read about them here, and watch the videos.
There might eventually be a few more 3-Skewer designs to choose from.

---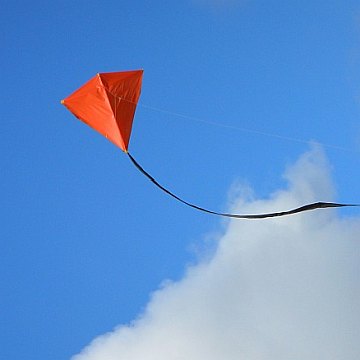 The 2-Skewer Diamond does S-bends in a light breeze



I've had some fantastic flights with kites from the 2-Skewer Series on light-wind days. What I love about them personally is that despite being fairly small, they hit a performance sweet spot. Here's what I mean...
Two bamboo BBQ skewers end to end turns out to be a very ideal combination of strength, rigidity and light weight. Add extremely light single-ply plastic, and you have one super light-weight flying kite! Saving weight is what it's all about, as any kite-maker will tell you.
Read the stories to see what some of these kites get up to, on a long 20 pound Dacron line.

---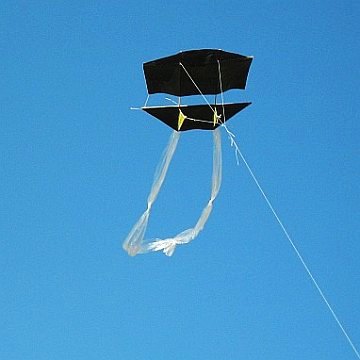 The 1-Skewer Dopero is truly cute at only 29cm (1ft) across



The 1-Skewer Series kites have wing-spans the length of a single BBQ skewer. The Delta is actually a little wider than that, but both leading edge spars are a single BBQ skewer. Most of the designs in this series are rarely seen in such small sizes. But I thought it would be fun to re-create them anyway!
How about a ... 29cm (1 foot) wide Dopero? Just for moderate wind fun. It's simply too tiny to lift a camera of any kind, unlike its much larger cousins.

---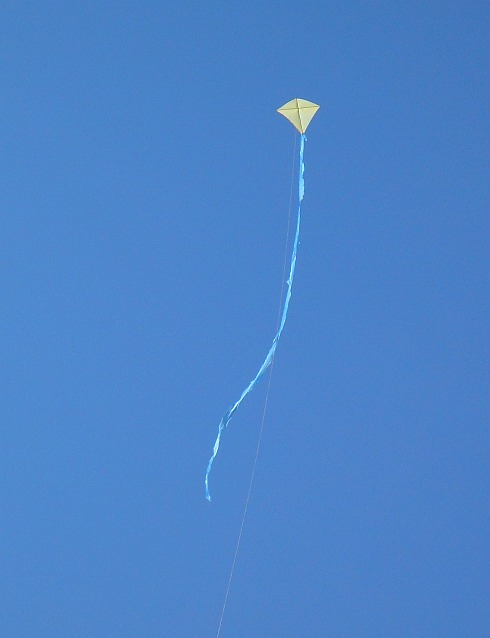 The Tiny Tots Diamond has a surprisingly large wind range



Eventually there might be a small collection of stories documenting how some very simple and/or quick to make kites perform. There are just 2 right now: the spar-less Paper Sled and the Tiny Tots Diamond.

---
Have you browsed a few flight reports yet? OK, then have a guess which type of flying kite is featured in the video below...
---
E-book special of the month (
25% off

)...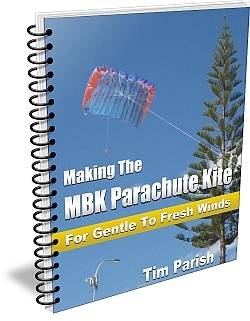 This printable e-book takes you step-by-step through making a 119cm (4 ft) wide Parachute kite. It's not quite that wide in the air since the canopy takes on a distinct curved shape when inflated. This 14-cell kite performs best in moderate to fresh wind speeds. That's 20 to 38kph or 13 to 24mph. In gentle winds, this kite will hang in the air at fairly low line angles. In fresh winds, it pulls firmly for it's size, so small kids should only fly it while supervised!
Every kite design in the MBK Soft Series satisfies the following points...
Materials are plastic sheet, tape and line – and nothing more!
Tools are a ruler, scissors and a marker pen - and nothing more!
All cuts are along straight lines.
For the greatest chance of success, I make recommendations regarding the materials. For example, the type/weight of plastic, type/width of tape and line type/strength. Close enough should nearly always be good enough, since the design is well-tested and should be tolerant of small differences from my original.
Get the e-book for making the MBK Parafoil kite. After making your first one in plastic and seeing how it performs, you can try soft Tyvek or rip-stop nylon for your next build.

The e-book is a PDF file - which means printable instructions to refer to while you make the kite. It also means convenient off-line access if that suits you better.

Jun 24, 17 08:27 AM

It was down at Knox Park on the last Saturday of the month, as is my custom...

Except that the weather has not cooperated on the last couple of occasions. Even today the breeze was barely there. A frie…
---
---