A Flying Kite
On The End Of A String...
Is a wonderful thing! Is watching a flying kite one of your hobbies? Seeing your own creation up there definitely adds a new dimension to the experience. This page is devoted to a whole bunch of flight reports with my own collection of home-made kites.
You just never know what random incident might happen while your kite is up. Nothing earth-shattering generally, but often enough to make you (or a number of the by-standers) crack a smile!
Nearly every flight report features 10 seconds of video, plus an in-flight photo of the flying kite.
Each section below is devoted to one of the MBK Series:
Multi-Dowel Bonus Kites (very large and tail-less)
Dowel Series (large and tail-less)
3-Skewer Bonus Kites (only available in books - see over there on the right)
2-Skewer Series (modest sized, but high-performance)
1-Skewer Series (tiny, but quick to make)


---
BIG Is Beautiful!
'Big' has recently been re-defined here at MBK! So far in the Multi-Dowel Series are the Sled, Barn Door, Rokkaku and Box kites. The Sled and Box are 2.4 meters (nearly 8 feet) long, while the others have a span of that same amount.
Sled:

A Learning Experience With My First Truly BIG Kite.
Barn Door:
Steady Climb-out, Soaring High At Last
Rokkaku:
A Slow, Ponderous Climb To 250 Feet
Box:
Successful Test In Plenty Of Breeze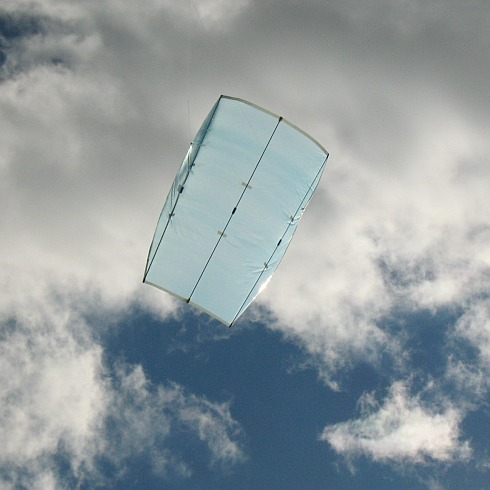 The Multi-Dowel Sled

---
A Flying Kite Of Dowel And Plastic
... is likely to do pretty well in light winds, as long as the dowel isn't too thick and heavy. The designs in the Dowel Series were made with adults in mind, who want something of a decent size to fly.
The first thing you might notice about a flying kite of the Dowel variety is that it doesn't have a tail. Of course, there's nothing stopping you from adding a tail just for looks! These kites will fly a little higher and steeper without tails though.
Enjoy browsing through these accounts of outings with a Dowel Kite...
Sled:
Fewer Collapses, Much Higher And Longer Flights
Just Hanging As The Sun Goes Down
Diamond:
Long Climbs In Light Warm Breezes
Flies Like A Dream - If Thermals Not Too Extreme!
Barn Door:
Lolling About In Large Areas Of Lift And Sink
Awesome Performer In Smooth Moderate Winds
Straight To 80 Degrees In Gentle Winter Thermals
Rokkaku:
Straight And True Over The Whole Wind Range
Had To Fly Higher To Find Slower Air!
Flying High In Smooth Breezes - After Some Drama!
First Test Flight In A Light Gusty Breeze
Sode:
Frolicking In Moderate Winds And Thermals
Smooth Stable and Predictable!
Delta:
Dicing With Sudden Wind Increases And Cloud Suck
Amazing Flight In Almost Zero Wind
Smooth Stiff Breeze Keeps Line Straight And Spars Bent!
Roller:
Light-wind Workout But Still A Height Record!
Successful Test Flight In A Cold Fresh Breeze, With Gusts
Dopero:
Eventful Outing - Pelicans, Failed Tape And More
Simply Superb Thermal Floater!
Promising Test Flight In A Sharp Winter Wind Gradient
Box (moderate wind version):
Winds A Bit Light, But Still Flew HIGH
Box (fresh wind version):
An Exhilarating Fresh Wind Single-liner!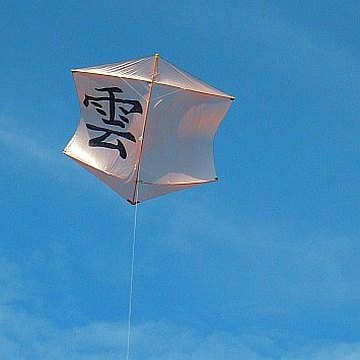 The Dowel Rokkaku

---
Ultimate Skewer Kites
There will eventually be 3 designs here. They are Bonus 3-Skewer Kites which will be included in the downloadable book Making Skewer Kites, but not available on this website. However, you can certainly read about them here, and watch the videos!
So far...
Sled
Rough Moderate Winds - No Problem!
A-Frame
Exploring The Lower Wind Range
Exploring The Upper Wind Range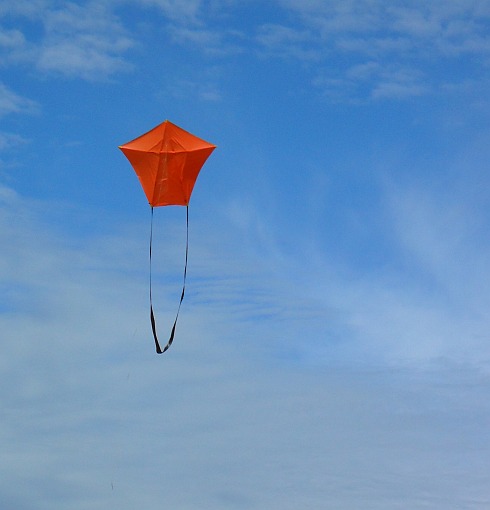 The 3-Skewer A-Frame

---
A Flying Kite - Smallish But Efficient
I've had some fantastic flights with kites from the 2-Skewer Series on light-wind days. What I love about them personally is that despite being fairly small, they hit a performance sweet spot. Here's what I mean...
Two bamboo BBQ skewers end to end turns out to be a very ideal combination of strength, rigidity and light weight. Add extremely light single-ply plastic, and you have one super light-weight flying kite! Saving weight is what it's all about, as any kite-maker will tell you.
See what some of these kites get up to, on a long 20 pound Dacron line...
Sled
First High Flight In A Gusty Breeze

Diamond
When Is A Hole In The Sail A Good Thing?
On A Taut 70 Meters Under A Leaden Sky
Barn Door
Strong Thermals And Branch-Bending Gusts!

Gentle Flying Near Its Wind Range Lower Limit
Rokkaku
Rok Rockets Up, Aided By Thermals And Light Wind
Pushing The Envelope In Moderate To Fresh Winds
Sode
Gusty Moderate Winds And One Heck Of A Thermal
Roller
Long High Flight In Perfect Weather
Dopero
Gusty Fresh Winds Spring Up From Nowhere
Box:
Sitting Pretty Above The Wind Gradient
Some of this series are due to be re-made, with design improvements. When that happens, more flight reports will be added above.
A flying kite in a class of its own, somewhere between the 2-skewer and 1-skewer designs, is this...
Tetrahedral:
Floated Way Up In Almost Perfect Winds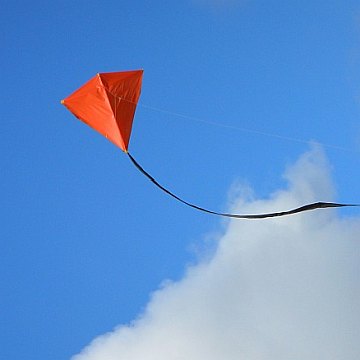 The 2-Skewer Diamond

---
A Flying Kite - Tiny But Interesting
Particularly if it is an MBK 1-Skewer kite! These 1-Skewer Series kites have wing-spans the length of a single BBQ skewer. The Delta is actually a little wider than that, but both leading edge spars are a single BBQ skewer. Most of the designs in this series are rarely seen in such small sizes. But I thought it would be fun to re-create them anyway!
How about a ... 29cm (1 foot) wide Dopero? Just for moderate wind fun. It's simply too tiny to lift a camera of any kind, unlike its much larger cousins.
Sled:
First Time Out, And Loving The Moderate Breeze!
Diamond:
2 Orange Diamonds Flash In A Blue-Gray Setting
Barn Door:
Short But Successful Flights In Meagre Breezes
Rokkaku:
Winds A Bit Light, But Thermals Helped Out!
Sode:
High And Stable In A Moderate Breeze
Delta:
Almost Zero-Wind, But Still Some Interesting Flying!
Testing Conditions, But A Great Little Flier!
Roller:
Dopero:
Moderate Winds, And Not Too Gusty - Perfect!
Box:
Floating And Darting In Gusty Fresh Winds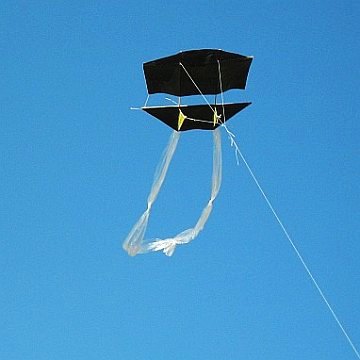 The 1-Skewer Dopero

---
The Smallest And The Simplest
Eventually there might be a small collection of stories here, documenting how some very simple and/or quick to make kites perform. Just 2 for now, the spar-less Paper Sled and the Tiny Tots Diamond...
Paper Sled:
Floating Aloft On Light Thermal-Induced Gusts
Tiny Tots Diamond:
High Up In A Gusty Fresh Breeze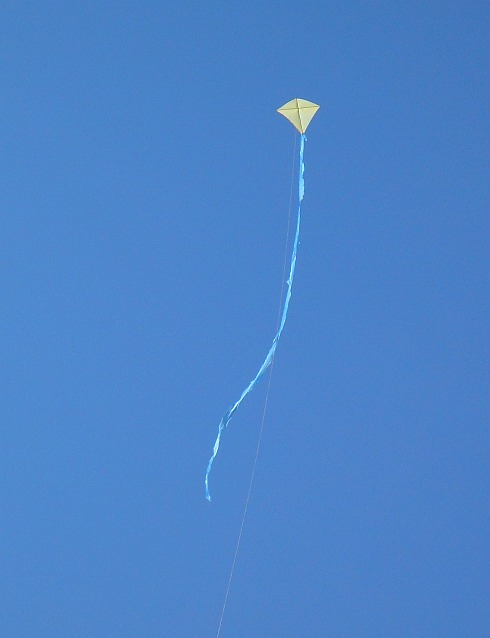 The Tiny Tots Diamond

---
Have you browsed a few flight reports yet? OK, then have a guess which type of kite is featured in the video below...
Interested in home-building? If 1 or 2 kite-making projects is never enough, consider the MBK Book Bundle which is the absolute best value I can offer. It's taken me 6 years to put it all together, so it should keep you busy for a while :-)
---
For MBK Flight Reporters only...

International Flight Reports
If you are a paid MBK Flight Reporter, or would like to be, this is where you submit your text and photos.

If you need more information about what is expected, please refer to the reporter guidelines. This link is not to be confused with the submission guidelines link near the Submit... button further down this page.

Also feel free to make contact through here, if you have a relevant question or comment. You should get a reply within 24 hours.
Most Recent Flight Reports
Click below to see the most recent contributions from MBK Flight Reporters...
Barn Door Kite Thermals Over Willamette Park

This last week, I had three successful flights on two different days! This submission describes the first outing, a typical Sunday kite flying trip at …
MBK Barn Door Kite - First Flight

This evening was the first feature length flight of my MBK Dowel Barn Door Kite! Construction was pretty much stock according to the MBK plans and technique. …
---
---