Make A Kite For Kids
The MBK Tiny Tots Diamond
Here are step-by-step instructions to make a very simple kite for kids. It involves no gluing. Just cutting with scissors, sticking with tape and one knot. It's so quick that if any damage occurs, you can have another one ready in minutes! Kite making for kids doesn't take much...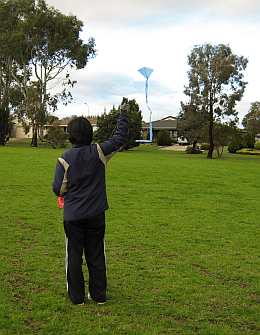 My non-kiter wife sees success!
With no previous experience, my wife made this design in about 35 minutes. And yes, it flew great! She commented that if she made another one, the time taken would be more like 15 minutes.
The photo shows the little Diamond, which May made in light-blue shopping bag plastic, hovering just off the ground in a very light breeze.
With every gust of extra wind, the kite would soar up much higher.
This design is so light-pulling, you can forget about the usual Dacron or Nylon flying line if you want to.
Polyester sewing thread is quite strong enough!
That's our 2 1/2 year old Aren down there in the video, towing this kite along after being prompted to 'run! run! run!'. He had fun! Any child up to the age of 6 or so should enjoy doing the same. If there is a bit of wind, the kite will fly while the child just stands and hangs on to the winder.


NOTE: Video views from this website don't appear to be counted.
---
Here's The Instructions...
But whoa ... hang on a moment! IF you think it might suit you better, I do offer an e-course for this very same kite. That's right - you get to gather materials, make the kite and get some coaching for flying it, spread out over 2 weeks.
The course material comes to you via your email in-box.
Sign up here for the e-course! It's free.

It's your choice though, particularly if you know you already have all the materials...

Absolutely everything needed to make this child's kite is in the following list:
somewhere flat to work
plenty of thin colored plastic, in sheets or bags
2 bamboo BBQ skewers, 30cm or 12 inch (possibly the only thing you might need to buy)
clear sticking tape, as used in offices
a ruler
a black marking pen, for example a felt-tipped laundry marker
scissors, big enough to snip the skewers
polyester sewing thread
On that last point... The sewing thread works nicely. However, it is somewhat prone to break when the kite snags on a branch or a child tugs at it a little too enthusiastically!

So, try this
kite winder
which comes with 200 feet of light nylon line. A good choice for the Tiny Tots Diamond.
The following 9 steps are designed for maximum speed, at the expense of some accuracy. However, the human eye is good at lining things up and dividing lengths in 2 - so the end result should fly fine! It looks a lot, scrolling through, but each step is very short and easy. There's nothing hard about making this kite for kids.


And if the sewing thread in Step 9 proves troublesome due to breakages...

This
kite winder
comes with 200 feet of light nylon line. Much stronger, but still light enough to suit the little Diamond.
---
You are now ready to fly the kite! Weather permitting, of course. I hope you've enjoyed this experience of making a kite for kids!
The shot below was taken near sunset. See how the kite and its tail are being lit from the right...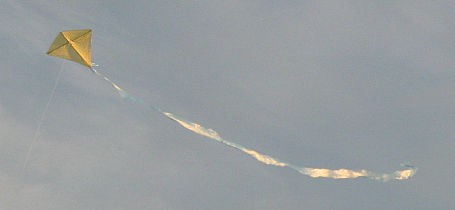 A Tiny Tots Diamond hovers, lit by the setting sun


If there is no wind, with this kite kids can still have fun. Just encourage the child to run around towing the kite. It's a good idea to get the diamond in the air yourself first, with the child holding the winder. Then the child can just start running.

---
How Did YOUR Tiny Tots Diamond Kite Go?
If you had a go, and particularly if you got some good photos, it's easy to share the story here. It will help inspire other families to try this fool-proof little kite!

P.S. Stories of at least 300 words are preferred. This is easily achieved by just remembering a little detail about making the kite(s), where you went, how the kite(s) flew and what everyone experienced on the day.

Stories From Other Visitors
Click below to see Tiny Tots Diamond Kite stories submitted by other visitors to this page...

---
Two More DIY Designs

Do you have some fairly large indoor space available? Then you must try making paper kites. The MBK Paper Sled requires a sheet of copier paper and not much else! You can take it outside too, as long as the wind is fairly light.

Here's an old page featuring instructions on how to make a kite for kids  that is quite similar to the MBK Tiny Tots design. There's really no need for all those extra strips of tape!
Pop in there and see another pic of our Aren, barely old enough to run, obediently hanging on to the string of his tiny home-made Diamond. We made it for him of course. There was just enough breeze on that day to keep the kite flying.
---
E-book special of the month (
25% off

)...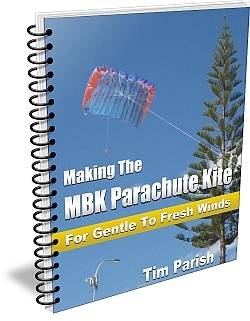 This printable e-book takes you step-by-step through making a 119 cm (4 ft) wide Parachute kite. It's not quite that wide in the air since the canopy takes on a distinct curved shape when inflated. This 14-cell kite performs best in moderate to fresh wind speeds. That's 20 to 38 kph or 13 to 24 mph. In gentle winds, this kite will hang in the air at fairly low line angles. In fresh winds, it pulls firmly for it's size, so small kids should only fly it while supervised!
Every kite design in the MBK Soft Series satisfies the following points...

Materials are plastic sheet, tape and line – and nothing more!
Tools are a ruler, scissors and a marker pen - and nothing more!
All cuts are along straight lines.
For the greatest chance of success, I make recommendations regarding the materials. For example, the type/weight of plastic, type/width of tape and line type/strength. Close enough should nearly always be good enough, since the design is well-tested and should be tolerant of small differences from my original.
Get the e-book for making the MBK Parachute kite. After making your first one in plastic and seeing how it performs, you can try soft Tyvek or rip-stop nylon for your next build.

The e-book is a PDF file - which means printable instructions to refer to while you make the kite. It also means convenient off-line access if that suits you better.

Aug 19, 17 12:29 AM

Winter-like weather has been the norm here for many weeks. But today was sunny with very light winds. A rare opportunity to take out the tail-less Della Porta variant with it's latest mini-bridle conf…
---
---