KITES - DIY or BUY?

DIY Is A Great Way To Start!
Either way, this site has the info and products you need. And either way, there is a lot of fun and personal satisfaction to be had! Why not save a considerable amount of money though, by going DIY first.

Flying kites can be great fun for all the family, from age 2 to 102. Small kites for small kids, even toddlers. Larger or even huge flying creations for, well, the more mature among us who enjoy a building challenge. Besides, bigger usually flies better!

Nothing quite compares to seeing your own work floating way up there. The bigger the better. Bask in that 'I made it myself' feeling.
But don't get me wrong - the world of modern retail or designer kites is fascinating, and you will find plenty of images and commentary here. There are shopping links too, if you are in a position to purchase these more hi-tech or nicer-looking items.

It's almost never too calm - or too windy - to fly, as long as you pick the right kite to make or buy. The information here makes that easy!
---
This site has 3 areas of focus....
Learning to make a kite, of course! Roll your sleeves up and enjoy the construction process. Then get out and fly, with the sun on your face and the wind on your back. Anyone can afford dowels or bamboo skewers, some plastic bags and sticky tape. And the soft designs don't even need dowels or skewers! Sounds very homey and humble - but we routinely have some amazing high flights with these light-weight craft. And yes, there are plenty of photos and videos of all the building and flying action.
Visitors contribute their own building and flying experiences. Photos too, from time to time. New stories are always coming in, and the variety is unending!

General kiting information abounds here, particularly when you dig a little deeper into the site. A large body of researched facts and photos provide an interesting and educational background on the hobby. Find out about the most popular kinds of fabric and paper designs being flown these days, or in times past. Discover things you never knew. With a click or 2, buy something relevant to what you are reading about.

Plus there is some kite info that is just plain different, and intriguing...
Like the radio-controlled variety being deftly flown indoors in Singapore, or a flexible flying monster the size of a football field! But we'll get to that later.


None of the content on this website is aimed directly at young children. Also, I will only knowingly interact with visitors of age 13 years and upwards. For full details, please use the Privacy Policy link at the end of this page.
---
By clicking the what's new! link at the top left of this page, you can stay up-to-date with the latest additions to this site. From any of those 3 areas in that numbered list above.
This includes those occasions when we - and others from all around the world - write up flying outings as Flight Reports.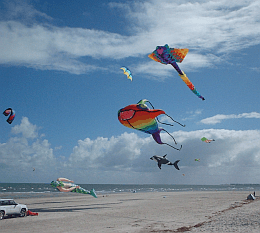 Adelaide Kite Festival
We are based in the city of Adelaide, South Australia, home to one of the bigger annual kiting festivals in Australia, and possibly the whole Southern Hemisphere. We've been keeping tabs on this festival for years, and we're not about to stop, don't you worry. :-)
The picture over there was taken at one such event, as we walked along the jetty at Semaphore Beach. A light Southerly was blowing along the sand, and music boomed from loud-speakers arranged along one side of the wooden planks.
At other times, live commentary kept everyone informed about interesting aspects of the aerial display.
---
The Benefits Of Flying Kites...

Although not strenuous most of the time, kiting is quite a healthy activity!
Office workers can get some much-needed Vitamin D from sunlight. My wife's a court officer, and she certainly doesn't get much Vitamin-D inducing sunlight while she's at her desk. Or anywhere in the building actually, since windows apparently screen out most of the UV.
It's good exercise for your eyes, focusing near and far all the time. Helps slow down the progression of 'old age sight'. I know all about it, trying to unpick the tiny Lark's Head knot to detach a small kite from its 20-pound Dacron line...
Breathe that fresh air! We're very fortunate here in Adelaide, in that respect.
You can even fit in a bit of moderate exercise sometimes, when towing up to search for faster air!
Getting the kids involved too is good quality family time. You can see it in our faces, in the photo below...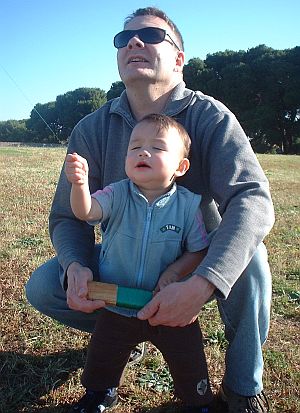 Quality family time!
In my opinion, every new kite is an adventure. Whether scratch-built or fresh from the delivery tube. Come and join us!

---
E-book special of the month (
25% off

)...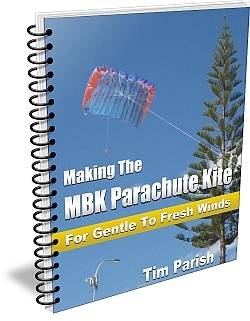 This printable e-book takes you step-by-step through making a 119 cm (4 ft) wide Parachute kite. It's not quite that wide in the air since the canopy takes on a distinct curved shape when inflated. This 14-cell kite performs best in moderate to fresh wind speeds. That's 20 to 38 kph or 13 to 24 mph. In gentle winds, this kite will hang in the air at fairly low line angles. In fresh winds, it pulls firmly for it's size, so small kids should only fly it while supervised!
Every kite design in the MBK Soft Series satisfies the following points...

Materials are plastic sheet, tape and line – and nothing more!
Tools are a ruler, scissors and a marker pen - and nothing more!
All cuts are along straight lines.
For the greatest chance of success, I make recommendations regarding the materials. For example, the type/weight of plastic, type/width of tape and line type/strength. Close enough should nearly always be good enough, since the design is well-tested and should be tolerant of small differences from my original.
Get the e-book for making the MBK Parachute kite. After making your first one in plastic and seeing how it performs, you can try soft Tyvek or rip-stop nylon for your next build.

The e-book is a PDF file - which means printable instructions to refer to while you make the kite. It also means convenient off-line access if that suits you better.

Aug 21, 17 03:11 AM

The local kite club bought a load of second hand gear - including kites - from interstate some months ago... With the power supposedly being cut sometime between 8am and 3pm today, it was an opportuni…
---