MBK Kite Books
The Complete Catalog
You have probably come across the big kite books on making Dowel and Skewer based designs by now. Many books on individual kites are also available. Plus some titles which venture into other areas of single-line kiting.
The complete catalog is listed below, with all the How To... titles listed first. Feel free to browse around.
Shhh... this is a library remember!
---
The MBK Book Bundle

OK, if you are not a complete 'kite nut' like me, you might want to skip this section. ...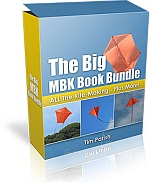 Still here? Good!
As my books have accumulated, it has made sense to offer all my kite-making material plus the miscellaneous titles in...
The price is just a fraction of the total cost of buying all the e-books separately.
This is a wise and frugal choice if you will be making kites for years to come.
---
The Two 'How To' Compilations
The main purpose of these two books is to provide all of this site's kite plans and instructions in a more convenient form than live web pages. There's more though... I hope you enjoy the bonus kite designs in each book too!

---
Making Individual Kites
If you want to 'try it in case you like it', buying an inexpensive set of instructions for a single kite design of your choice might be the way to go. Some of these include a BONUS design that is twice the size (4 times the sail area) and yet packs down to the same length as the Dowel version. Here they are...

Some more Dowel designs...

The Dowel Box Kite - Moderate Wind Version
The Dowel Box Kite - Fresh Wind Version
Can't Read Your eBook?

The PDF file format used by my books is good for downloading and printing off text and pictures from the Internet. So, the 'book' is actually a file stored on your computer or tablet. All you need is the free and easy-to-use Adobe Reader installed on your computer.
PDFs are designed for easy magnification of the print size if desired, for on-screen reading, and easy selection of pages to print out. When you do a print-out, the content is nicely formatted on each page. Unlike just trying to print straight from a website!
By securing a full printout in a simple binder you can make a handy addition to your collection of kite books. Make a start on your own kiting library today!
---
More Kite Books...
For your convenience, all the 'ask Tim' questions and answers from 2011 and 2012 have been categorized and compiled into an e-book! The detailed and clickable Table of Contents lets you get straight to any material of interest...

Here's a handy little tutorial that guides a non-artist through the process of drawing great clip-art images onto a large kite sail!

And another book that pulls together all our experiences at the Adelaide International Kite Festival over a 3 year period. Lots of photos and commentary...
The Adelaide International Kite Festival.

And how about a book of short stories. All about seeing kites waft skywards in a bubbles of warm air...
Climbing Kites - 10 Selected Thermal Tales.


You might have noticed that this site has a monthly newsletter...
For single-line kite fliers and builders, it's always been a good read. But if you are interested in KAP and/or large home-made kites you won't want to miss it!

So sign up today, and download the free 95-page e-book "What Kite Is That?" straight away. Info-packed and fully photo-illustrated.
And there are even more free resources, such as a kite-making e-course, waiting for you in the next issue of this newsletter.

Sep 17, 14 06:33 AM

Well, it was the same reserve and a similar time of day. A bit closer to sun-down perhaps. Only the kite was different - the Dowel Barn Door kite this time, chosen to suit the 'gentle' strength wind gusts of between 15 and 20 kph.

The first flight went well, with the kite soaring straight up on around 45 meters (150 feet) of line. The late afternoon sun glinting off the panels as the kite moved about at steep line angles. In the gusts and lulls, the kite had a tendency to pull to the right at times.

As I was taking the kite down to do a bridle adjustment, the main problem became apparent. The horizontal spar had pushed through the tip-tape on the right corner of the sail, drastically reducing the sail area to the right of center. It was actually surprising how well the kite was still flying, given the gross problem with the sail!

On a second flight, with the tip repaired, there still appeared to be a slight pull to the right. So, after taking some video footage of the Barn Door's antics, it was brought down once again. This time the bridle knot was taken across by about a centimeter (1/2"). That was better! The 1.2 meter (4 feet) span pale orange kite shot right back up, showing much less tendency to pull across when under pressure.

After some more video was taken, with the kite soaring around almost directly overhead at times, it seemed safe enough to let out more line. It was surprising to feel the flying line touching my jeans while it was anchored under-foot! How much rising air can there be at this time of day? At the time I was concentrating on keeping the wandering kite in-frame as I took video.

Finally, after enjoying the kite doing its thing on over 60 meters (200 feet) of line, it came time to pull the Dowel Barn Door down. When within 30 feet or so of the ground it started to float and sink face-down. Then it was an easy matter to pull in the remaining few meters of line, keeping the kite flying until the bridle lines were in hand.

Weather stations were reporting around 10kph average wind speeds with gusts almost to 20kph.

"Simplest Dowel Kites": A free but very useful kite-making e-book. Make a super-simple Sled, Diamond and Delta - step-by-step with photos. Sign up for the e-book and get an emailed series of messages called "MBK Tips'n'Ideas". If you don't need the e-book, consider signing up anyway... You won't believe what's on offer in that message series!
---
---
Apologies for this site's current lack of video when viewed on mobile devices...
For now, please view this site on a Desktop or Laptop computer to see the videos. And there's plenty of them!