MBK Kite Books
The Complete Catalog
You have probably come across the big kite e-books on making Dowel and Skewer based designs by now. Many e-books on individual kites are also available, including some 'soft' designs.
The complete catalog is listed below. Feel free to browse around.
Shhh... this is a library remember!
Attention website or blog owners...
Is your site themed around hobbies, outdoors, family activities or anything of that nature?
If so, please check out my generous affiliate program. I'm sharing 50% of any sales you generate!

---
NEW!
You'll always find the very latest release here.
Making The MBK Octopus Kite allows anyone to make a smaller version of those massive creatures seen at kite festivals. Some steps are optional - but if you take the time to have a go, your Octopus can have eyes and suckers to make it even more 'like a bought one'.
Pull the Octopus out when there's a moderate amount of wind about. If there's a moderate number of pedestrians about as well, they won't fail to notice the beaming flailing Octopus!
Many smaller octopus kites these days are flat, single-surface simulations. This MBK design is the real deal, with fully inflatable head and tentacles.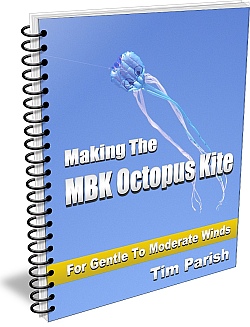 Making The MBK Octopus Kite
---
MBK Book Bundle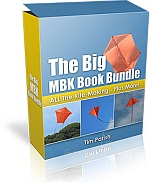 The Big MBK Book Bundle
OK, if you are not a complete 'kite nut' like me, you might want to skip this section. ...
Still here? Good!
As my books have accumulated, it has made sense to offer all my kite-making material plus the miscellaneous titles in...
See over there on the right!

The price of this Bundle is just a fraction of the total cost of buying all the e-books separately.
This is a wise and frugal choice if you will be making kites for years to come.
---
'How To' Compilations
The main purpose of these three e-books is to provide all of this site's kite plans and instructions in a more convenient form than live web pages. They also contain many designs that do not have instructions posted on the pages of this website... 

---
Individual Soft Kites

Three designs so far, in addition to the free Soft Sled - and you won't find kite-making resources like these anywhere else on the Web. Really, anyone can make these kites...

---
Individual Dowel Kites
If you want to 'try it in case you like it', buying an inexpensive set of instructions for a single kite design of your choice might be the way to go. Some of these include a BONUS design that is twice the size (4 times the sail area) and yet packs down to the same length as the Dowel version. Here they are...


Some more Dowel designs...

The Dowel Box Kite - Moderate Wind Version
The Dowel Box Kite - Fresh Wind Version
Can't Read Your e-book?

The PDF file format used by my e-books is good for downloading and printing off text and pictures from the Internet. So, the 'book' is actually a file stored on your computer or tablet. All you need is the free and easy-to-use Adobe Reader installed on your computer.
PDFs are designed for easy magnification of the print size if desired, for on-screen reading, and easy selection of pages to print out. When you do a print-out, the content is nicely formatted on each page. Unlike just trying to print straight from a website!
By securing a full printout in a simple binder you can make a handy addition to your collection of kite books. Make a start on your own kiting library today!
---
Website or Blog Owner?

Don't forget to check out my generous affiliate program. A 2 month cookie is employed and you get a 50% share of any sales generated.
---
E-book special of the month (
25% off

)...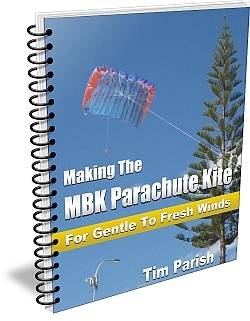 This printable e-book takes you step-by-step through making a 119 cm (4 ft) wide Parachute kite. It's not quite that wide in the air since the canopy takes on a distinct curved shape when inflated. This 14-cell kite performs best in moderate to fresh wind speeds. That's 20 to 38 kph or 13 to 24 mph. In gentle winds, this kite will hang in the air at fairly low line angles. In fresh winds, it pulls firmly for it's size, so small kids should only fly it while supervised!
Every kite design in the MBK Soft Series satisfies the following points...

Materials are plastic sheet, tape and line – and nothing more!
Tools are a ruler, scissors and a marker pen - and nothing more!
All cuts are along straight lines.
For the greatest chance of success, I make recommendations regarding the materials. For example, the type/weight of plastic, type/width of tape and line type/strength. Close enough should nearly always be good enough, since the design is well-tested and should be tolerant of small differences from my original.
Get the e-book for making the MBK Parachute kite. After making your first one in plastic and seeing how it performs, you can try soft Tyvek or rip-stop nylon for your next build.

The e-book is a PDF file - which means printable instructions to refer to while you make the kite. It also means convenient off-line access if that suits you better.

Aug 23, 17 06:00 AM

This previously published page gives a quick insight into the structure and materials of the original 'War Kites' by Samuel Cody. Plus some history and photos of course. Intriguing stuff...
---
---