It's been a lot of fun testing and refining these designs so that you too can have plenty of enjoyment and success.
Even using cheap garden-bag plastic results in fine-looking kites. See those inflight shots of them all, down below. But of course, you can use any colored plastic you like. Rip-stop nylon cloth/tape or Tyvek cloth/tape can be substituted as well.
---
Dowel kites are great in light wind. Most can tolerate moderate breezes too. Particularly the dopero, with its four-point bridle holding it rigid.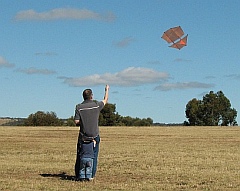 Tim & son, with dopero
And if it seems dead calm out there... Don't be too sure! Tow up the Dowel Dopero or the Dowel Rokkaku, and watch it find just enough breeze to hang way up there at 400 feet. Beautiful. You'll never be stuck at home.

All around the world, people are enjoying these designs:

"Book looks great and just what I (and my Grandson) wanted."
- Bruce H. (UK)
"I made the Rokkaku, and the Diamond dowel kites. Both flew wonderfully. I also enjoyed making the Prusik knots - fantastic ebook! The ebook is very well written and worth the money."
- Jim M. (PA, USA)

"I bought your e-book about building kites with dowels, I find it very accurate and pedagogic, thank you for putting all this together. From you book, I have built the delta, the Eddy, the roller and the multi dowel sled, all flying very good."
- Bruno P. (Peru)
These are the Kites You Can Make
Dowel Kites—1.2 m (4 ft.)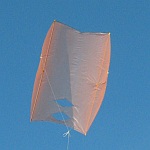 Sled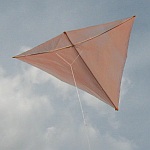 Diamond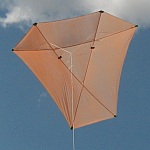 Barn Door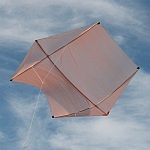 Rokkaku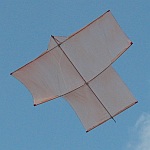 Sode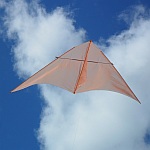 Delta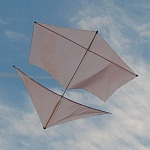 Roller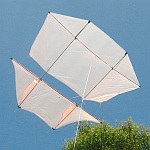 Dopero
Multi-Dowel Kites—2.4 m (8 ft.)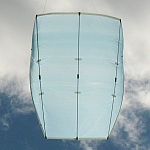 Sled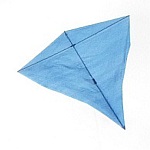 Diamond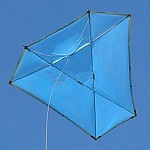 Barn Door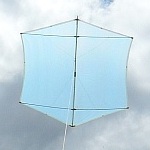 Rokkaku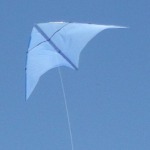 Delta
The Dowel Series. (performance sled, diamond, barn door, rokkaku, sode, delta, roller, and dopero, all with 1.2 m (4 ft.) spars)
The Multi-Dowel Series. (a sled, diamond, barn door, rokkaku, and delta so far, all with 2.4 m (8 ft.) spars but just 1.2 m (4 ft.) long when packed away)
This book should prove to be a handy kite-making reference for a long time to come. I hope it returns its value back to you, many times over!
In addition to basic construction and flying info, the e-books also provide
construction details for making the kites transportable, so they can be rolled up into a slim package and taken anywhere!
tips for rigging and de-rigging if you choose to make the kites transportable

detailed hints and tips for correcting a kite if it doesn't fly perfectly the first time

Cheap materials keep the costs way down. What's more, most of the "tools" are probably lying around your house somewhere already! Nothing fancy is required, believe me.
If the very cheap tools are not at hand already, it's easy to find something like a pair of scissors in a store. In fact, a supermarket would probably have everything except the hacksaw. Most items would be easy to borrow if required.
Even the knot tying is explained, step by step. You'll soon know them all, and they will definitely come in handy for future projects.
Do these kites really fly that well? Don't take my word for it. See what others say:
"I attempted to make my own kite ... and failed miserably. I made a quick and dirty version of the MBK Dowel Diamond kite and was absolutely amazed at how easily it took off in even the slightest breeze. ... Thanks so much for the help!"
- Ben K. (KY, USA)
"I enjoy the site very much, and we love the Dowel Barn Door! ... It flew beautifully all of last summer."
- Larry S. (CO, USA)
"Suddenly the Sode rises straight up and it is flying like a dream. My 50 meter flight line did just rush through my fingers and let the kite fly at good 80-90 degrees. ... Finally I got the winder under control and could see how the kite just soared above me. MMM… pure joy!"
- Johan (Sweden)
"I just wanted to let you know about my experience flying my very own and first MBK Delta ... Many thanks for the detailed instructions. I'm not sure why I started making kites this year, but so far it's been very enjoyable. If I end up spending all my free time building kites, it's probably your fault."
- Eric L. (Japan)
In "Making Dowel Kites",
You Get All This:
190+ pages of single-line kiting goodness!
13 kite designs, covering wind speeds from very light through to fresh winds.
After making the small stuff, try the huge 2.4 m (8 ft.) designs of the Multi-Dowel Series. The huge sled is for light winds, which is almost collapse-proof with its 3-spar design. Also there's the diamond, the barn door, the rokkaku,

and the

delta.
More than 270 illustrative photographs, many of them closeups.
Detailed step-by-step instructions for the Dowel designs. Detailed plans, diagrams, and hints for the big stuff (Multi-Dowel).
Detailed 3-view plans for nearly all designs.
A clickable Table of Contents so detailed, there's 6 pages of it!
Appendices for Knot Tying, Making a Winder, Making a Bowed Horizontal Spar, and more. Hence the instructions are rather complete.
Download Now
Here are buttons for secure purchases via credit card or Paypal:
Guarantee
Risk-free, 60 day trial
During this time you can ask for a full 100% refund if you are not completely satisfied.
 Have fun making dowel kites!