Hi! I'm Tim Parish, a 50+ 'kite nut' who has researched many designs over recent years. And made quite a few kites of my own, of course.
It's been a lot of fun testing and refining these designs so that you too can have plenty of enjoyment and success. Whether winds are light or a bit fresh, there's a kite to suit.
(NOTE: MBK Skewer Kites are made from thin 12" bamboo skewers, which come in packs of 100. The Metric size is 300mm long x 3mm thick. The biggest kites do best with 4mm skewers.)
Why buy this downloadable book? In a word - convenience...
Since your book is just a PDF file on your computer or mobile device, it doesn't take up space on a shelf.
The book lets you print out nicely formatted pages to have beside you, while you build. It's easy to select just the pages relevant to one kite too! No need to print off the whole huge book.
And this is what one satisfied customer had to say...
"Not only do the kites fly ... yours are also the clearest instructions I have found."
- Brenda (CA, USA)

Here's a peek at what most of these designs look like...
1-Skewer Kites - 30cm (12")

Sled
Diamond
Barn Door
Rokkaku
Sode
Delta
Roller
Dopero
2-Skewer Kites - 60cm (24")

Sled
Diamond
Barn Door
Rokkaku
Sode
Delta
Roller
Dopero
3-Skewer Kites - 90cm (36")

A-Frame
3-Spar Sled
Download Now...
Here are buttons for secure purchases via credit card or Paypal...


So Many Kites To Make...

The Tiny Tots Diamond. (ultra-basic small Diamond for any child who can grasp a string)
The 1-Skewer Series. (quick and easy small kites: Sled, Diamond, Barn Door, Rokkaku, Sode, Delta, Roller and Dopero, all using single 30cm (12") skewers as spars)
The Skewer Tetrahedral. (a 4-cell cellular kite for moderate winds)
The 2-Skewer Series. (not-so-small, high-performance kites: Sled, Diamond, Barn Door, Rokkaku, Sode, Delta, Roller and Dopero, all using two joined 30cm (12") skewers as spars)
The 3-Skewer A-Frame. (uses three joined 30cm (12") skewers as spars, and has twice the sail area of most 2-Skewer designs)
The 3-Skewer Sled. (a very stable and collapse-proof 3-spar Sled with a great wind range)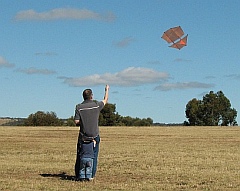 Tim & son with Dopero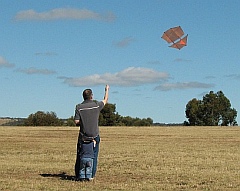 Tim & son with Dopero
This book should prove to be a handy kite-making reference for a long time to come. I hope it returns it's value back to you, many times over.
Cheap materials keep the costs way down. What's more, most of the 'tools' are probably lying around your house somewhere already! Nothing fancy is required, believe me.
All the knot-tying is explained, step by step. You'll soon learn them, and they will definitely come in handy for future projects.
Do these kites really fly that well? Don't take my word for it. See what others say...
"(2-Skewer Sled) I made a 2 skewer sled kite as my first kite from the ebooks and it flies great at the beach! I am enjoying learning about the different types of kites and plan to do some box kites next."
- Jeff (GA, USA)
"(2-Skewer Rokkaku) ... What a brilliant little kite! It went up with ease in 3 to 5 km/hr breeze, and stayed there, then flew for hours as the wind meter gradually built up to an average 10 kph. Came back down into my hand after hitting 400 feet effortlessly and hanging there seemingly motionless."
- Peter (NSW, Australia)
"(2-Skewer Delta) This is my second MBK kite - the first was a 2 skewer diamond. ... it flew extremely well in winds ranging from nothing to about 3 kph, almost overflying on several occasions. ... All in all, a great light wind kite. It's just a pity sunset ended the session!"
- Trevor (WA, Australia)
"(2-Skewer Roller) Grand-kids and I had a lot of fun building this Roller. ... Did it fly? Why of course we have not had any of the kites that I built from this site not fly. Thanks to Tim for such good plans. And the amount of work that he must do to keep it all updated."
- Ron (AK, USA)
"(2-Skewer Dopero) ... Once again a few wobbles, then at about 15 feet, in cleaner air, up it shot. All the line was out in what felt like half a second and was probably closer to 20, with the kite pulling strongly and evenly, then with all the line out it climbed almost straight overhead. ... Thanks, Tim, for another great kite."
- Trevor (WA, Australia)
"(1-Skewer Sled) My wife and I are Leaders for our local scout group. ... I found 'My Best Kite' and picked the Sled kite. It was very easy to make, all our cubs managed it in less than an hour. ... Every single Sled kite flew perfect first time and the kids really enjoyed it!"
- James (England)
"(1-Skewer Diamond) This kite flew quite well. As you can gather from the name, it was easy to make. I would recommend the 1-Skewer Diamond to any person who doesn't have experience with kite making."
- Sara (TX, USA)
"(1-Skewer Delta) I found MBK and decided to make the 1-Skewer Delta. I used 3 very thin skewers ... and really thin garbage bags. ... Turns out, all I had to do was a really light walk, the Delta kite flew up into the air right above me where it managed to find it's own breeze. Had a blast!"
- Chris (QLD, Australia)

You Get All This...
over 270 pages of single-line kiting goodness!
20 kite designs, which will cover you for a wide range of weather conditions.
More than 340 illustrative photographs, many of them close-ups.
Detailed step-by-step instructions for each and every design.
Detailed 3-view plans for most designs.
A clickable Table of Contents so detailed, there's 6 pages of it!
Appendices for Knot Tying, Making Tails, Making A Winder, and more. Hence the instructions are rather complete.
Download Here...
Here are buttons for secure purchases via credit card or Paypal...

Guarantee
Risk-free, 60 day trial
During this time, you can ask for a full 100% refund, if you are not completely satisfied.
 Have fun making skewer kites!