An MBK Roller kite is attractive in the air, with its distinctive upper and lower sails. The smallest size requires a tail but is still likely to get curious looks from people who are more used to seeing the more familiar Diamond or Delta shape in a kite.

Making The MBK Dowel Roller Kite is one of my handy e-books of printable step-by-step instructions. It's a PDF file download.

The Dowel Roller is a steady flier in light air. It can look somewhat like a model aircraft from a by-gone era, just hanging up there and nosing around gently in the wind shifts.
Here's a short-format flight report featuring the Dowel kite...
---
"First Vertical Flight"

The Dowel Roller hadn't been flown for quite a while, so before I could even attach the flying line, a few extra bits of tape were required. Some damage was evident which was probably caused by the last flight it had in overly-fresh winds. That would also explain the very forward towing point position of the short bridle line knot. Anyway, the bridle was soon re-adjusted and ready to go.
Almost immediately, the Roller started to hang off to the right, quite a lot. It wasn't going to 400 feet in that condition, so it had to come down.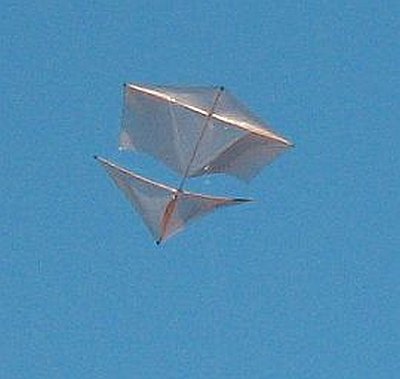 The photogenic MBK Dowel Roller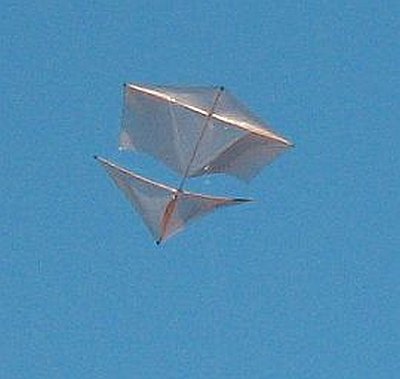 The photogenic MBK Dowel Roller
I shifted the upper bridle loop knot quite a few centimeters to the left, just to gauge the effect. As expected, the kite now pulled off to the left, but I now had a good idea of where the knot needed to be. Shifting the knot once again, the Roller soared up and it seemed pretty straight up the middle. Good!

Some line-handling fun came next as I shook line off the winder with one hand while letting line slip with the other hand. A nice controlled 30 degree climb ensued, until the 60 meter flag came off the winder. At this point, I just held on and let the Dowel Roller kite climb out to a 45 degree angle in the gusty light breeze. Very light at times.
After a few minutes, I let the line out to 90 meters for a few more minutes of relaxed flying. Soon, the breeze almost died and the Roller started to sink slowly, tail first. Pulling in 20 meters of line enabled the kite to contact some more breeze. Just a little, but enough to climb back out to 200 feet.
A small crowd using the other side of oval got inspired and soon 2 or 3 small retail kites were flying!
They hadn't seen nothin' yet...
A healthy thermal came through and lofted the MBK Roller kite right overhead, on 120 meters (400 feet) of line. Ssssh, don't tell the AAP (Australian Altitude Police ;-) ), who would like all kites and model aircraft to stay below 100 meters... These events only last for a few minutes at most though, so the kite soon made its way back down. Sure was nice seeing it way up there, upper trailing edges fluttering a little in the warm breeze fanning from directly below.
Nothing like a decent thermal to make a modest-performance kite look good!
---
Tim's Blog Posts
Featuring MBK Roller Kites
Since these are short-format reports, they are grouped together. One page covers dowel-sparred kites while the other covers bamboo-skewer kites...
MBK Roller Kite Posts - Skewer
If you are in the habit of checking the 'what's new!' link, you might remember some of these.
---
Tim's Flight Reports
Featuring MBK Roller Kites

The links below are full-length reports recorded by me, each featuring an MBK Roller kite of one type or another...
Light-wind Workout But Still A Height Record! (Dowel)
Successful Test Flight In A Cold Fresh Breeze, With Gusts (Dowel)
Long High Flight In Perfect Weather (2-Skewer)
A Real Workout In Fresh Gusts (1-Skewer)
---
Reporters' Flight Reports
Click below to see MBK Flight Reporters contributions...

2-Skewer Roller Kite:
Lovely Evening Flying






I had just started a new job this week and wanted to relax with a kite flight in the nearby park. So this evening began with my box kite, as the winds …
Making The MBK Dowel Roller Kite is one of my handy e-books of printable step-by-step instructions. It's a PDF file download.