Overcast skies had given way to at least some periods of bright sunshine, so out we went with the re-made 1 Skewer Roller kite. The breeze seemed somewhat fresh. So, a couple of extra loops of black garbage bag plastic were taken along, to lengthen the tail if necessary.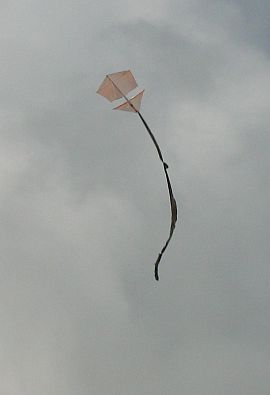 MBK 1-Skewer Roller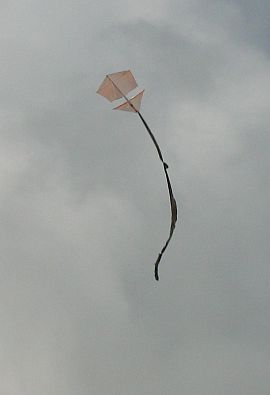 MBK 1-Skewer Roller
The expected forest of prickly weeds had magically disappeared from the grassed area near the school where we were about to fly. That was welcome! No more line snags and breaks.
Within minutes of leaving the car, the little Roller was willingly flitting about on about 10 meters (35 feet) of line.
Despite being pushed to its limits by the fresh turbulent air, the kite stayed up long enough for a few photos to be taken. There's one, down below...
Several unplanned landings had occurred by this stage!
Hence, it really seemed a good idea to add some more tail, so out came an extra loop of black plastic. After Lark's Heading it to the loop already there, the 1 Skewer Roller kite once again took to the air. Like a rocket!
More line was let out, to give the kite a better chance of flying for the camera. On about 15 meters (50 feet) of line, the Roller managed to clear the worst of the turbulence rolling across the reserve from the line of trees upwind. And of course, the extra tail was also helping to smooth out the antics of the small Roller kite.
There's 10 seconds of video down at the bottom of this page.
Now it was time to try a bit more line. Walking backwards towards the center of the reserve, I had to be careful to keep the kite clear of some rather tall gum trees downwind. The Roller happily flew on just over 30 meters (100 feet) of line for a while.
If you're wondering, the line has little tape flags attached to it at 30 meter intervals! In fact, the flags are marked '30', '60', '90', '120' and '150'. Due to their small size, the 1-Skewer kites are rarely flown on more than 60 meters though.
Talking about 60 meters (200 feet) of line, that's what I tried next. At this stage, some very fresh gusts were coming through. The 1 Skewer Roller kite leaned to the left a lot, clearly needing a small tweak to one of the sail tethers. However, time was limited so I didn't bother.
With the trim slightly off, and lifting 60 meters of 20-pound Dacron line, the tiny Roller never got much above a 30 degree flying angle. Still, it was fun watching it doing its best! Being forced down occasionally, but gamely climbing right back up again each time.
Thinking about going home, I wound in line so that 30 meters (100 feet) remained in the air. The Roller responded by immediately popping up to a flying angle of 45 degrees! So, this seems like a good line length on which to fly this kite, if you're thinking of making one. Just a few minutes later, it was time to bring the kite down and leave for home.
The 1 Skewer Roller is a fine little moderate wind kite. It will also handle fresh breezes well, if you add enough tail!
Today, the Windtronic wind meter recorded an average strength of 7 kph and a maximum gust of 24 kph, close to the ground. Wind speeds would have been considerably stronger up where the kite was though.


Making Skewer Kites is one of my downloadable, printable e-books which has instructions for Diamond, Delta and Box kites - among many others. All well-tested designs. There's nothing like flying something you made yourself!
The story or stories above document actual flying experiences. My write-ups are definitely warts-and-all since things don't always go totally as planned. However, half the fun of kiting is anticipating the perfect flight. When it happens, it's magic!