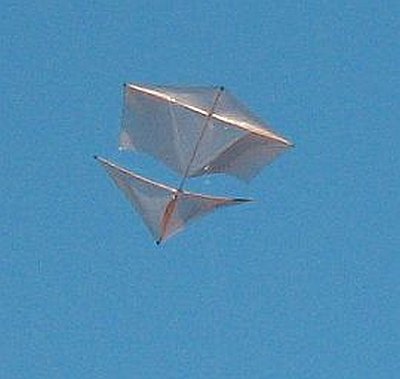 MBK Dowel Roller
Getting the Dowel Roller kite up there to begin with was a bit of a job. After two or three short flights down low, I resorted to jogging up and back along the fence line, towing the roller up to 80 feet or so.
There was still not enough breeze, although the kite seemed to clear the wind gradient at around 50 feet.
The kite had new sail ties and seemed to be pulling to the right, so I tensioned up one of the ties to flatten the sail a little on that side.
This worked, and I had fun for a while, hovering the kite just centimeters from the grass with more than 30 meters (100 feet) of line out.
Finally I walked the kite to the far side of the reserve and jogged back, letting line slip through my fingers but holding just enough tension to climb the kite. By the time I ran out of room, the roller was about 150 feet up and just hanging there with hardly any tension in the line.
Even so, this was the start of a series of let-outs and pull-ins as I attempted to climb higher. Sometimes there was no option but to take in line when it started lying on the grass! Just over 90 meters (300 feet) was the most line I could get out, but the roller was never higher than a 30-degree angle.
On this site, there's more kite-making info than you can poke a stick at :-)  Want to know the most convenient way of using it all?
The Big MBK E-book Bundle is a collection of downloads—printable PDF files which provide step-by-step instructions for many kites large and small.
Every kite in every MBK series.
There was some very weak thermal lift about, and one little climb occurred where the line slipped out at a snail's pace. Although some distance downwind, the roller drifted vertically up for 30 feet or so.
This day was an example of where the kite cannot achieve anywhere near its maximum line angle, even though the wind strength was enough to keep it in the air.
The MBK Dowel Roller kite proved itself to be a reasonable light-wind kite, although not quite on a par with the MBK Dowel Delta or Rokkaku.
Finally, I brought the kite right down to my hand, slowly winding line onto the winder. It wasn't such a bad flying session after all! Of the few flights the roller has had, this was the highest it's been.