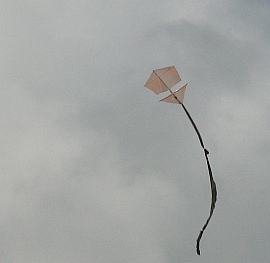 MBK 1-Skewer Roller
Anything you don't have is easily bought. If not exactly what I used, then at least something pretty similar!
These instructions on how to make a roller kite might look a bit long, but each step is quite simple to do. Just steadily work your way through from top to bottom, skimming over any detail that you don't need.
At 29 cm (11 1/2 in.) wide, the MBK 1-Skewer Roller kite is a rather small roller, with dihedral and a simple two-leg bridle. A moderate breeze is ideal for this design.
Like many of the other 1-Skewer kites, this one does require a hefty length of light plastic tail to fly successfully.
That's a small price to pay for hours of aerial fun!
The vertical spar is 1.25 SL (36.3 cm, 14 3/8 in.) long, so two 30 cm (12 in.) bamboo BBQ skewers need to be glued together.