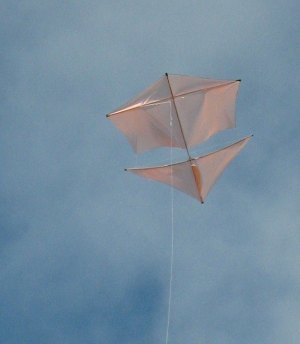 MBK Dowel Roller
You might already have some of the simple tools and materials required. Anything you don't have is easily bought. If not exactly what I used, then at least something pretty similar!
The Dowel Roller is a large tailless kite based on the old Pearson Roller design. Like the original, this kite is a great light-to-moderate-wind flyer.

Also like the original, this roller has quite a distinctive and attractive appearance in the air! It's certainly something different from your usual diamonds and deltas.

These instructions might look quite detailed. However, your reward is a decent sized and very cheap kite that should fit in most vehicles. Of course it helps if you undo the bow-line toggles. Then, the kite can lie flat in the trunk (boot) or even rest on edge in the rear passenger section.

Setting up on the flying field is just a matter of attaching the bow-line toggles. Or perhaps not, if you were able to leave them done up. Then, you just attach the flying line to the bridle and let the wind do the rest.
Use a single length of tape for each line. Hold it out straight, touch it down to the plastic at one end, then at the other end, dab it down in the middle, then press down all along its length.