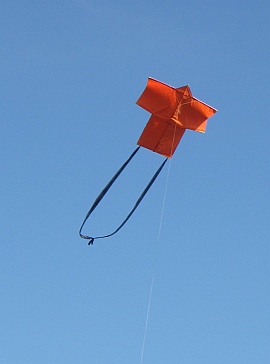 MBK 2-Skewer Sode
Anything you don't have is easily bought. If not exactly what I used, then at least something pretty similar!
The MBK 2-Skewer Sode kite is a medium-sized sode 58 cm (23 in.) across and a little more than that in height.
The dihedral on both the horizontal spars provides some stability. However, this design also requires a short looped tail. Two slightly longer separate tails would also work nicely.

The three-leg bridle allows the lower horizontal spar to bend a little more when the wind picks up, giving a bit more stability when needed. The kite straightens out and stops bobbing from side to side.

The 2-Skewer Sode does well in quite light winds and is not bothered by a bit of rough air.