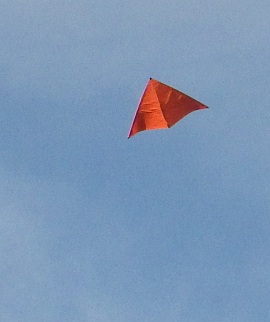 MBK 2-Skewer Delta
The MBK 2-Skewer Delta Mk2 kite (or just "the 2-Skewer Delta") is a medium-sized kite 96 cm (38 in.) across and 54 cm (21 in.) tall. A tail is optional, if you like the look!
The spreader is secured at each end with polyester sewing thread and glue, since glue alone would not last long with all the flexing that goes on.

The 2-Skewer Delta is a nice very-light-to-light-wind flyer. Take it out when there seems to be hardly enough wind to keep any kite up. Retail kites like a little more breeze, generally.
Watch the 2-Skewer Delta go straight overhead when a thermal comes through, no matter how much line you have let out.
I have tested this delta in moderate winds too, and it is quite tolerant of winds up to 30 kph. Don't be surprised to see it flap a few times though, or even pin its wingtips back like a diving bird-of-prey!
In the closeup photo, you can see the tape edging around the nose area—but not along the long edge of the tab.