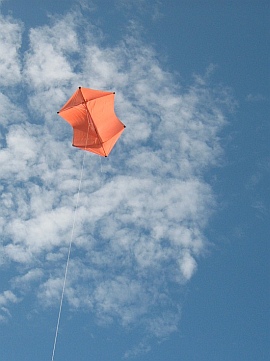 MBK 2-Skewer Rokkaku
Anything you don't have is easily bought. If not exactly what I used, then at least something pretty similar!

The MBK 2-Skewer Rokkaku kite is a medium-sized rokkaku 58 cm (23 in.) across and 73 cm (29 in.) tall.
Some dihedral on both the horizontal spars gives ample stability for flight without a tail.
Also, the bridle allows the lower spar to bend a little more when the wind picks up, giving a bit more stability when needed.
This 2-Skewer Rokkaku is an efficient light-wind flyer. Take it out when it seems there's barely enough wind to fly!
When looking at this kite, I am always reminded of the day when someone came walking across the flying field. They traversed the entire field from corner to corner without realizing that the rok was directly above, at around 200 feet—with me staring up at "nothing" :-)