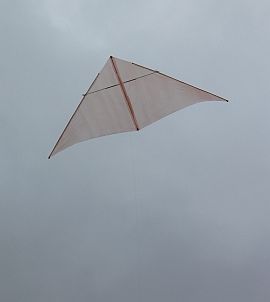 MBK Dowel Delta
These instructions might look quite detailed. However, your reward is an impressive but quite cheap kite that looks almost birdlike in the air.
Watch real birds fly in for a closer look, at times!
This delta is a tailless design that is 0.8 DL (96 cm, 38 1/2 in.) tall and has a wingspan of 2.0 DL (240 cm, 96 in.). Like traditional deltas, this kite has a floating spreader which keeps the leading edge spars apart.
This design is a very-light-to-gentle-wind flyer.

The MBK Dowel Delta is designed to fold down a slim cylindrical package like a Sled, thanks to the removable spreader. Setting up on the flying field takes just a couple of minutes.
Of course, if you have enough room in your car, you can always leave this kite ready-to-fly.