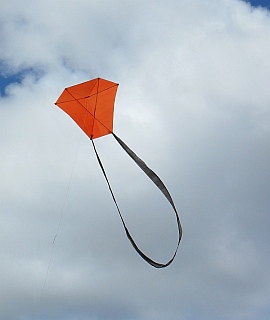 MBK 2-Skewer Barn Door
You might already have some of the simple tools and materials required. Anything you don't have is easily bought. If not exactly what I used, then at least something pretty similar!
Probably the most important thing to get right is making and adjusting the bridle. This trips up so many would-be kite makers who are trying it for the first time! I've tried hard to make the instructions fool-proof in this area.
The MBK 2-Skewer Barn Door is medium-sized at 58 cm (23 in.) across and 53 cm (21 in.) tall, with generous dihedral and a fairly short looped tail.
The 2-Skewer Barn Door is a very nice light-to-moderate-wind flyer. It goes way up into the moderate wind-range in fact.—up to around 30 kph if the bridle is adjusted forward enough.
The video shows this latest version of the 2-Skewer Barn Door scooting around in winds of about 20 kph.