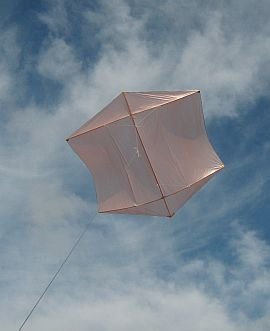 MBK Dowel Rokkaku
Anything you don't have is easily bought. If not exactly what I used, then at least something pretty similar!
The MBK Dowel Rokkaku is a fairly large tailless design based on the traditional Japanese kite.
However, this rok will still fit into nearly all road vehicles, ready to fly—either just in front of the rear seat or flat in the trunk (boot).

Like the other Japanese design in this series, the sode, this kite is a light-to-moderate wind flyer.
Setting up on the flying field is just a matter of attaching the bow-line toggles to put some curvature into both the horizontal spars. Then the flying line is attached to the bridle.
At this point you are ready to launch! The method of attachment is illustrated further down this page.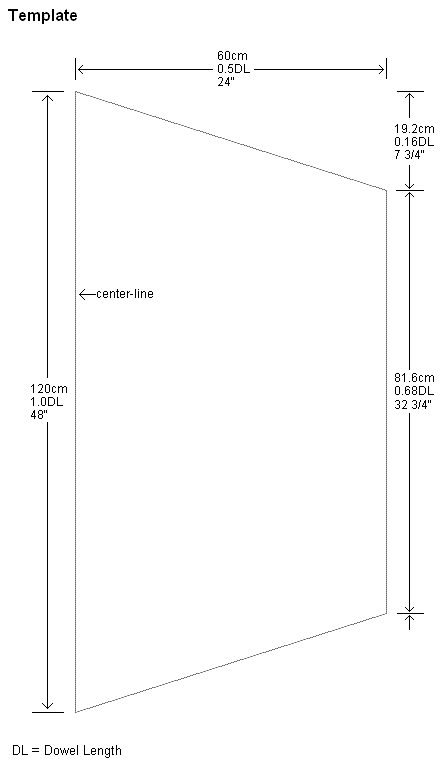 The template shown above represents one side of the kite sail. You will now transfer these measurements to the sail plastic.
Note: In order to fit the length of an 80-liter garden bag, I made this design shorter than a traditional 4:5:6 rok of the same wingspan. You see, I'm trying to standardize on a 1.2 meter wingspan for all the Dowel Series kites!
First, take a large bag that you want to use for the sail, and lay it flat on the floor.
Mark dots on the plastic which correspond to the corners of the template. There is no need to use a T-square, or an extra-long ruler, since any small errors in position will be duplicated on the other side of the sail.
Using the marking pen, rule lines between the dots, as in the photo. For lines longer than the ruler, just add a few extra dots using one of the dowel spars as a ruler! Then it's easy to connect the dots with a ruler. It's probably best not to rule the whole line with the dowel, since it bends easily.