The Adelaide Kite Festival
Plenty Of Photos Plus Video!
The Adelaide International Kite Festival is the biggest local event involving kite flying. Sometimes other events in Adelaide, South Australia also involve the flying of kites. Everything that we write about these local events will appear here.
The photo below features 2 kites which seem to be a constant at the Adelaide festival held at Semaphore. That large UFO kite in the background, near the lower edge of the photo, sometimes doubles as a shelter for the commentator. And that magnificent Killer Whale kite would have to be one of the very first things that catch your eye as you approach the kite festival on foot!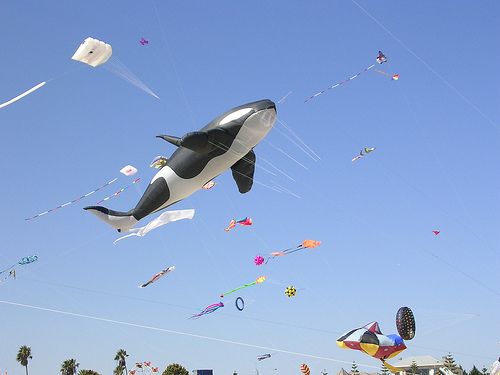 Photo courtesy of
Michael Coghlan.
---
In date order, with the most recent Adelaide events first...
On the last Saturday in March 2013 we attended the festival for the 6th time. Winds were generally light, but freshened to gentle strengths around 18 kph at times. We gave our digital camera a workout, snapping more than 100 images. Mainly of the action South of the jetty where anyone could fly a kite.

Easter fell in April 2012 so that was the weekend of the kite festival. Winds went light to fresh and back again during the course of one afternoon, thus catering for every single kite out there. At least for a while! The event seemed more crowded than in most previous years.
In March 2011, we attended the Adelaide festival just for the Saturday afternoon on the 26th. However, we got good photos of nearly everything that was sent aloft that day! Not including the kites in the public flying area. Around mid-day the sky was fairly overcast but it cleared up considerably by 5pm. Plenty of sunlight for good kite photos! The wind ranged all the way from light to fresh, but all kites got plenty of air-time.
In March 2010, we turned up at Semaphore without confirming that the Festival was actually on. It wasn't :-( Anyway, 4 year old Aren had a great time watching the forklifts at work on the jetty, which was being renovated. This was the reason for the cancellation of the Festival.
A few other families were flying small kites on the beach nearby. Perhaps they were in the same boat as us! We flew the 1-Skewer Delta for a while, before it eventually hit the water, just 1 meter from safety. Covered in salty water, bits of sea-weed and sand, the Delta suddenly became 20 times heavier. For a while after that, it's flying characteristics were somewhat similar to that of a house-brick...
In March 2009, we discovered that we still wanted more from our digital camera! Never-the-less, we came away with a heap of great imagery. We dropped in on the Adelaide festival venue on the Friday and Saturday.
Our kite pictures from 2009 - the very best 12

In March 2008, and armed with a better digital camera than in 2007, we attended the Adelaide festival on 3 separate days. As usual, a highlight was the Rokkaku Challenge! We took plenty of photos and videos over the weekend. To do justice to all that imagery, I decided we would do a number of separate pages, each focusing on a different type of kite. Quite a different approach to 2007, as you will see...
Great kites in 2008 - our favorites

August 2007 was when Windjam07 grabbed some media attention. The Scouts broke the world record for the greatest number of kites flying at once! It was a warm cloudy day with barely enough wind to keep the kites up, down at Glenelg Beach. Adelaide events involving kites are usually down at a beach somewhere, within a half-hour drive of the city center.
In March 2007, we first covered the Adelaide International kite festival with a long rambling account of everything we experienced. We were there for a few hours on just the Saturday.

That's all the events for now!


You might have noticed that this site has a monthly newsletter...
For single-line kite fliers and builders, it's always been a good read. But if you are interested in KAP and/or large home-made kites you won't want to miss it!

So sign up today, and download the free 95-page e-book "What Kite Is That?" straight away. Info-packed and fully photo-illustrated.
And there are even more free resources, such as a kite-making e-course, waiting for you in the next issue of this newsletter.

---
---
Apologies for this site's current lack of video when viewed on mobile devices...
For now, please view this site on a Desktop or Laptop computer to see the videos. And there's plenty of them!