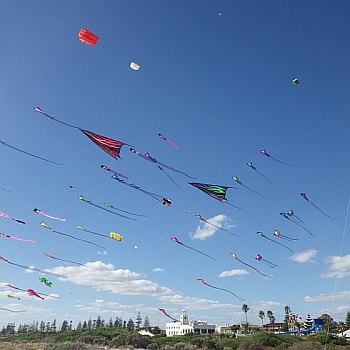 Art kites in trains - great!
She quoted the opening sentence and applied the term "unfocused writing" to the entire effort. Ah well, you can't win 'em all! But it did serve as a reminder to never get too casual, to the point of letting my usual writing standards slip.

Our coverage of the Adelaide Kite Festival 2014 was going to be based around a series of aerial photos. Due to circumstances, this report will instead be .... errr ... unfocused ;-)
Never-the-less, if you have never been to such a festival before, read on and get a little glimpse into what can be experienced. Photography was somewhat minimal this time, so I will endeavor to paint a few word-pictures as we go.
The photo shows a number of new features in this year's festival. In particular, the colorful themed trains of flat kites which filled the sky with floating art—on a minimum of lines. Fewer lines mean fewer potential tangles.
---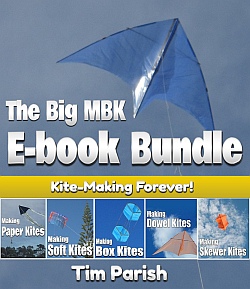 On this site, there's more kite-making info than you can poke a stick at :-)
Want to know the most convenient way of using it all?

The Big MBK E-book Bundle is a collection of downloads—printable PDF files which provide step-by-step instructions for many kites large and small.
Every kite in every MBK series.
---
Saturday—Good Winds

We came to Semaphore beach after lunch and immediately noticed that a number of previously unseen kites were flying north of the jetty. That's where the registered flyers go, and we might be joining them next year! We have several large dowel-and-plastic single-liners now, covering quite a good range of wind speeds.
A large inflatable gecko, pointed out to me by its owner, was anchored low down near the sand. Other huge inflatables, including two detailed whales floated nearby, writhing realistically in the smooth breeze. The mermaid never seems to be missing!

As mentioned earlier, a series of themed kite trains put on a spectacular show right close to the jetty. One was butterflies, another was a double-diamond shape to name just a couple. All were stabilized by long flat tails which complemented the bright art of the kites themselves. Some of these trains are visible in the photo near the top of this page.

Although it stayed fairly low, a monster of an octopus put in an impressive appearance. Someone has deep pockets! There are a lot of hours involved in sewing one of those. On second thoughts, I think even larger versions are available—but this one was attention-grabbing anyway!

My wife was particularly taken by a couple of high-flying bird kites. A very realistic eagle was high up, plus a more stylized (but still attractive) creature kite was flying next to it, lower down.
Although I'm not into things marine at all, my eye was caught by a rippling fish kite at a great height. Its glittering diamond-based-texture skin flowed and "swam" convincingly.

Overall Impressions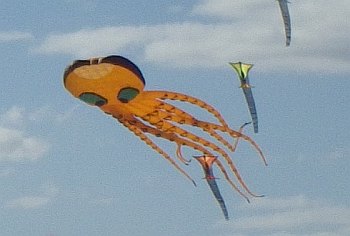 The Octopus
I saw evidence of the growing diversity of retail kites, almost all displaying professional-standard graphic art. This was over the whole size range, from the smallest kiddy kites south of the jetty up to larger and more expensive art kites belonging to registered flyers.

Looking around, a number of tailless diamond designs could be spotted. Was this a new trend perhaps? There were no really large examples though.
Many small kids could be seen—and heard—successfully flying small retail deltas and diamonds. Perhaps the general reliability and performance of these kites is on the up, as manufacturers vie for good reviews online! Never-the-less, some designs started to struggle as the wind gusts approached 20 kph later in the afternoon.

The crowd seemed huge, being at least as big as any event in earlier years.
During the afternoon, the wind freshened and turned from northwest to south. Before it had fully turned, the wind meter measured an average of 14 kph, gusting to 19.

Odds'n'Sods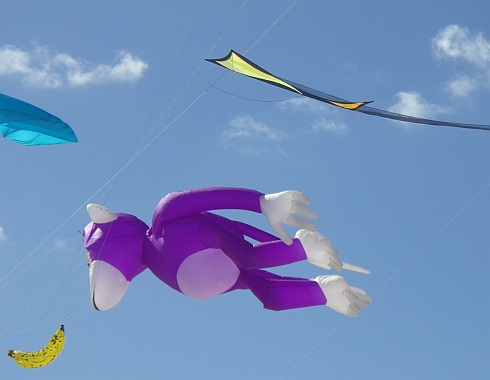 Monkey and banana—funny!
Soon after arrival, I spotted a seagull, a little confused perhaps, winding its way around kites and kite lines low over the sand before finding clearer air! The birds tend to stay clear once most of the kites are up.

A brief flight with our huge Multi-Dowel Delta came to a disappointing end when a leading edge dowel punched through its wingtip. This kite had been brought for expected fairly light conditions and had never been flown in anything much more than that before.

An old WWII warplane noisily made its way down the coast and back again several minutes later. That was a treat for my 8-year-old boy!

Later on, another light aircraft flew past rather low. In fact, I'm pretty sure it was lower than the highest-flying kite, a large rok! Tsk tsk, tut tut :-)
We couldn't help noticing the standout humorous kite of the day... An inflatable monkey, complete with a banana line-laundry item and three matching (but smaller) monkey kites attached lower down.
---
Sunday—Almost No Wind
Again, we arrived during the early afternoon. The wind was so light that none of the really large show kites were up.

A handful of small retail kites were having short flights or being towed around. Meanwhile, the banners on the jetty were efficiently indicating some breeze! They must be made of very light material.

Having dropped in to the commentary tent to say hello, I was invited to fly on the north side for a while. After walking a long way back to our parked car, I returned with my best large light-wind design—the Multi-Dowel Sled. I should nickname it "The Horse." It pulls like one!
With official flying called off for the day, I started launching and attempting to keep the sled airborne. Thankfully, the wind later freshened ever so slightly, and then the big blue drop-sheet-plastic kite stayed up easily.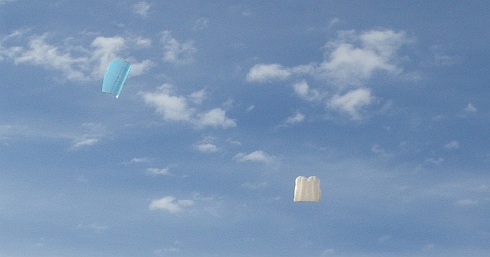 My big sled in blue plastic vs. a large parafoil in white Tyvek

All this time, a couple of light-wind stunt kites were successfully doing their thing in expert hands. Perhaps they had carbon-fiber spars?
Also notable was a large white single-line parafoil, which flew extremely steadily in the very light wind aloft, with no tails.

Eventually the breeze strengthened further, and suddenly the whole beach south of the jetty was alive with small retail  kites flown by members of the public. People had been patiently waiting to fly, all along!
At this time, a wind-meter reading showed an average of 4.5 kph gusting up to 9.5 kph. This was ample for many retail kites but still a bit light for the "big stuff."
---
Monday—In a Word: Windy!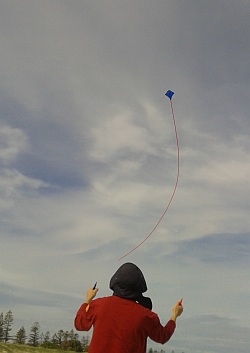 Yours Truly flying PP MkIII
From the sublime to the ridiculous as they say. This day's forecast was for up to 25-knot winds—or the mid-40s in kph!

Anyway, we got there early this time, and sure enough the breeze was brisk coming over the sand from the north. We set up the Peter Powell Sky Stunter MkIII (to give it its full name) and had a blast.
A quick windspeed check revealed an average of about 19.5 kph, gusting to 25 kph. However, it had been a little fresher earlier. And, of course, it would have been even stronger up over 50 feet above the sand.
After the whole family had a turn, we put the stunter away and watched the big kites for a while. That was pleasant, just sitting near the northern edge of the jetty and taking in the sounds, movement, and color all around.

A very elegant little aluminum KAP rig was being deployed under a delta. The kite was doing a fine job of flying stable in the moderate-to-fresh breeze.
As the breeze freshened yet again, even some of the largest kites showed signs of nearing the top of their range.
Both the blue-whale inflatables listed to one side now and again.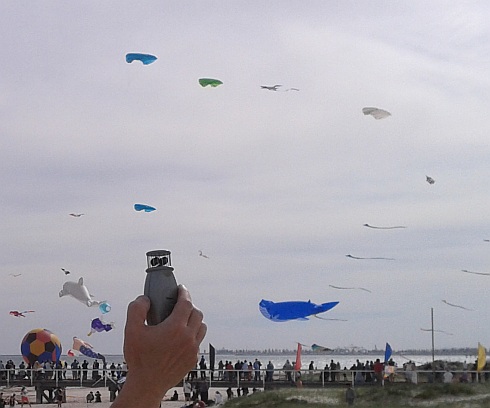 Freshening winds, and the big kites start to list
The trio of big plain-colored parafoils were flying off to one side by 10 to 20 degrees at times!

A nice Cody quivered in the strongest gusts, and it too got blown to one side from time to time.
The giant ball, visible at bottom left of the photo, was bouncing as high as I have ever seen one go!
The colorful trained kites seemed to be having no problems at all, flying flat on their faces and shrugging off the fast air.
---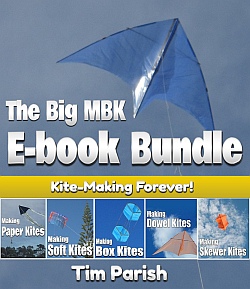 As mentioned earlier, there's more kite-making on this site than you can poke a stick at :-)
Want to know the most convenient way of using it all?
The Big MBK E-book Bundle is a collection of downloads—printable PDF files which provide step-by-step instructions for many kites large and small.

Every kite in every MBK series.