These short flight reports once appeared in the site blog page, although that blog is no longer being published. Just scroll down and stop at any kiting detail that appeals :-)  There's a photo gallery down near the bottom of this page, too.

---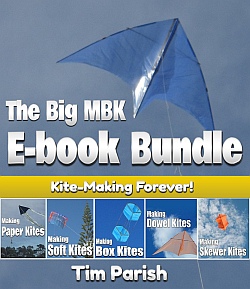 On this site, there's more kite-making info than you can poke a stick at :-)
Want to know the most convenient way of using it all?

The Big MBK E-book Bundle is a collection of downloads—printable PDF files which provide step-by-step instructions for many kites large and small.
Every kite in every MBK series.
---
AKFA Kite Fly—December 2020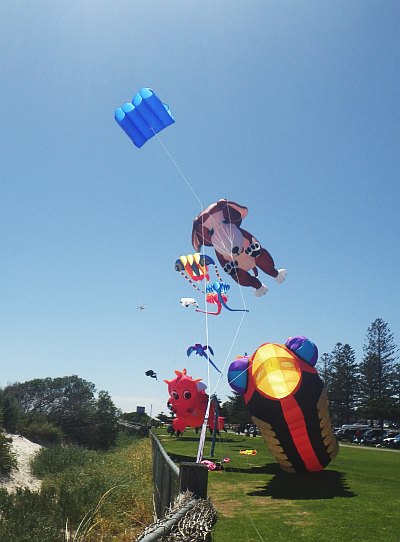 At the beach in March
Fresh gusts whipped around the house in the morning but nothing the Skewer Tetrahedral couldn't handle.
I arrived at the coast somewhat later than usual, only to find that people had already flown and then packed away. Spitting rain had come through, and the sky was ominously dark out to sea.
The moderate-to-fresh northwest breeze seemed fairly smooth over the grass. With the rain holding off for a while, it wasn't long before the Skewer Tetra was sailing away on 20 or 30 meters of 50-pound line. The light cellular kite easily absorbed the fresh gusts, which measured 31 (av.) to 40 kph over several minutes.
Meanwhile, cars were pulling out, leaving just Mike and I with kites in the air. Mike moved out onto the sand with a small four-line parafoil and reported very gusty winds aloft. This was despite my initial impression of smoother air, earlier.
With the rain spitting again and getting a little heavier, it was time to take down the kites and get out of there..
AKFA Kite Fly—November 2020
Despite occasionally rough air and a major wind shift, the club fly day produced some spectacular sights for passing pedestrians.
When I arrived just after midday, ripstop nylon was strewn here and there on the grass. Mike was trying to keep a big light-wind delta airborne, but it was struggling. However, just as I launched my eagle kite, the breeze picked up. What followed was a strange few minutes!
With the eagle up high, it was clear that a gentle-to-moderate offshore breeze was blowing up there. But something was different... Numerous butterflies seemed to be caught up in the warm air. Was that a sign of thermal lift from further inland?
But perhaps it was just a sudden wind change, as chaotic wind speeds and directions persisted for a few minutes. Sure enough, the breeze soon swung to the south and smoothed out. The air felt cooler as well.
Noticing the sea breeze establish itself, many other flyers wasted no time in getting their kites up! The usual brightly colored pilot kites rose into the almost cloudless sky and various pieces of line laundry followed. It was a great day for it with bright sunshine and a temperature in the mid-20s C.
Talking about line laundry, a few small children had fun pouncing on the moving shadows on the grass. Of particular interest were Alli and Nev's Batman and Spiderman inflatables :-)
Mark had something different in the air—a rather thin-sectioned geisha parafoil which relied on many bridle lines to maintain its flat shape in the air. A long, wide tail draped from the trailing edge and had the appearance of clothing. It was an eye-catching sight with the sun backlighting the sail and tail.
One of our big trilobytes must have reproduced—two tiny replicas were doing well in the sea breeze, on short lines. They were definitely twins, though not identical ;-)
Since the now-healthy sea breeze was proving a bit much for the eagle, I took it down and lofted the MBK Skewer Tetrahedral instead. After a small adjustment to the bottom cell, the tetra flew steadily for the rest of the time while everything else was up. Meanwhile, Mike was down on the sand, entertaining the beachgoers by putting a large traction foil through its paces. There was no locomotion involved, just flying fun!
By 3:30 pm everyone had had enough and we all, somewhat abruptly, said our goodbyes and left the still-crowded carpark.
AKFA Kite Fly—October 2020
Some were expecting insufficient wind, but they were glad they turned up.
For most of the afternoon, the breeze remained quite light but just sufficient to keep everything up. Thanks partly to some extra publicity from the Adelaide Kite Festival FB page, the car parks were chock-full.
The club turnout was high as well, with most of the youngsters adding to the activity.
Andy had his large red octopus up as something of a centerpiece for the whole show. Even if the ends of the tails didn't always stay clear of the grass!
Numerous parafoil lifters were higher up, dotting the sky with blobs of solid color. Under one of these, a string of small whale inflatables made an eye-catching sight.
At the downwind end of the grassed area, Mike represented the multi-liner crowd by flying his large foil. The kite was towing a long tubular tail to spectacular effect as it swished around.
Here and there, smaller sparred kites rounded out the display. A Brasington delta was up high and a big rokkaku hovered low over the grass.
After getting plenty of photos, I too joined the fray by putting up a 16-diamond train over the sand. They were 1-meter-tall kites, but in the light conditions the pull was manageable. A calico shopping bag two-thirds full of sand made an adequate anchor.
It should be mentioned that many of the public came prepared as well. Small deltas, parafoil-based kites, and a very popular novelty kite was spotted—a small delta-based shark!
It was such a busy event this time that I haven't even attempted to name every kite and kite owner.
AKFA Kite Fly—September 2020
This day was so good that someone who stumbled across a club member's FB post thought they had missed the annual international kite festival!
The sun shone and the slightly onshore breeze pumped away for hour after hour. Pretty much every local club member with a large kite or two had them up.
Several four-cell pilot kites splashed bold blocks of color down the length of the grassed area, alongside the big panda flowform and a couple of trilobytes. Underneath swam an impressive array of line laundry. Small whales, a large teddy, dragons, and a few other more esoteric creatures swung about in the breeze.
People wandered through, phones held up to catch the floating, shifting action.
Some of us went more old-school, with Mark flying his large colorful delta. Aren and I went down to the sand and unleashed our Peter Powell MkIII steerable diamond on long Dacron lines. It had a spongy feel, but it was great fun carving huge figures in the sky! This classic design still grabs attention with its very long polyethylene tube tail.
Just to complete the impression of an actual kite festival, inflatable cars bobbed about on the grass. They were a hit with the kids, who could get up close with no danger of being whisked away :-|
AKFA Kite Fly—August 2020
So many kites flew that I'm not going to list them all. But here's a selection...
You couldn't ask for a better breeze, really. It was smooth, about 15 kph gusting to 20kph and almost straight off the ocean.
Elly had the big panda flowform up, with plenty of line laundry underneath. From the top, there was a dragon inflatable, a black octopus, and several non-flying fish down low.
Mike started with his large red pilot kite, dangling a soft ball for kids' entertainment and then added his smaller red pilot beside it, later. It was a "fly anything" kind of wind strength!
Nev and Alli had a light-blue parafoil with a small whale inflatable underneath. Later, they added a wide (eight-cell) black parafoil with a sunflower inflatable underneath, making its first appearance for quite a while. A spaceman inflatable went up behind the sunflower, shortly after.
Further down the grassed area, a couple were flying a variety of sticked kites, having come across the club's website earlier. Some potential new club members were there perhaps!
Things were getting crowded down on the grass, but I managed to put up my little canard on 40 feet or so of 20-pound line. The dark-blue pine-and-plastic craft needed some tail to cope with the breeze strength, but it flew nicely for quite a while. With the canard parked up there, I went out to the artificial dune/walkway to put up a three-diamond train. Yep, it was the Animal Train—cow, zebra, and dalmatian patterned kites.
Other club members flew some smaller kites over the grass. The spectacle was being recorded by numerous members of the public as they walked past or stood around.
After a brief lull (which almost brought everything down), the wind went more southerly and freshened to 25 kph gusts—if not a bit more at times. The little canard didn't like it, so it was taken down.
Finally, Nev put up a whopping great trilobyte which hung ponderously over the grass at a modest line angle. As it does, apparently.
Well, we put on a show this time! If only there had been a bit more sunshine.
(There's  the little canard kite in the video below.)

AKFA Kite Fly—July 2020

It's always a roll of the dice, trying to fly in winter, but the monthly fly day went ahead with some success.
Those who turned up close to midday enjoyed a period of good smooth wind from the south. Plenty of large kites went up in the slightly onshore breeze, which turned the heads of those walking or riding by on the footpath. It should also be mentioned that a good quantity of inflatable line-laundry was on display.
Mike had the red pilot kite up, hoisting a small blue whale. Ian and Elly maintained the spectacle with their panda flowform and long Chinese-dragon inflatable. Andy and new member Mark were handling medium-sized trilobytes. Even so, the trilos were much bigger than the parafoil lifters! Nev and Alli had the orange lifter up with an inflatable semi-flying dragon underneath. I've probably missed a few kites, since we arrived late.
Mike remarked that what we had up was more than some of the smaller kite festivals put on display!
Eventually, the wind started dying, which Simon realized he had caused—by setting up a large traction kite for his buggy ;-) However, I thought there was still a chance my soft-Tyvek diamonds might stay up. Hence, down on the sand, a seven-kite train was soon hovering nicely.
Around this time a significant shift in wind direction occurred. The resulting turbulence from the now offshore conditions had the train in trouble with several kites wrapping drogues around the flying line. A lull even brought the whole lot down at one point. However, after a relaunch, the breeze freshened and the train went high for more than half an hour.
It wasn't a bad day at Semaphore South, after all!
AKFA Kite Fly—March 2020
With no new COVID-19 cases here for weeks now, the local club decided to have a (legal) socially-distanced BBQ and kite fly at the usual spot.
Aren and I arrived around midday to find nothing floating in the air. However, it wasn't long before we all noticed some branch-waving going on in the tops of the largest trees.
Mike put up a large delta and reported some healthy line tension as the kite strained away, up at 100 feet or so. Promising!
Within half an hour, several pilot kites were up as well, parked just above treetop height where there was ample air flow. At this time, there was much cloud cover and just occasional sunshine.
I had brought five Tyvek diamonds and they suited the gentle-to-moderate wind strengths higher up. The train stretched up steeply, although rough air sometimes caused slackening of the line in between kites. Also, kites were diving off in random directions before the heavy Tyvek drogues kicked their noses back into wind.
The breeze was from the southeast—a problematic direction at this location. Being off-shore, the air gets all messed up over houses and between trees!
After some hairy swooping around down low, Mark's big delta settled down on a longer line. Elly was down on the sand with some recently completed inflatable fish on the flying line of a parafoil lifter. Alli and Nev had the big green pilot up, with a decent-sized ray slung underneath. Other kites large and small took to the air from time to time.
After another hour or so, a prolonged lull came through, which dumped all the kites on the grass or sand. Or it was a bit of both in the case of my train of diamonds!
However, the breeze did come back for a while but softer than before. I took a stroll across the dunes and relaunched the diamonds one by one, starting from the end of the line. Soon the whole train sailed high once again, in the cool air and brilliant sunshine. Most of the cloud cover had moved off by now.
Henry finally pulled out a kite and flew down on the sand for a while. The big white parafoil did well in the light-to-gentle air.
Eventually the breeze died once again, and we all started packing up. But wait, what's this—a smooth onshore breeze, fairly light, picked up and Mike wasted no time putting up the red parafoil. At that point Aren and I needed to leave, but no doubt there was more flying, later in the afternoon.
AKFA Kite Fly—February 2020
The monthly club fly day came round again, and conditions didn't look too bad at all.
A smooth breeze of ample strength was just onshore enough to ensure good flying :-) The sun blazed down, and the air temperature was pleasantly warm by Adelaide standards.
By the time we arrived, all the "big stuff" was up. That included a flowform, some parafoil lifters, plus a number of large inflatables. Both semi-flying and non-flying creatures were gently writhing in the air.
I spent some time wandering around snapping photos and taking a couple of short videos. Mike was entertaining kids with the usual "ball suspended under the red parafoil" trick. Ian and Elly had the big panda flowform doing its thing with the huge Chinese-dragon inflatable slung underneath. Andy had a mid-sized trilobyte up and other inflatables. As usual, Henry had taken charge of the four-cell white parafoil and this time had the large gecko inflatable underneath. 
Somebody had the blue pilot-kite lofting the inflatable puppy. A gold-colored pilot was hoisting a semi-flying dragon inflatable. Newer members Dean and Justine might have been involved there.
As time wore on, the breeze strength rose and fell, but the general trend was up! I had brought seven diamonds to fly in a train but thought twice about it, before putting up the Fresh-Wind Sled. A great KAP workhorse, the sled, but it's also my high-wind backup kite! So up the sled went, and after a small trim change to the bridle knot the kite stayed up on just 20 meters (60 feet) or so of very tight 100-pound line.
Toward the end of the afternoon's flying, Mark had his large delta over the dunes. The delta struggled, spending plenty of time to one side in the ferocious airflow. I made a brief trip down to the sand, determined to at least try three diamonds on a 100-pound line. So, I now know exactly where the top of their wind range is :-| It's something like 38 kph!
Julie was sensible and did not attempt to fly anything, at least toward the end.
AKFA Kite Fly—January 2020

Down we were at the usual spot, with a decent breeze for a change.
Forecasts had been for a southeasterly, but on arrival around midday it turned out to be a stiff onshore westerly! Plenty of large kites were up, and I spent some time walking around getting photos.
Spotting a gap in the array of kites, I soon had the eagle tethered to the metal fence railing. Around that time the breeze was measured at 16 kph gusting to 26 kph. Ample!
All the usual suspects were there plus a few of the much younger club members. Hence, a few smaller kites were hitched to the fence as well.
Mike F. had the big red foil over the grass, dangling a small ball for anyone to hit around. Plenty of children of all ages had fun with the swinging target.
Michael managed a day off and turned up with a Rev and a colorful small power-sled. The Rev was soon rushing around and hovering over the sand.
Julie had an interesting sparred kite up. Perhaps it was a dragonfly design, although I didn't take a good closeup look. It was apparently constructed at a Robert Brasington workshop. Classy!
Mark had one of his big deltas anchored in the dunes.
I put up a refurbished Animal Train over the dunes as well. That's three Tyvek diamonds with black-and-white designs—cow, dalmatian, and zebra :-) I was just checking it out, with the plastic loop tails replaced with black Tyvek drogues; it all seemed to be coping pretty well.
It was like a mini-festival, with people down on the beach and pedestrians along the sidewalk (footpath) not failing to notice the spectacle. And I haven't even mentioned the really big kites yet. Here they are...
Down on the sand, Simon had a venerable flowform doing its thing, with twin spinners. All the other big kites were over the grass.
Ian and Elly had a number of kites up, including their panda flowform and long dragon inflatable.
Henry and Fiona had the yellow lifter with the shark inflatable underneath. There was also the blue lifter with large mermaid inflatable.
Andy had a large lifter with a frog inflatable underneath. I also spotted a blue octopus further down the reserve.
By the time everything was up, the breeze had crept up to 26 kph with a gust to 36 kph!
With the temperature remaining well under 30 degrees C, it was a close to perfect day for flying kites...
---
Memories From 2020

Tap or click on any image below to start the gallery:

---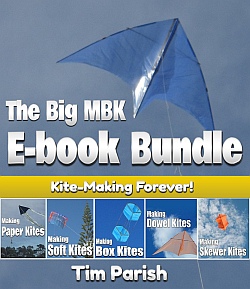 As mentioned earlier, there's more kite-making on this site than you can poke a stick at :-)
Want to know the most convenient way of using it all?
The Big MBK E-book Bundle is a collection of downloads—printable PDF files which provide step-by-step instructions for many kites large and small.

Every kite in every MBK series.