MBK Box Kite Stories

Featuring All The MBK Boxes
Each MBK Box kite seems to have come out with a rather different wind range. Traditionally, these designs were nearly all built to fly in quite strong winds. However, one of the reports below illustrate how you can actually build a box light enough to be called a light-wind kite - although only just! Using no space-age materials either.

My latest effort, the huge Multi-Dowel box, embodies all I have learned about making these kites high-performance and tolerant of quite strong breezes.
30 pound Dacron, as available on this
Stake Line Winder
from Amazon, is a reasonable compromise to use for all my Skewer and Dowel kites.
Except
the huge Multi-Dowel ones of course!
Here's a short-format flight report featuring the next size down, the 1.2m (4ft) long Fresh Wind Dowel box...
---
"Thermaling Box!"

Just to make sure it survives the next time I take it out in 40+ kph winds, the 5mm cross pieces of the Fresh Wind Box were replaced with 6mm dowel. Amazingly, today this MBK Box kite still managed to thermal directly overhead in 15 - 20 kph winds!
It took a few short tows to get it up there, but finally the Fresh Wind Dowel Box got its teeth into the faster air about 50 feet up. From there, it climbed to 300 feet in about 3 stages.
Each time, I would just let line fly off the winder as the kite floated downwind, losing height. Holding on to the line would allow the kite to steadily fly back up, and then the procedure would be repeated. Not letting the kite dip below about 50 feet at the low points!
May (my wife) had snapped off a few photos all the while. Some featured 6 year old Aren, who was beginning to complain that the kite was pulling too hard - while at a very high line angle!
Soon the time came to move along to our next destination, since we were en-route across the city. However, the kite was not willing. It insisted on remaining in that giant thermal, almost vertically above us, and it was a bit of a job to get the box kite down...
Near the ground, the winds averaged 5.4 kph with a peak at 17.4 kph. At 300 feet I'm guessing the average was around 15, gusting to perhaps 25. Nice flight!
---
Reporters' Flight Reports
Click below to see MBK Flight Reporters contributions...
2-Skewer Box Kite - my all time favorite!






The first time I saw a box kite was by way of an illustration in a book I was reading as a child. It completely grabbed my attention, and I wanted to …
---
Tim's Flight Reports
Featuring MBK Box Kites

The links below are full-length reports recorded by me, each featuring an MBK Box kite of one type or another...
Successful Test In Plenty Of Breeze (Multi-Dowel)
Winds A Bit Light, But Still Flew HIGH (Dowel)
An Exhilarating Fresh Wind Single-liner! (Dowel)
Sitting Pretty Above The Wind Gradient (2-Skewer)
Floating And Darting In Gusty Fresh Winds (1-Skewer)

Flying line...
This
30 pound Dacron line
is handy for all the MBK kites except the very large Multi-Dowel designs.
---
E-book special of the month (
25% off

)...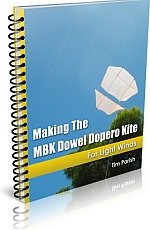 The Dopero is someone's clever idea to combine 2 Roller kites! Double Pearson Roller is where the name comes from. The resulting flat portion of sail in the middle makes this a very efficient design in light wind.
Even more so than the Roller before it, this kite has an attractive aircraft-like appearance in the air. This MBK version also excels in light winds.

If you have made Diamonds before, this kite takes somewhat more time to make. With the help of my instructions, it's still do-able by a beginner.

Get the e-book for making the MBK Dowel Dopero kite. After making your first one in plastic and seeing how it performs, you can try soft Tyvek or rip-stop nylon for your next build.

This Dopero can fly in quite a wide range of wind speeds thanks to the 4-pont bridle. The bridle lines keep the frame more rigid than a 2-point bridle could. Tail(s) are entirely optional, but may be added for looks.

The e-book is a PDF file - which means printable instructions to refer to while you make the kite. It also means convenient off-line access if that suits you better.
Mar 22, 17 09:00 AM

This knot doesn't have the greatest reputation - but it's simple and does have it's place in some less-critical kiting scenarios. Usually with the addition of a drop of glue ;-) ...
---
---
Return to A Flying Kite from MBK Box Kite

All the way back to Home Page