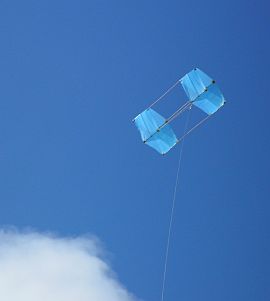 MBK Dowel Box
(fresh wind version)
From experience, it's best to rig box kites in a sheltered location. Sheltered from the wind that is. Otherwise, it can be difficult to get the cross pieces in while the wind is tugging at the half-rigged kite.
In fact, for this test flight, the kite was rigged at home! I had discovered that the rigged kite would just squeeze into the rear seat of our Hyundai Lantra.
On a flying field, other possibilities for shelter would be nearby buildings or substantial bushes. Even reducing the effects of wind a bit can make things much easier.
Wouldn't you know it, as soon as the kite was in the air, the sun was behind cloud again. However, all the cloud cover was moving steadily downwind, so it was only a matter of a few minutes before bright sunshine returned.
This being a location where there is often a large difference between ground level and higher-altitude winds, the kite didn't want to launch from my hand. This was despite the fresh breeze powering along upstairs. So, I ended up pulling the kite off the grass with 10 or 15 meters (40 feet) of line out.
Once above tree height, the Dowel Box kite started straining at its leash, eager to climb much higher.
On this site, there's more kite-making info than you can poke a stick at :-)  Want to know the most convenient way of using it all?
The Big MBK E-book Bundle is a collection of downloads—printable PDF files which provide step-by-step instructions for many kites large and small.
Every kite in every MBK series.
With just under 30 meters (100 feet) of line out, the kite was stable enough for me to start taking photos. The 5X optical zoom on our Samsung digital camera was handy to make the kite fill more of the frame.
A guy walking his dog had stopped to observe the action. People just don't see box kites in flight these days, so it holds a degree of fascination for some!
After getting all the needed imagery, I wasted no time in letting out line to 60 meters (200 feet). It was enjoyable seeing the kite fly at high line-angles. For much of the time, the squashed-box configuration of this kite proved its worth, letting it achieve 50 to 55 degree angles. That's not bad for a box kite! And it was in a fresh breeze at that.
In the freshest gusts, the pull on the line reminded me of hanging on to the monster Multi-Dowel Sled. This kite pulls like a horse in even a light breeze! I found myself clutching the winder with both hands at times, letting the tension pull the wood tightly up behind my curled fingers.
During a slight lull, it was possible to let line fly off the winder until the 90 meter (300 feet) flag came off. Meanwhile, the Dowel Box kite had drifted down to a 30-degree angle. As line tension came on again, up powered the kite, right back to 50 degrees or so. That would put the kite at somewhere around 250 feet of altitude above ground.
Again, it was fun to spend some time watching the kite scooting around from left to right and rising and falling with variations in wind speed. All this occurred while line tension varied from quite light to darn heavy! Having a kite like this, it's good to know that a bit of windy weather won't prevent you from flying.
Speaking of windy weather, areas of dark cloud were everywhere. When one of these passed close by, the wind would pick up considerably. In each case, I continued flying, just hoping the kite would stay in one piece. It did. Whew.
Since the Dowel Box kite had been quite well behaved so far, it was decided to go all the way to 120 meters (400 feet) of line. If the kite line goes vertical, that represents the legal altitude limit here in Australia. But of course, that can't happen with a BOX kite surely. Not in FRESH WINDS, definitely. Well...
At its current height of 350 feet or more above ground, some thermal assistance proceeded to push the kite right on up to 70 or 75 degrees. How unexpected was that! I was fascinated seeing the Dowel Box so close to vertical and still pulling quite hard on the line.
It was not very long before another threat of a wind squall loomed. This time, the cloud looked darker than ever, so I decided to take the kite down immediately. Walking across to some play equipment, I wrapped the line six times around a smooth metal pole. That held it solid. No knot required ;-)
Then, with a canvas glove on one hand, it was straightforward to walk out toward the Dowel Box kite, letting the line slip through my gloved hand. Thus the kite was brought down. A curious small bird with crescent-shaped wings followed the kite most of the way, flitting around in its vicinity.
What a great flight! It seems the balance of dowel thickness, sail area, and cross-piece strength is about right for this high-performance fresh-wind flyer.

The story or stories above document actual flying experiences. My write-ups are definitely "warts and all" since things don't always go totally as planned. However, half the fun of kiting is anticipating the perfect flight. When it happens, it's magic!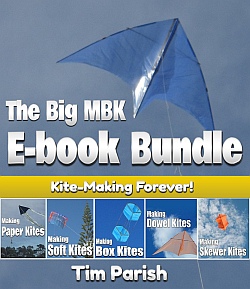 As mentioned earlier, there's more kite-making info here than you can poke a stick at :-)
Want to know the most convenient way of using it all?
The Big MBK E-book Bundle is a collection of downloads—printable PDF files which provide step-by-step instructions for many kites large and small.
Every kite in every MBK series.