YOUR Kite Making & Flying!

Single-Liner Tales From Everywhere

This is where kite flying or kite making tales of just about any kind can be aired, if you feel you have something particularly interesting or unique to share.
Check out the great variety of kiting experiences people have had. Whether with home made kites or shop-bought. One contributor has even written about an experience that has inspired him to get into kite flying!
The emphasis here is squarely on flying single-liners, whether bought from a shop or home-built. These days, that shop is likely to be an online one...

This
Cody Pro box kite
looks a lot like the amazing historical original - but would have to be 20 times quicker and easier to set up!
---
What's YOUR Kite Making Or Flying Story?
So, have you done some kiting recently, that really put a smile on your face? Perhaps the very first flight of a recently constructed or bought kite? Have a think for a moment...

Please tell us about it :-)

For example - a paragraph or 2 each about the weather, the kite itself, how the flight went.

P.S. With those tips just mentioned, it should be easy to reach the 300 words minimum required for publication.
Stories Left By Other Visitors Here
Click below to read the stories and see photos from other single-line kite enthusiasts...

---
Including A Photo? Please Read...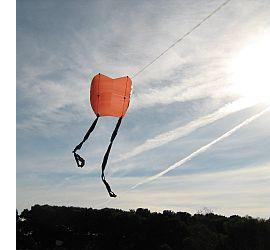 A couple of tips for best results...
Pictures of kites straight from your camera can be uploaded successfully. However, transferring these large raw digital images can take many minutes over a slow Internet connection. Re-sizing the image to around 100Kb or so will still result in a high-quality image on a computer screen. If you haven't done this before, try using Irfanview, a free image processing program that is easily found on the Web.
For maximum impact on my site, a photo that's taller than it is wide works best. This way, when my site re-sizes the photo to fit the page, it will appear as large as possible.
---
Kite Making Tales - A Summary
After several years of accumulating these stories, there seems no end to the variety. Categories appeared, then sub-categories became evident too. To illustrate what I mean, here's a few comments on just some of them...

Historical. Few people set out to present a kiting history lesson here, but some contributors do give away their ripe old age :-) A good thing, since this results in some great glimpses into single-line kiting from times past. Some aspects of experiencing the hobby never change!

Events. There are other pages on this site which are dedicated to actual kite festivals, but a smattering of other kinds of kite-related events pop up in here. In most cases, they involve kites for kids. A few can really touch people on an emotional level too. You'll just have to dig in and read, to find out more.

DIY Tales. Intrepid designers and builders share some experiences and tips! These kinds of stories can inspire others to get cracking and actually make something that flies.

General Fun and Games. Like the pranksters who do a really competent job of ensuring there are plenty of 'sightings' in their local area! Nights, kites and lights, need I say any more ;-)

Educational. Quite a large proportion of the stories people submit are probably quite useful for those starting out. Materials good and bad, flying conditions which suit various kites, it's all here. If you are curious about kite making, there is certainly plenty to learn from some of these tales.

So...

Have a good read about kite making or flying, and maybe get out next weekend and fly something high! It puts a smile on your dial...

The
Cody Pro box kite
I mentioned earlier would be a good choice, if you are not so much into DIY. Box kites are generally able to stay up in a wider range of wind speeds than flat designs.
---
E-book special of the month (
25% off

)...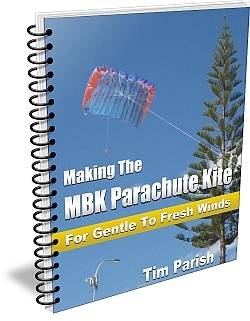 This printable e-book takes you step-by-step through making a 119 cm (4 ft) wide Parachute kite. It's not quite that wide in the air since the canopy takes on a distinct curved shape when inflated. This 14-cell kite performs best in moderate to fresh wind speeds. That's 20 to 38 kph or 13 to 24 mph. In gentle winds, this kite will hang in the air at fairly low line angles. In fresh winds, it pulls firmly for it's size, so small kids should only fly it while supervised!
Every kite design in the MBK Soft Series satisfies the following points...

Materials are plastic sheet, tape and line – and nothing more!
Tools are a ruler, scissors and a marker pen - and nothing more!
All cuts are along straight lines.
For the greatest chance of success, I make recommendations regarding the materials. For example, the type/weight of plastic, type/width of tape and line type/strength. Close enough should nearly always be good enough, since the design is well-tested and should be tolerant of small differences from my original.
Get the e-book for making the MBK Parachute kite. After making your first one in plastic and seeing how it performs, you can try soft Tyvek or rip-stop nylon for your next build.

The e-book is a PDF file - which means printable instructions to refer to while you make the kite. It also means convenient off-line access if that suits you better.

Aug 19, 17 12:29 AM

Winter-like weather has been the norm here for many weeks. But today was sunny with very light winds. A rare opportunity to take out the tail-less Della Porta variant with it's latest mini-bridle conf…
---
---
Return to Flying Kites from YOUR Kite Making Stories

All the way back to Home Page