Kite Making in Bermuda
by Mary Trott
(British Columbia, Canada)
Good Friday kites in Bermuda...

I am a 68-year-old presently living in Western Canada. The kite tradition in Bermuda is central to my own early kiting experience. Kitemaking is a pastime that is basically seasonal in Bermuda, in the Spring specifically around Easter Weekend. On Good Friday, to be exact. The wind was usually perfect for kiting at that time of year.

In my childhood, my father, a cabinet maker, would salvage orange crates, made at that time of pine, in which the fruit used to be shipped from the United States. He would cut the crates into strips which, with string, were used to construct kite frames. Little bundles of 12 strips, each about 24 inches(60 cm)long - enough for three basic Bermuda-style four-stick kites, were sold from his workshop, other similar workshops, and in retail stores. The frames were covered with multi-colored patches of tissue paper to produce a light, buoyant kite with a "headstick", "hummers", a three-string bridle, and a long tail for stability. They were flown traditionally on Good Friday.

The tradition started in the 1800's and grew, we are told, out of a Sunday School teacher's lesson on the Resurrection. He took his students out on a windy hill and flew a kite in the form of a cross. When the string was cut, it continued to ascend.

In our neighborhood we vied for the most beautiful, the noisiest, the largest, the smallest, and the highest-flying kites, and when one awoke on Good Friday one would think that a hive of bees had collected outside, due to the noise from all the kites in the air, humming in the breeze. The "hummers" - essential features on a Bermuda kite, filled the air with sound all day.

In our home, the tails, used for stability, were made out of my Dad's cast-off neckties, strips of old clothing, and old sheets. It was a magical time.

Because of this background, store-bought kites never held much appeal for me, and most children acquired basic kite-building skills through making their own kites.

The art is waning today, however, as families spend time watching TV, or on computers, or playing video games, and of course there are all those imported factory-made kites to buy!

There are sites on the Internet showing resources for Bermuda kite construction. Look specifically for sites with these words in the title.
---
E-book special of the month (
25% off

)...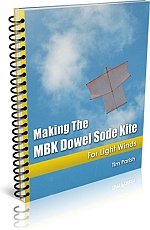 The Sode is a traditional Japanese design, and this MBK version is exciting to watch in rough air!

If you have made Diamonds before, this kite takes a little more time to make. It's still a straight-forward build though, using the same techniques as used for my Dowel Diamond. 

Get the e-book for making the MBK Dowel Sode kite. The cambered sail makes this a very efficient design. Of the Dowel kites, this design is one of my personal favorites!

This Sode flies steep and steady over the Light wind range, and starts to move around quite a bit when the wind picks up to Moderate levels. Tail(s) are entirely optional, but may be added for looks.

The e-book is a PDF file - which means printable instructions to refer to while you make the kite. It also means convenient off-line access if that suits you better.
Dec 07, 16 09:00 AM

This page features some KAP work by site visitors. From the 'just having a go' to the rather more professional!
---