Sky Fishing
by Andy
(Colorado Springs, CO, U.S.A.)
Since I was a kid, I've been flying kites. Not every day, sometimes not even monthly, but over the years, once in a while.

Back in the sixties, my brother and I were avid fishermen so, using a rod and reel to fly kites seemed only common sense. I mean, what other handheld device is meant for controlling string going out and bringing string in? Not much has changed over the years, maybe just the set of rods and reels I use, perhaps the string. The feel is the same nonetheless.

With the slightest of breezes, with a simple wave of my rod, I can launch any of my kites, usually a 9' delta though properly tagged with a reward label in case stress beats test. Usually within minutes, using either my thumb dragging on the spool or setting the drag and clicker, the spool is near empty. Not to worry though for the heavy duty swivel near the end lets me just snap onto another reel. Sure one is plenty but 2 or even three is great if only to remind yourself that you can still do it. It might seem big when you start but how quick a 9' kite disappears can be amazing.

The fun, if fun is the word, is not the height but the feeling of sky fishing. Simply close you eyes and feel either the gentle tugs or the powerful jerks at the end of your line. Is battling the wind any less a sensation than that of hooking a big trout or even a Bonita? Of course we know that there will be neither gutting nor scaling come the end of the day but that's not so bad.

With those closed eyes and the feel of the rod, it is easy to lapse into memories of days gone by - which is one of the reasons I do it for sure. Yes, my kids like it, as they do fishing but not for the memories the feeling rekindles but for the memories they are making in the here and now. As for me, I am taken back to days on Grampa's boat fishing off the California coast. I close those eyes and I can imagine the others on the boat, some no longer here on earth with me. The sound of seagulls, the rumble of the boat's engine, the smell of salt water, the memories of being a child again and for just a while, all worries and stress are gone. Click, click, click as the line plays out or you reeling as the line slackens for just a second. It is an unbelievable feeling, especially if you have memories to affix.

I might be the only guy in town with 10 or 15 deep sea rods and reels who actually uses them regularly. One of them may even be one of the originals from back in the day. I doubt it, but many of them have the same kind of knob on the reels, that's why I bought them I'm sure because that is one of the things I remember from those wonderful days of yesteryear.

Spend a few bucks and buy one or, if you already have one, just dust off that old Penn casting reel in the garage, cross the street to the neighborhood park, let out that line, close your eyes, and enjoy.
---
E-book special of the month (
25% off

)...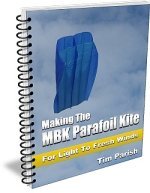 This printable e-book takes you step-by-step through making a 120cm (4 ft) tall Parafoil kite. This 4-cell kite performs best in gentle to moderate wind speeds. That's 12 to 28kph or 8 to 18mph. Even in light winds, this kite will hang in the air, although at low line angles. In fresh winds, it pulls firmly for it's size, so small kids should only fly it while supervised!
Every kite design in the MBK Soft Series satisfies the following points...
Materials are plastic sheet, tape and line – and nothing more!
Tools are a ruler, scissors and a marker pen - and nothing more!
All cuts are along straight lines.
For the greatest chance of success, I make recommendations regarding the materials. For example, the type/weight of plastic, type/width of tape and line type/strength. Close enough should nearly always be good enough, since the design is well-tested and should be tolerant of small differences from my original.
Get the e-book for making the MBK Parafoil kite. After making your first one in plastic and seeing how it performs, you can try soft Tyvek or rip-stop nylon for your next build.

The e-book is a PDF file - which means printable instructions to refer to while you make the kite. It also means convenient off-line access if that suits you better.

May 10, 17 06:00 AM

This previously published page is a mixture of informative data and historical background. Also there is also a video of one of my own tetrahedral designs in flight!
---