Testimonials
(unedited)
"Love the easy to understand step by step instructions, made from next to nothing materials and above all so much fun to fly... cheers Tim for sharing your well thought out pdf kite designs with the whole world.

Very satisfying making your own and watching them get air-born for the first time."
_________________
"I've just bought your super e-book and spent most of last night pouring through all the great stuff in it!

Very detailed and USEFUL information - thanks for such a great book."
_________________
"30+ years ago, I tried making a kite using the 'instructions' in a free kite-safety booklet. What a disappointment for a young boy.

 Your instructions and methods are wonderful. You help the builder to focus on accuracy, without making it hard. Also, you use materials that are durable, yet cheap!"
_________________
"omg i made a kite from this site and i fly it ....... booom i didnt expect this bc in the other sites instuction are trash
thank you"


---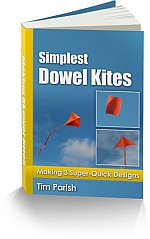 This one's FREE
Download it now!
---
Wind Speeds


Light air
1-5 km/h
1-3 mph
1-3 knots
Beaufort 1
Light breeze
6–11 km/h
4–7 mph
4–6 knots
Beaufort 2    

Gentle breeze
12–19 km/h
8–12 mph
7–10 knots
Beaufort 3    

Moderate breeze
20–28 km/h
13–18 mph
11–16 knots
Beaufort 4    

Fresh breeze
29–38 km/h
19–24 mph
17–21 knots
Beaufort 5    

Strong breeze
39–49 km/h
25–31 mph
22–27 knots
Beaufort 6
High Wind
50-61 km/h
32-38 mph
28-33 knots
Beaufort 7