The Adelaide Kite Festival 2008
An Overview Of Our 3 Day Experience
The Adelaide Kite Festival 2008 actually ran over 4 days. However, we were more than satisfied with having a look around on the Friday, Saturday and part of Sunday of the Easter long weekend. Monday was a public holiday, with the festival continuing on that day.
This year, we've taken the approach of gathering up all our memories and images of the 3 days, then writing them up into various categories. One advantage of this is that you can just click on whatever takes your interest, rather than being forced to wade through one gigantic page on the Adelaide Kite Festival 2008!
See the bottom of this page for the links to those detail pages.
---
The Kite Cloud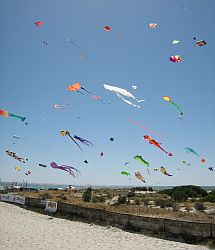 So many shapes, sizes & colors
Initial impressions were similar to last year. Partly because many of the same larger kites were back again, of course. However, this is a big event so the more you look, the more you see!
Also, people are putting up and taking down their kites at various times, so the kite cloud can change from hour to hour.
See the photo over there.
Kite cloud is now a pet phrase of mine, and according to the big search engine starting with G, no-one else has used it ... yet.
During the Adelaide Kite Festival 2008 I looked up there at a sky full of kites, and it seemed cloud-like to me! A gaggle of geese, a flock of birds, a cloud of kites.

On the topic of birds, we couldn't help spotting a few small bird-like and plane-like novelty kites, mainly from over in the public flying area. One in particular swooped past, it was perfect, the flying line must have been so light we couldn't see ..... hang on, that was a real seagull!
Back to why the kite cloud changes. Here are a few reasons why someone might take down their kite:
the wind speed has increased too much, making it unsuitable for the kite
the kite flier has gone home
room has to be made for a demonstration, like stunt flying or kite fighting
shifting winds have caused a line tangle with another kite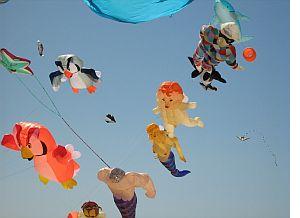 All sorts of windsock characters
New kites might be put up too, for reasons related to those above.
For example, a kite flier has just arrived in the flying area. Or perhaps there's finally enough wind for a particular type of kite to go up. We even saw a couple of self-launching kite arches, flying or resting on the dunes according to the strength of the breeze!
Of course, if the wind dies completely, somebody gets the satisfaction of briefly seeing that their kite is the very last one flying! If my memory serves me right, that honor went to a large dark delta on Friday, during a lull.
At a later date we might put up a short video here, showing the subtle but constant motion of this festival's kite cloud. The photo over there is a close-up from inside the cloud.
---
The Weather
Here's a brief summary of the weather at the Adelaide Kite Festival 2008, for the 3 days we were there.
Temperatures were in the high 20s, Centigrade, on all 3 days. That's in the 80s, Fahrenheit. Very pleasant, unless you're an Eskimo!
The sign sums it all up
After a quick glance through my image folders, it seems that all 3 days were completely cloudless. Perhaps Monday was too. Now that's unusual, and makes me wonder whether any other kite festival in the world has been completely cloudless on every day! South Australia is one of the driest states in a dry country.
There's our 2 year old kite flier in his pram, suitably protected from the giant UV lamp in the sky.
Friday had a light, gusty South East to Easterly wind, which made for a rather small kite cloud at times.
Saturday was better, with a moderate South West to Westerly sea breeze. However, the kite surfers would have liked more.
Sunday had a great turnout of kite fliers for the Adelaide Kite Festival 2008. The light to moderate gusty Southerly was enough to keep a big kite cloud up there!
---
Kite Festival Photos
Here are some links to those detail pages with all the photos.
Great kites in 2008 - our favorites

Delta kites in 2008


---
E-book special of the month (
25% off

)...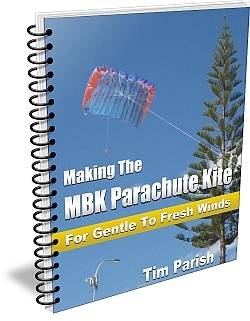 This printable e-book takes you step-by-step through making a 119 cm (4 ft) wide Parachute kite. It's not quite that wide in the air since the canopy takes on a distinct curved shape when inflated. This 14-cell kite performs best in moderate to fresh wind speeds. That's 20 to 38 kph or 13 to 24 mph. In gentle winds, this kite will hang in the air at fairly low line angles. In fresh winds, it pulls firmly for it's size, so small kids should only fly it while supervised!
Every kite design in the MBK Soft Series satisfies the following points...

Materials are plastic sheet, tape and line – and nothing more!
Tools are a ruler, scissors and a marker pen - and nothing more!
All cuts are along straight lines.
For the greatest chance of success, I make recommendations regarding the materials. For example, the type/weight of plastic, type/width of tape and line type/strength. Close enough should nearly always be good enough, since the design is well-tested and should be tolerant of small differences from my original.
Get the e-book for making the MBK Parachute kite. After making your first one in plastic and seeing how it performs, you can try soft Tyvek or rip-stop nylon for your next build.

The e-book is a PDF file - which means printable instructions to refer to while you make the kite. It also means convenient off-line access if that suits you better.

Aug 19, 17 12:29 AM

Winter-like weather has been the norm here for many weeks. But today was sunny with very light winds. A rare opportunity to take out the tail-less Della Porta variant with it's latest mini-bridle conf…
---
---
Return to Adelaide Events from Adelaide Kite Festival 2008

All the way back to Home Page