MBK Dopero Kite Stories
Featuring All The MBK Doperos
An MBK Dopero kite can take a little fiddling around with bridle knots before it returns its best flights. But the effort is worth it, since the 4-point bridle helps to keep this design in shape over a wide range of wind speeds. And it excels in very light wind. Very large Doperos are often used for Kite Aerial Photography in light winds, when other designs would fail to stay up at all.
30 pound Dacron, as available on this
Stake Line Winder
from Amazon, is a reasonable compromise to use for all my Skewer and Dowel kites.
Except
the huge Multi-Dowel ones of course!
Here's a short-format flight report featuring the Dowel kite...
---
"As Good As Ever"

With 6 year-old Aren at soccer practice for 45 minutes, and a gusty breeze tickling the tree tops, it was a chance to pull out the Dowel Dopero. This kite has had a good break from flying, so I had a quick check of all the tape spar caps, after rigging. The ones on the lower horizontal spar were a little suspect, but would hold up for a while. I hoped.
The next 20 minutes or so were spent with short flights, walking out to bring the kite down, re-adjusting the upper bridle loop, and re-launching. After about 3 tries, the Dopero flew straight and true. This kite responds very predictably to the knot position. Knot right, turns to the right, and vice versa.
Given the limited time available for flying, it was sensible to stay under a 60 meter (200 feet) line length. The air was rough up there, causing the normally sedate kite to twitch its tail and accelerate upwards suddenly from time to time.
Five turns of line around a smooth-barked sapling was enough to hold the strain, as the MBK Dopero kite held a high line angle in the cool breeze.
The efficiency of this design is just amazing. No thermal activity to speak of, and yet it kept bobbing up to high angles, pulling like a horse. A check of the Windtronic meter showed an average wind strength of just 1.4 kph and a peak gust to 3.6 kph. However, there was a dense row of pine trees upwind. The clouds moving overhead indicated moderate strength winds higher up. So did the very taut flying line!
---
Tim's Blog Posts
Featuring MBK Dopero Kites
Since these are short-format reports, they are grouped together. One page covers dowel-sparred kites while the other covers bamboo-skewer kites...
MBK Dopero Kite Posts - Skewer
If you are in the habit of checking the 'what's new!' link, you might remember some of these.
---
Tim's Flight Reports
Featuring MBK Dopero Kites

The links below are full-length reports recorded by me, each featuring an MBK Dopero kite of one type or another...
Eventful Outing - Pelicans, Failed Tape And More (Dowel)
Simply Superb Thermal Floater! (Dowel)
Promising Test Flight In A Sharp Winter Wind Gradient (Dowel)
Gusty Fresh Winds Spring Up From Nowhere (2-Skewer)

Moderate Winds, And Not Too Gusty - Perfect! (1-Skewer)

Flying line...
This
30 pound Dacron line
is handy for all the MBK kites except the very large Multi-Dowel designs.
---
E-book special of the month (
25% off

)...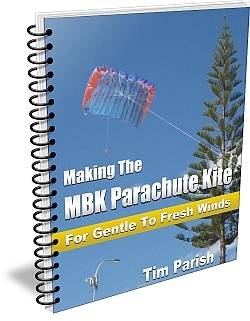 This printable e-book takes you step-by-step through making a 119 cm (4 ft) wide Parachute kite. It's not quite that wide in the air since the canopy takes on a distinct curved shape when inflated. This 14-cell kite performs best in moderate to fresh wind speeds. That's 20 to 38 kph or 13 to 24 mph. In gentle winds, this kite will hang in the air at fairly low line angles. In fresh winds, it pulls firmly for it's size, so small kids should only fly it while supervised!
Every kite design in the MBK Soft Series satisfies the following points...

Materials are plastic sheet, tape and line – and nothing more!
Tools are a ruler, scissors and a marker pen - and nothing more!
All cuts are along straight lines.
For the greatest chance of success, I make recommendations regarding the materials. For example, the type/weight of plastic, type/width of tape and line type/strength. Close enough should nearly always be good enough, since the design is well-tested and should be tolerant of small differences from my original.
Get the e-book for making the MBK Parachute kite. After making your first one in plastic and seeing how it performs, you can try soft Tyvek or rip-stop nylon for your next build.

The e-book is a PDF file - which means printable instructions to refer to while you make the kite. It also means convenient off-line access if that suits you better.

Aug 16, 17 06:00 AM

This previously published page is full of general info on this type of kite, including some history. With a video clip and a good photo, it's worth checking out...
---
---
Return to A Flying Kite from MBK Dopero Kite

All the way back to Home Page