It's an archive of sorts, although there are no dates and times. Kite flying is timeless, don't you agree?

This short flight report once appeared in the site blog page - that's the one you enter via the 'what's new!' site navigation link.
Try the Making Skewer Kites PDF, if you are interested in making this bamboo-sparred kite. Handy for working offline or from printouts.

On other similar pages I would say 'Just scroll down and stop at any heading that appeals'. But it appears I need to get out and do a few more reports on Skewer Dopero kites in both sizes!
---
1-Skewer Dopero Kite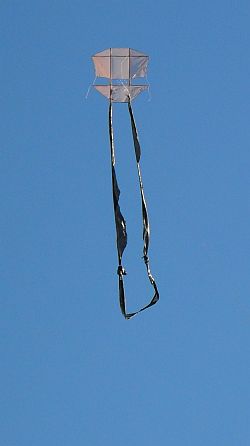 The MBK 1-Skewer Dopero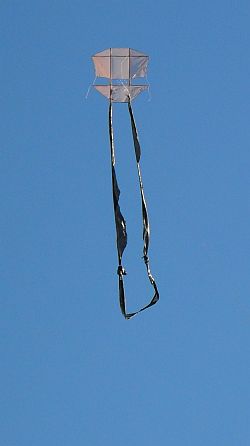 The MBK 1-Skewer Dopero
Diminutive Dopero Delivers

Delivers some material for a Short Flight report, that is! After a few unsuccessful launch attempts in tricky light air, the tiny 1-Skewer Dopero kite finally put on a nice climb and float for the camera.
It'd been a while since this kite had flown, and one of the upper sail ties had to be re-taped into position. Not to mention a layer of fine dust which had to be blown off the black plastic.
Being such a small kite, these very minor changes managed to put the trim off somewhat, causing a pull to the left in gusts. Or perhaps the bamboo frame had warped slightly from so many months sitting on a shelf...

The trim problem was enough to foil the first few attempts to get more than several meters of 20 pound Dacron out. After a couple of little tweaks of the bridle Prusik knots, the little black kite was left with just a hint of a pull to the right. This was close enough, though, to get some useful video of a half-minute flight on perhaps 15 meters (50 feet) of line.

I can recommend black plastic sails teamed with yellow keels for any home-made Delta, Roller or Dopero kite. Looks good, and the kite is highly visible against just about any skyscape. Cloudy, grey or pure blue.
---
Making Skewer Kites is a handy download of printable step-by-step instructions. This design and all the other 1-Skewer and 2-Skewer designs are covered.