---
My 2-Skewer Delta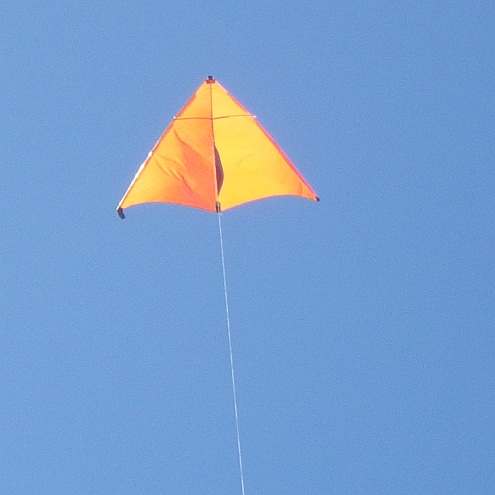 2-Skewer Delta in smooth air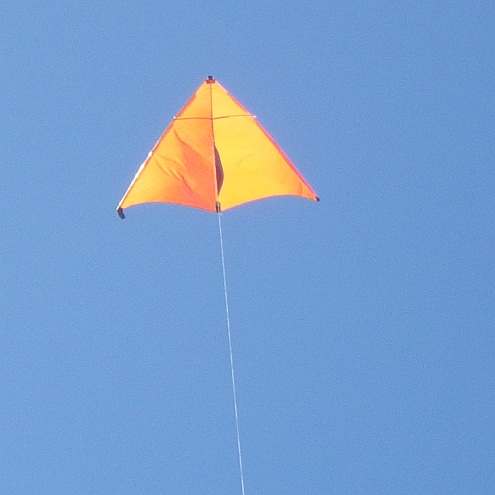 2-Skewer Delta in smooth air
I've had a green calico bag in my kite-gear bag for many months now, with its handles knotted to provide an anchor point for a kite. Today was testing time for this small sand anchor!

A few handfuls of dry sand piled into the bag was enough to hold the Delta kite. Rather than using the knot, the bag was just dropped over the line, right next to the winder. At other times I have just used the kite-gear bag itself, but today I planned to take it with me and leave the kite flying.
As the wind speed crept up, the little Delta flexed its leading edges. And shifted about a little uncomfortably at times. However, it successfully stayed in the air for an hour or two until I finally took it down and put it away in the car.
Now it was time for some KAP (Kite Aerial Photography), with a kite more suited to the freshening breeze...
---
Some Aerial Photography
Looking back, this should have been done much earlier. By the time the shutter was clicking away, most people willing to try kite flying at the event had left! Even the biggest AKFA kites had disappeared. Never mind, there's always a next time.
Here's a few shots looking North up the beach, towards the site of the event. The Delta just above the horizon is the one mentioned in the next section.
Three sequences were taken. I have picked one image from each sequence. Notice how the sky changed as the minutes ticked by.

Click on each image to see it much larger...


---
An Awkward Moment
A guy with a large surfing kite had set up on the sand, just upwind of a large Delta owned by an AKFA member. And then an interesting thing happened. I was fiddling with the KAP rig nearby and flying the Fresh Wind Barn Door kite off my foot on just 15 meters (50 feet)...
The normally very stable Delta suddenly arced off to one side and dipped almost to the sand. The flying line crossed over the two drogue lines from my KAP kite! Thankfully, the Delta pulled free on its way back up and all was well.
A few moments later I noticed the kite surfer a short distance away, in the surf near the waterline. I'm pretty sure that his kite, while it was being launched on the sand, had produced a large wake behind it which managed to catch the Delta.
---
Two 'Big Picture' Photos
Finally, to illustrate some overall impressions of the event, I have included the following two photos. The first one looking South at some of the people who turned up to the 'try kite flying' event. The other looking North which captures many of the larger kites which flew...
'Spot the small kites'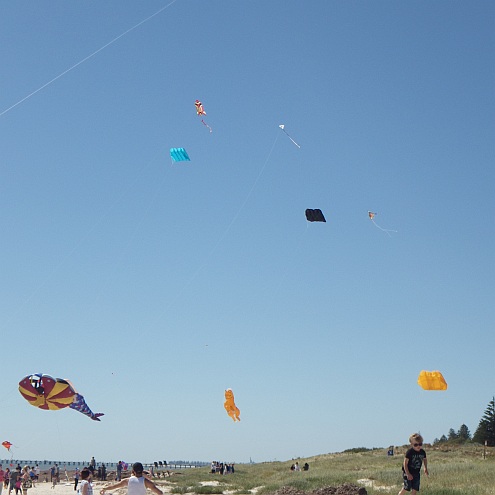 The bigger kites, courtesy of Adelaide Kite Flyers Association
---